S U M M E R in a bowl.
Nothing speaks summer louder than this zucchini pasta with a bright cilantro and basil pesto with notes of garlic and lemon tossed with tomatoes and sheep feta. Zucchini makes an incredibly good grain free noodle and I think this "pasta" would convert anyone that doesn't believe they like grain free pasta.
This dish is so simple with only a few ingredients so it's really important to have the freshest herbs, zucchini and tomatoes as possible. I use a handheld julienne tool but I have been making these noodles so often I'm really tempted to seek out a spiralizer but at the same time I don't need another kitchen tool.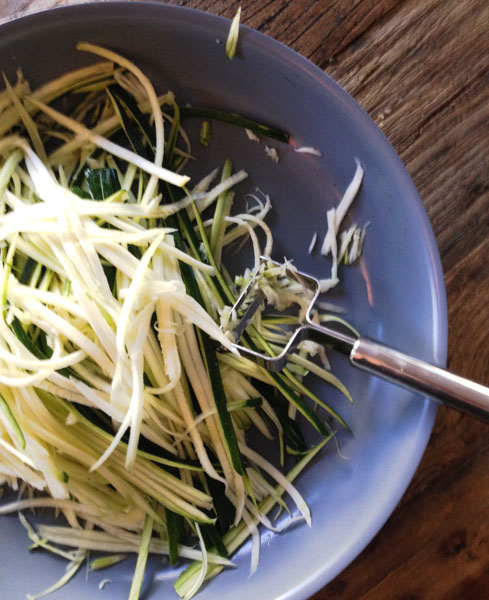 Zucchini Noodles with Cilantro Basil Pesto
Serves 3 – 4
 3 – 4 zucchini, julienned
extra virgin olive oil
sheep or goat feta
tomatoes
Pesto
2 garlic cloves
¼ cup pumpkin seeds
¼ cup pine nuts
1/2 cup cilantro
1/2 cup basil
1/3 cup parmesan cheese
juice of 1 lemon
3 tablespoons extra virgin olive oil
sea salt and pepper, to taste
Directions:
Drizzle a little olive oil in a non stick skillet. Add in the zucchini noodles and toss just until warm. You do not want to overcook the noodles. Alternatively you can choose to serve them raw. I like them just warm to the touch.
Transfer the noodles to a large bowl and toss with a few big dollops of pesto and reserve any additional pesto for later use. Store additional pesto in a sealed jar in the fridge for 3 – 4 days.
Toss the noodles with sliced tomato and top with feta and extra basil leaves.