The thought of a salad in cold, dark January is something that looks a lot different from the image I have in mind of my July salad. I have a harder time wrapping my head around big leafy green salads and light refreshing bowls of summer greens. The winter salad that appeals to me is hearty with contrasting flavors, often containing a toothsome grain or legume and a more often than not a little cheese. Market vegetables in the winter are roots and tubers, greenhouse sprouts and for me I like the market greens as additions to a base instead of the base itself.
This salad is great with zucchini, with the addition of grapes or diced apple and even persimmon. I love cilantro here but parsley or dill would also be amazing. Don't think too hard about measurements and I urge you to not follow the recipe too exact, adding a little more or a little less as you see fit. This salad packs really well for a road trip!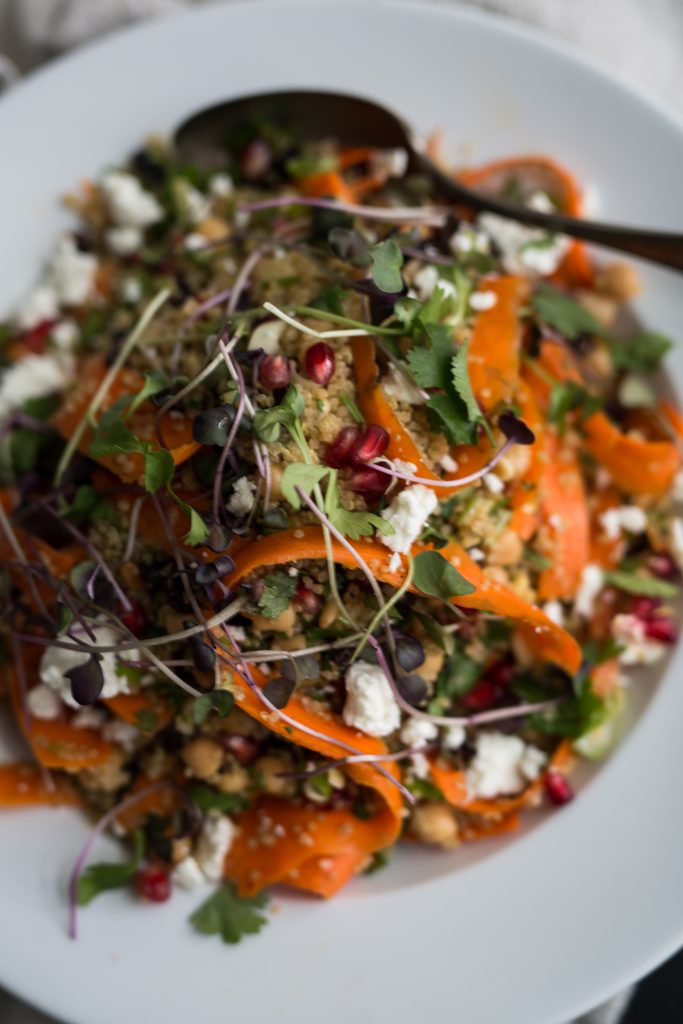 Winter Quinoa Salad
Serves 4 – 6
2 1/2 cups quinoa, soaked overnight and cooked, cooled
1 1/2 cups cooked chickpeas
1 large or 2 small carrots, shaved into thin strips
seeds from 1/2 of a pomegranate
1/3 cup pine nuts, lightly toasted
2 green onions, thinly sliced
2 – 3 oz. goat cheese, crumbled
1/2 cup organic raisins
1/2 cup cilantro, chopped
sprouts (I used purple radish)
1/2 cup good olive oil
2 tablespoons champagne vinegar, lemon juice or apple cider vinegar
sea salt and pepper, to taste
Directions:
Combine the quinoa, chickpeas, shaved carrots, pomegranate seeds, pine nuts, green onion, raising and cilantro in a large bowl. Drizzle with olive oil, vinegar and season with sea salt and pepper. Toss well to combine. Top with goat cheese and sprouts.
This salad keeps well in a sealed container for up to 3 days.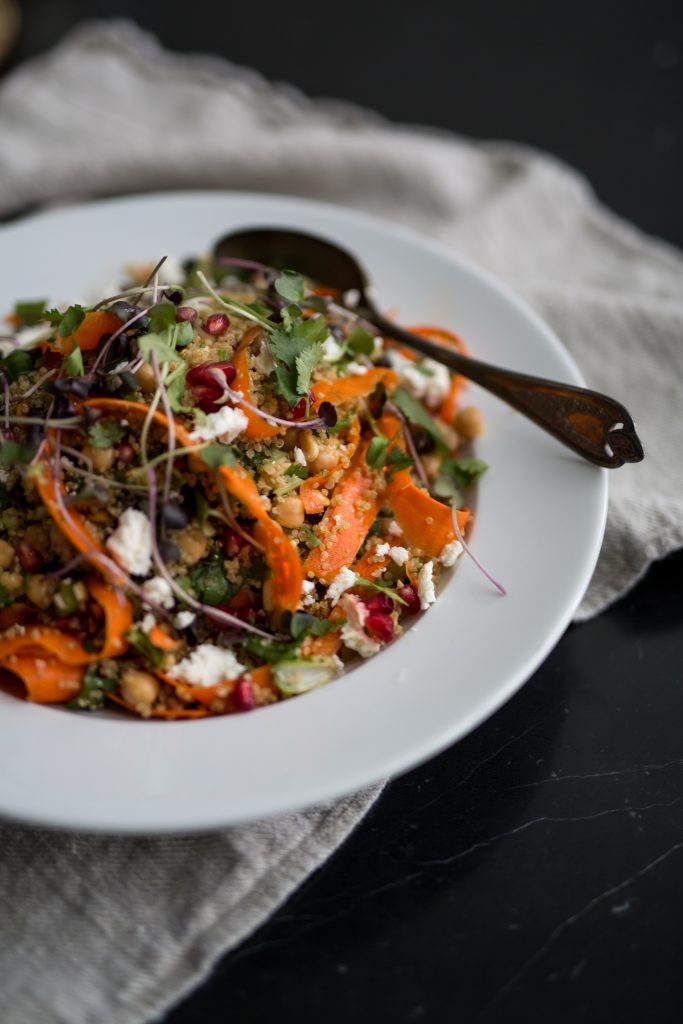 Save