The holidays are over and although I really enjoy time off with the kids, December brings way too much eating and not necessarily the healthy kind. December was such a busy month that my posting fell off the rails, sorry. January is not only a good time to lighten the load from holiday eating and drinking but a chance to start fresh with new eating habits and perhaps set some weight loss or fitness goals.
I find myself craving clean, simple dishes in order to give my body a break from digesting. January detoxing does not have to be complicated or involve supplements. Simply including more greens, easy to digest slightly cooked vegetables and reducing food intake will help you detox. I include clean, simple proteins like fish, chicken and eggs and avoid heavy meats, complicated sauces and anything refined. While detoxing sugar and dairy need to be avoided and obviously alcohol.
Eating salads and raw foods in January isn't necessarily my idea of detoxing as it can leave our body feeling too cold. This simple salad I enjoy while winter detoxing and it's still very satisfying. Beets are excellent for liver cleansing and steamed beets make a great addition to this warm salad. I actually found pre-cooked beets at Costco in packages of 3. Thank you Costco for doing the work for me!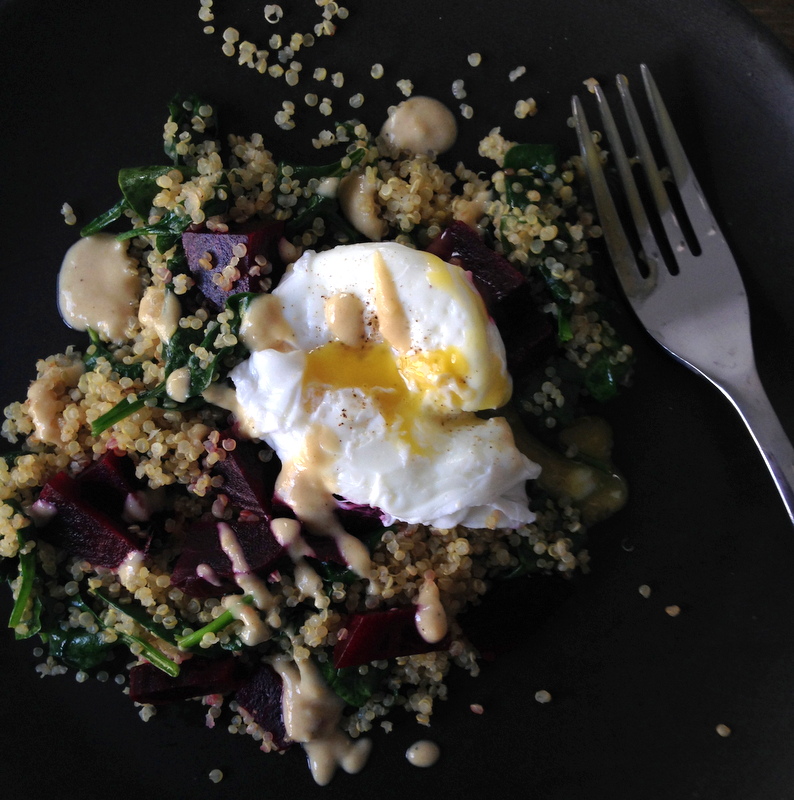 Top this salad with a perfect poached egg and tahini miso dressing and you have yourself a beautiful, detoxing, warm, winter salad.
Wishing you all a happy and healthy New Year.
Warm Quinoa Spinach & Beet Salad with tahini miso dressing
Serves 2
1 cup cooked quinoa

2 handfuls of spinach

1 teaspoons extra virgin olive oil

Juice of 1/2 lemon or water

1 – 2 cooked beets, diced

2 – 3 tablespoons of parsley or cilantro, chopped (optional)

1 green onion, sliced
Heat olive oil in a non stick skillet. Add in the olive oil, quinoa and spinach and cook over low heat. Add in a splash of water or lemon juice and cook just until the spinach is wilted but still bright green. Stir in the chopped beets, herbs and green onion. Serve with a poached egg and drizzle with tahini miso dressing.
Tahini Miso Dressing
1 heaping teaspoon miso paste (mild flavoured)

1 heaping teaspoon tahini

1 tablespoon lemon juice or raw apple cider vinegar

2 teaspoons toasted sesame oil

Freshly cracked pepper

Hot water to thin
Combine all the ingredients in a small bowl. Whisk until combined. Stir in a few teaspoons of hot water to reach desired consistency.