This warm and comforting bowl of risotto hit the spot for a rainy Friday night dinner. Risotto is really simple to make and requires few ingredients however those ingredients should be the best you can find. A quality vegetable or chicken stock is essential in my opinion along with the best Parmesan you can get your hands on.
The addition of saffron lends a really lovely colour and I add a few pinches of turmeric for anti-inflammatory reasons along with eye appeal. The thing I really love about risotto is how absolutely versatile it is. You can change the ingredients and have something different every time. My kids really like the combination of pancetta and peas.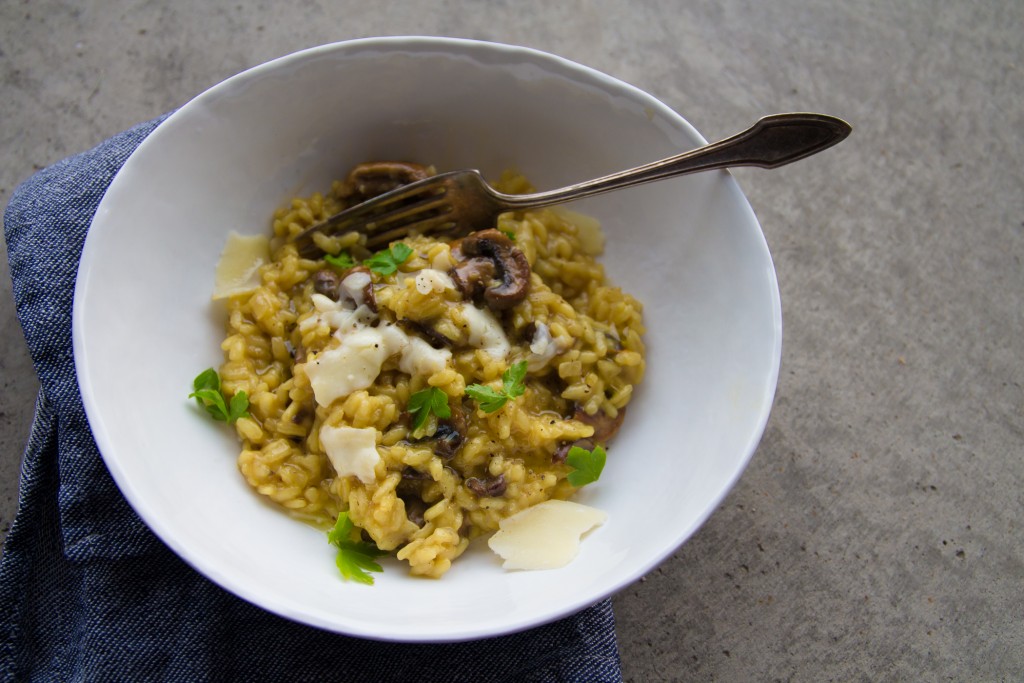 One thing to keep in mind when making risotto is to have all your ingredients ready to go before you begin. You will end up with a creamy rich pot of goodness and it pairs really well with a nice glass of wine on a Friday night.
Saffron and Mushroom Risotto
Serves 4
Ingredients:
4 Tbsp. butter or ghee
2 Tbsp. olive oil
3 shallots, finely diced
3 garlic cloves, minced
1 lb. mushrooms (I like shiitake, chanterelle, portobello)
1 ½ cups arborio rice
¼ cup dry white wine
6 cups chicken stock or vegetable stock
½ tsp. turmeric
½ tsp. saffron
¾ cup grated Parmesan
¼ cup chopped Italian parsley
sea salt and pepper to taste
Directions:
In a skillet add 2 tablespoons of butter and 1 tablespoon of olive oil. Add the sliced mushrooms and cook over medium heat until the mushrooms are browned adding in the garlic the last 2 minutes. Season with sea salt and pepper and set aside.
Heat the stock over medium heat until very hot or almost boiling. Turn the heat down and allow to simmer.
Melt 2 tablespoons of the butter and the remaining 1 tablespoon of olive oil in a large pot or Dutch oven. Add in the shallot and cook until softened but do not brown. Stir in the rice and cook for another few minutes stirring to coat the rice. Add in the wine and stir until it's almost evaporated.
Add a ladle of hot stock to the rice over medium heat until almost all the stock has been absorbed. Add more stock one ladle at a time and stirring until the rice is al dente and the rice is creamy, about 25 minutes. You may have some stock remaining. Remove from the heat and add the grated parmesan cheese stirring to combine.
Spoon into serving bowls. Garnish with fresh parsley, grated parmesan and more freshly cracked pepper. I like to add a drizzle of really good olive oil before serving.