Squash is my favorite fall vegetable and if you haven't tried delicata squash before, I suggest making this recipe. It's incredibly easy yet extremely delicious. This dish makes a tasty side dish. When roasting delicata squash the skin becomes edible, saving time from peeling the squash but also the skin contains more nutrients and fiber. Delicata contains vitamin A, C as well as minerals calcium and iron.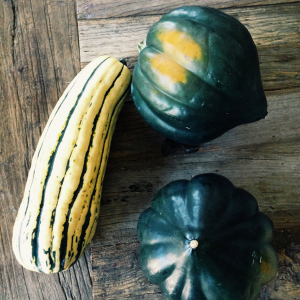 Roasted Delicata Squash
Serves 2
1 delicata squash
3 teaspoons extra virgin olive oil
Sea salt and freshly cracked pepper
2 tablespoons walnuts, chopped
1 tablespoon parsley, chopped
Pinch of red chili flakes
Preheat the oven to 350 F. Wash and dry the squash.  Slice the squash in rings and remove the seeds. Place the squash rings on a baking sheet and drizzle with olive oil, sprinkle with sea salt, pepper and red chili flakes. Bake for 35 minutes or until the squash is tender and browned, add chopped walnuts and allow to bake for another minute. Remove the squash from the oven and place in a serving bowl. Sprinkle the chopped parsley.