This quinoa salad is really simple to put together, inexpensive and packs well for lunch or hiking in the mountains. Quinoa is such a versatile grain that takes on the flavour of the ingredients added to it. Fresh, light and incredibly good for you without gluten, dairy or added sugar. The best part of making this salad is I generally have all the ingredients in my fridge or pantry.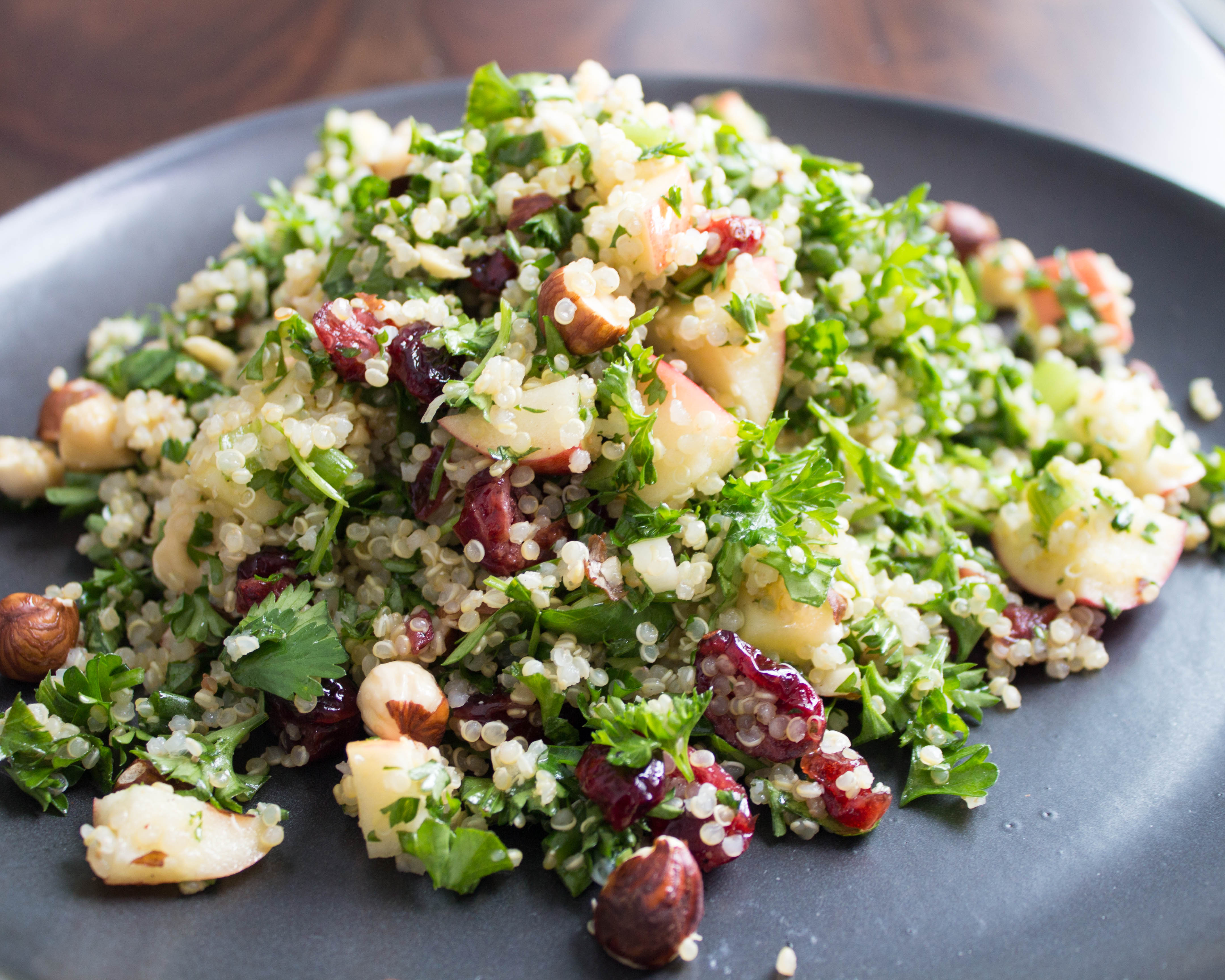 The original recipe called for flat leaf parsley however, all I had on hand was curly leaf. Slightly more bitter than flat leaf I think it pairs well with the sweetness from the fruit. I often use pine nuts or almonds in this salad as well.
Quinoa Salad with Apple, Cranberries & Hazelnuts
Adapted from Food52
Serves 4
Ingredients:
1 cup quinoa, rinsed and drained well
1 3/4 cup water
1 1/2 lemons, juiced and 2 tsp of lemon zest
1 gala apple, diced
1/2 cup dried, unsweetened or maple syrup sweetened cranberries (I find these at Planet Organic)
1 bunch of Italian parsley (curly leaf), chopped
1 handful of cilantro, chopped
4 green onions, sliced
1/2 cup roasted hazelnuts, roughly chopped
Extra virgin olive oil
Sea salt and pepper, to taste
Directions:
Rinse and drain the quinoa. Add the quinoa and water to a saucepan and bring to a boil, cover and reduce the heat and allow to simmer for 15 minutes. Remove from the pot to a large bowl to cool.
Preheat the oven to 350 degrees F. Place the hazelnuts on a baking sheet and roast for roughly 10 minutes (until they smell fragrant). Remove from the oven and allow to cool. Rub the hazelnuts in a clean tea towel to remove the skins. Roughly chop.
Add the parsley, cilantro, green onion, cranberry and lastly apple to the bowl of quinoa. Squeeze the juice of 1 1/2 lemons over the apple. Add in the hazelnuts, sea salt and pepper and drizzle with olive oil. Toss all the ingredients together and taste for seasoning.