I live for fall. The smell and feel of the crisp air. Sipping warm mugs of tea, wrapped in a big chunky sweater. All my scarves, boots and sweaters are pulled out and my jeans are back in rotation. Love it all. But what I love THE most is pumpkin. Pumpkin pie, pumpkin spice, roasting squashes and making soups. I crave it.
Adding pumpkin to chia pudding is a great way to incorporate that fall flavour we desire. Chia pudding is amazing for breakfast, snack, or dessert and this pumpkin chia bowl is no exception. Chia is nutrient dense on it's own but adding pumpkin increases the nutrients again. Pumpkin is high in beta-carotene which the body converts to a form of vitamin A, essential for healthy vision. Pumpkin, sweet potato and butternut squash to name a few have been linked to cancer prevention, not that I needed another reason to include these delicious vegetables in my diet. If you are looking for a refuel snack for after a hard workout? Eat this. Pumpkin is high in potassium which helps the body balance electrolytes.
I used chai rooibos tea as a base for flavour but what I like rooibos tea for it's powerful antioxidant content. Rooibos  tea has been known to help with cardiovascular disease, lowering blood pressure and cholesterol. Ginger is super nutritious and helps with digestion and cinnamon helps control blood sugar levels. A nutrient packed, tasty, filling fall treat.
Pumpkin Spice Chia Bowl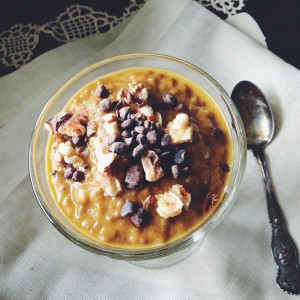 Serves 2 – 4 (depending on how hungry you are)
1 cup Chai Rooibos tea
1 cup hemp milk (almond or coconut work great too)
1 cup pumpkin (canned or fresh, not pumpkin pie filling)
2 – 3 medjool dates, pits removed
1 tablespoon pure maple syrup
1 teaspoon cinnamon
1 teaspoon freshly grated ginger
a pinch of allspice or cloves
1 teaspoon vanilla extract
1/4 cup chia seeds
Raw walnuts
Raw cacao nibs
Add the tea, hemp milk, pumpkin, dates, maple syrup, cinnamon, ginger, allspice and vanilla to a blender and blend until smooth. Pour the mixture into a bowl, stir in the chia seeds, mix very well. Cover and refrigerate overnight.
Remove from the fridge and stir again. Divide evenly among bowl and top with walnuts and cacao nibs.