Hemp milk is a great dairy substitute for those who cannot tolerate dairy but also for individuals who suffer from nut allergies. The best part is you don't have to soak the nuts for 8 hours to achieve a homemade, dairy free milk. I have never been a huge fan of slimy, store bought nut milks so I typically make my own when I have the time or I am feeling ambitious. Hemp milk is a great milk substitute for smoothies, makes a dynamite matcha latte and is delicious served chilled on its own.
Hemp is a high protein seed containing all the essential amino acids. The seeds also contain a high amount of the essential fatty acids Omega 3 and 6 as well as phytonutrients that may protect us from cancer, reduce inflammation and may reduce our risk of arthritis. You can find hemp seeds in most health food stores and even Costco. Some who cannot tolerate dairy or whey protein have no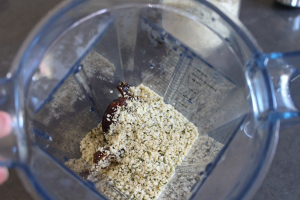 trouble digesting hemp, making hemp protein powder a good option if you are looking a quick protein source. If you are wondering, no, hemp seeds will not get you high. Hemp seeds do not contain THC in marijuana. Add hemp seeds to yogurt, salads, smoothies and homemade granola bars for an extra protein boost.
Hemp Milk
4 cups filtered water
1/2 cup hemp seeds
3 Medjool dates
1 teaspoon vanilla extract
Add the dates, hemp and water to a high speed blender and blend for 90 seconds.
Using a nut milk bag, pour the hemp milk into the nut milk bag and squeeze until all the milk comes through. Pour the milk into a glass jar and add the vanilla extract. Store in the fridge in a sealed container for up to 5 days.