Have I mentioned how much I love to bake? For me it's part therapy, part passion and a large part of my job is baking with unrefined ingredients. My mom made scones for us as kids, smothered in her homemade jam with heaps of butter, still warm from the oven. I may have inherited my mother's passion for baking, although I have forgotten to ask if it was her passion or if it was more a necessity feeding all seven children in my family. Home cooked food feeds the soul and heals the body and I seriously love turning old favourite recipes into new favourites using whole, unrefined foods.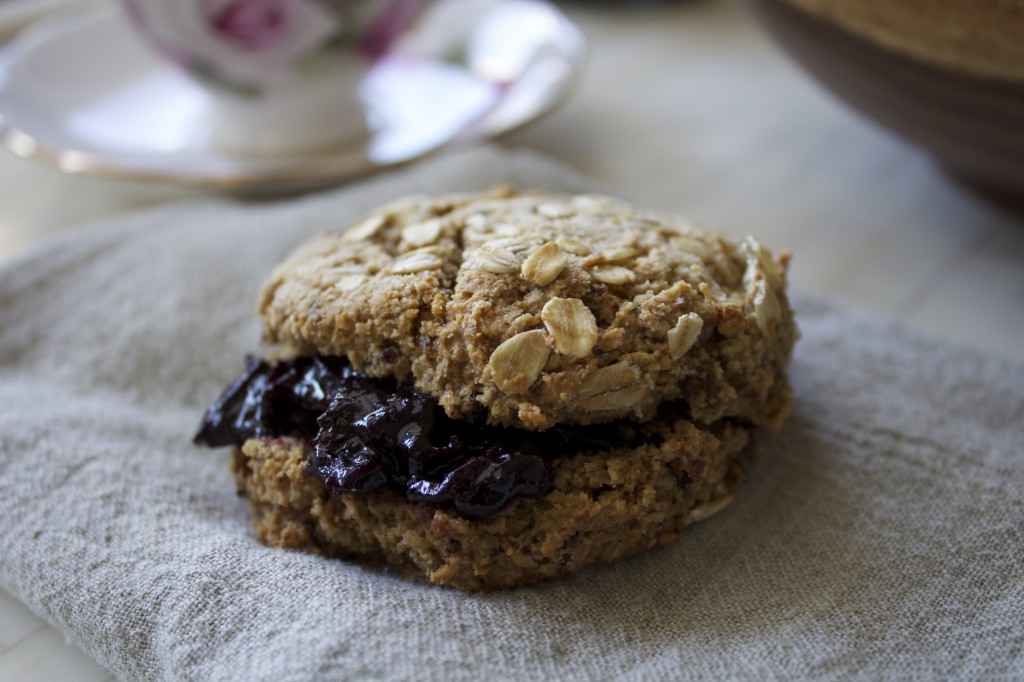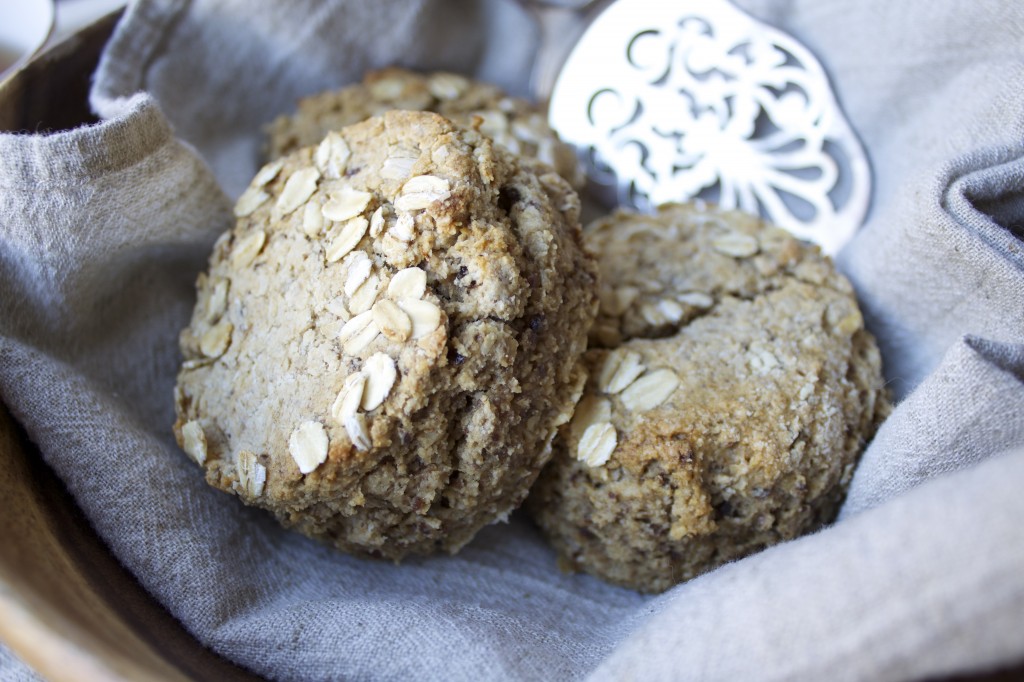 These scones are comforting with homemade jam and a cup of tea – the best part is these scones are good for you. Cocout oil is a very good fat to bake with because it can stand high temperatures without being denatured and becoming toxic. Coconut oil is anti-viral, anti-fungal and aids in appetite control which means coconut oil is beneficial for weight loss. Made without refined sugar, wheat or bad oils these vegan scones are so good for the soul.
Oat & Almond Scones
Makes approximately 10 scones
2 1/2 cups whole oats plus 1/2 cup for rolling (gluten free if required)
1 1/2 cups almond flour
2 Tablespoons ground flaxseed
1/4 cup coconut oil, warmed
1/4 cup honey or pure maple syrup
1 ripe banana
3/4 teaspoon baking soda
1/2 teaspoon cinnamon
1/2 teaspoon sea salt
1 teaspoon vanilla
1/2 cup raisins
Preheat the oven to 350 degrees F.
In the bowl of a food processor combine 2 1/2 cups oats, almond flour, flaxseed, baking soda, sea salt and cinnamon. Blend for 30 seconds.
Warm the coconut oil and honey. Add the banana, vanilla, coconut and honey to the dry ingredients and combine until the dough starts to from into a ball. Add in the raisins and combine for another 30 seconds. Remove the dough from the bowl.
Sprinkle the remaining 1/2 cup oats onto a flat surface and dumb the dough onto the oats and coat both sides with oats. Form into a large circle. Using a round biscuit cutter, cut 9 – 10 rounds from the dough.
Place the rounds onto a baking sheet and bake for 20 minutes.
Concord Grape Jam
Makes approximately 1 cup
1 1/2 cups concord grapes
1 heaping tablespoon honey
juice of 1/2 lemon
Place the grapes, honey and lemon juice in a small saucepan. Cook over low heat until the grapes start to release their juices. Break the grapes, pushing them with a wooden spoon against the side of the pot. Continue to cook, stirring often, over low heat and allow the mixture to reduce and thicken; approximately 20 minutes.  Store the jam in a sealed jar in the fridge.