I was in Vancouver over the weekend and had a chance to check out some incredible restaurants and shops. I toured around the sea wall, through Gastown and surrounding areas. The weather was perfect for walking around and checking out the sights. Vancouver is truly one of my favourite cities to visit.
I strolled through fallen leaves on a misty morning in Stanley Park where the trees are covered in soft green moss. I'm envious of the sea and wish I lived closer to the water. Being a prairie girl, I'm jealous of those who get to breathe salt water air and rarely get to experience the severe temperatures we do in the Rockies.
The beautiful carvings at the Capilano Suspension Bridge – first time to cross the bridge and it was well worth it. So much beauty.
On our final day in Vancouver we walked to Gastown for one last time this trip and had an amazing brunch at L'Abattoir. I will most definitely be returning for the dinner menu on our next trip. M had the breakfast burger on recommendation from a local sitting beside us and I had pork belly Eggs Benedict, both equally delicious. Follow me on my Instagram feed for more photos of this beautiful city.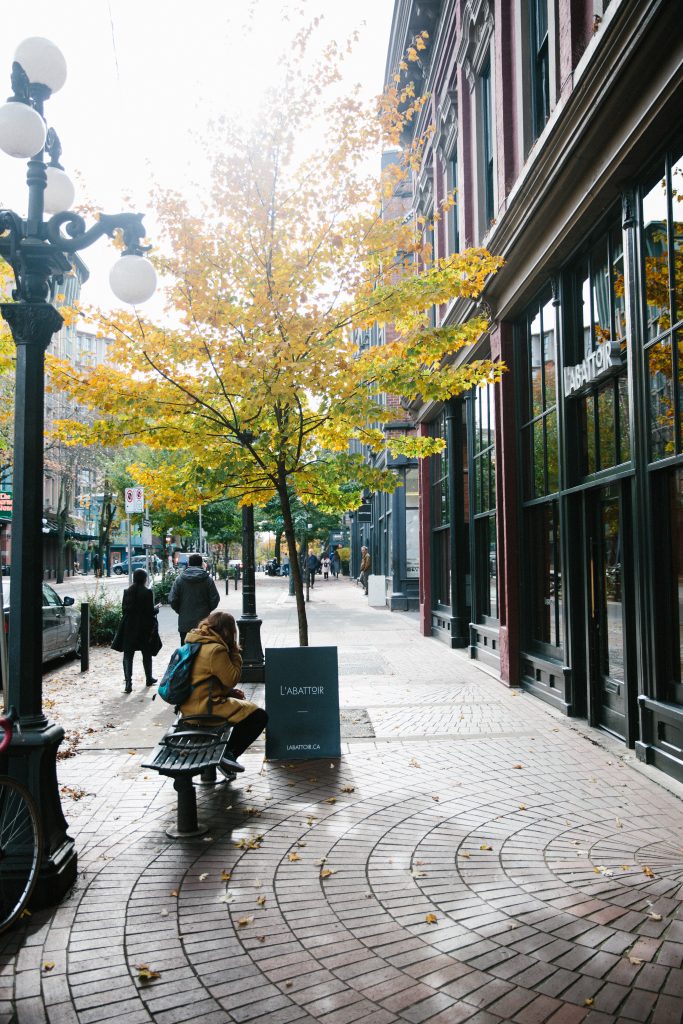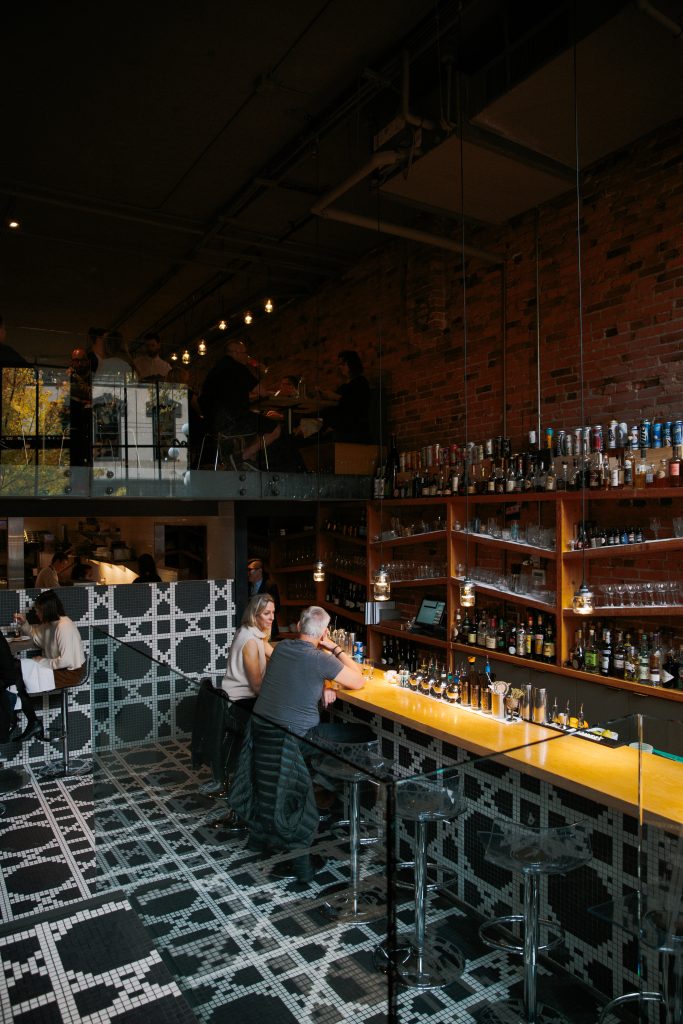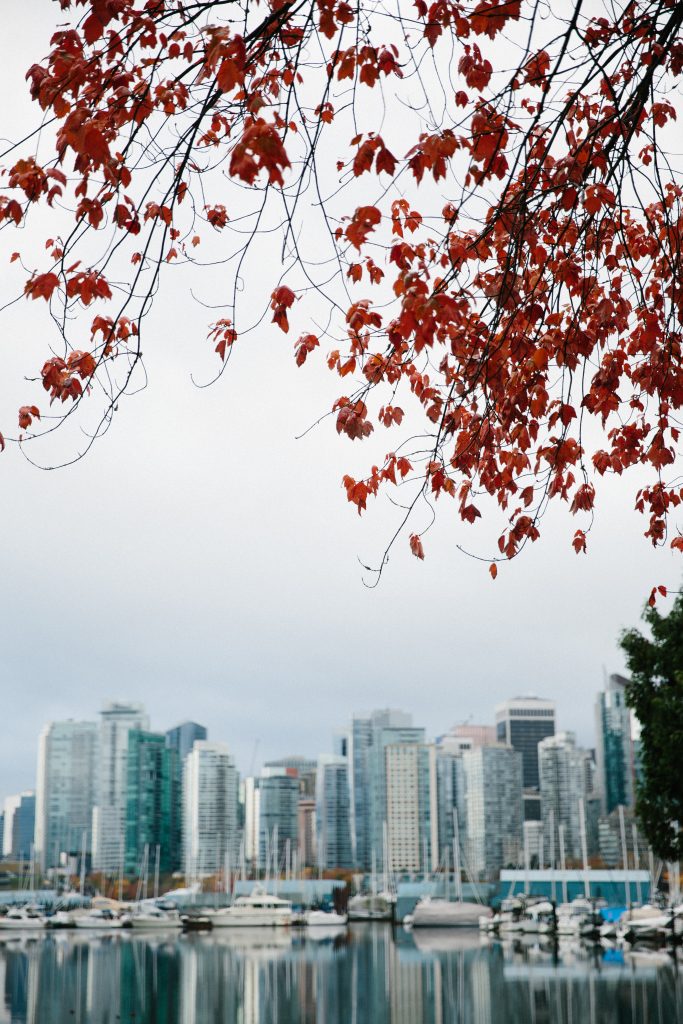 I always have a few restaurants lined up when we travel and this time I have a few places that I would say were my favourites. The one restaurant I was looking forward to the most was Forage. This sustainable, family style restaurant highlights local fisheries, foragers and farmers in their menu along with local wineries. We shared one of the best salads I've had in a long time along with a bison platter that was incredible. This recipe is very much inspired by the kale salad from Forage.
You could easily make this salad vegan with coconut milk yogurt or omit the yogurt and add more vegannaise.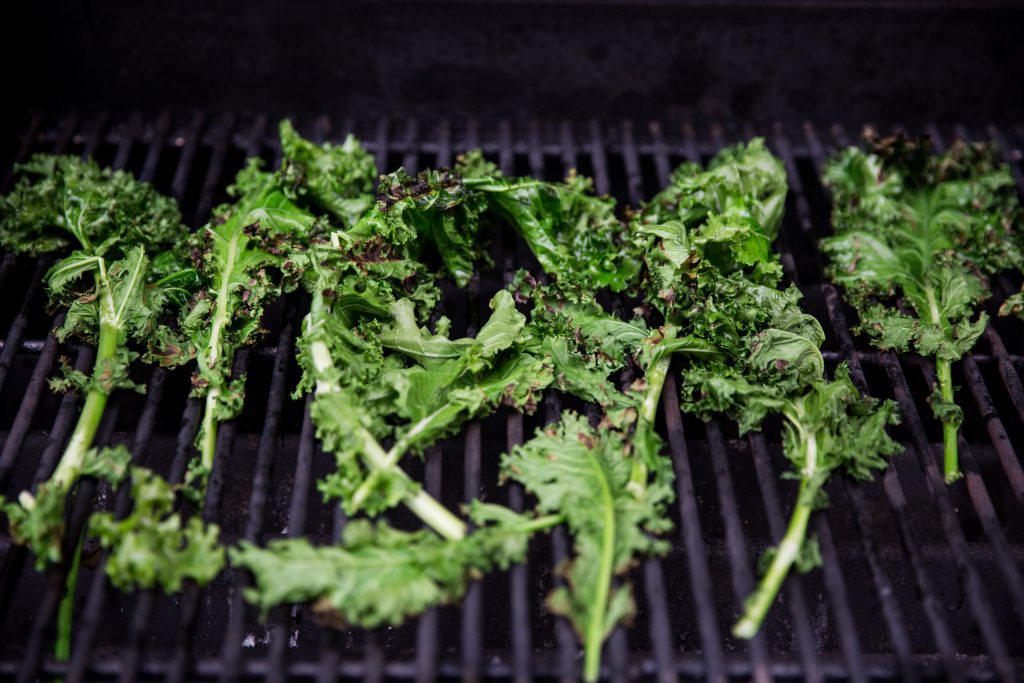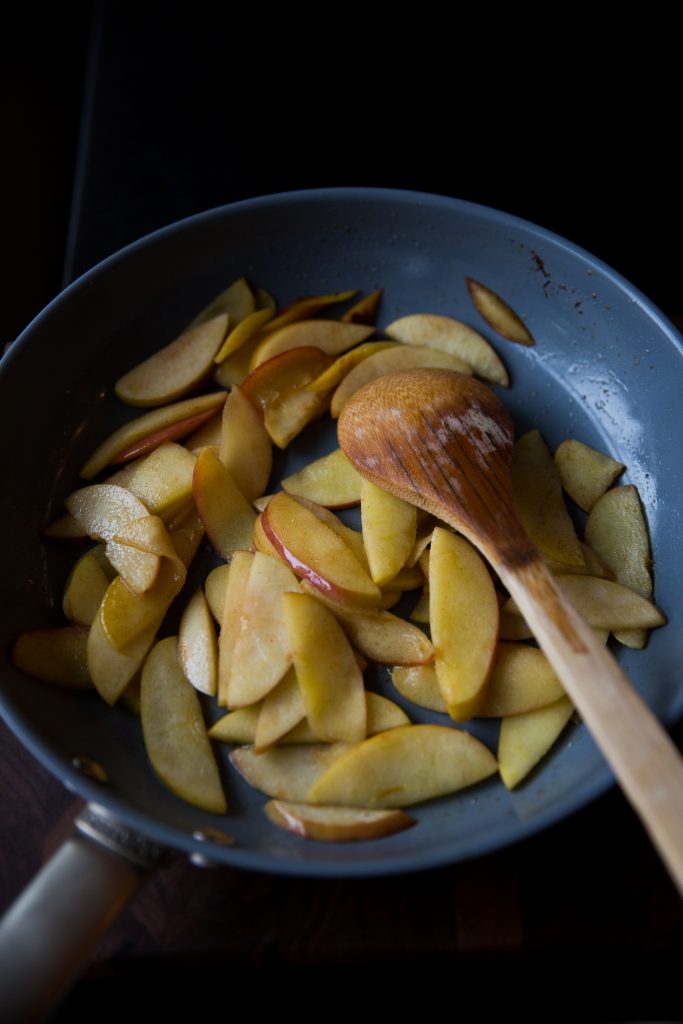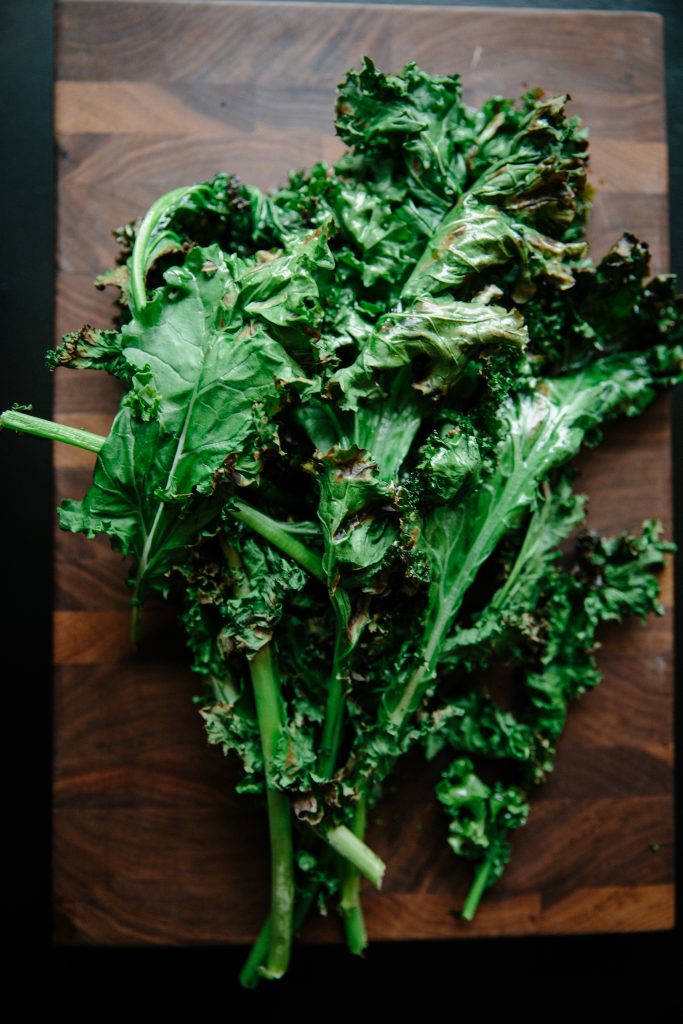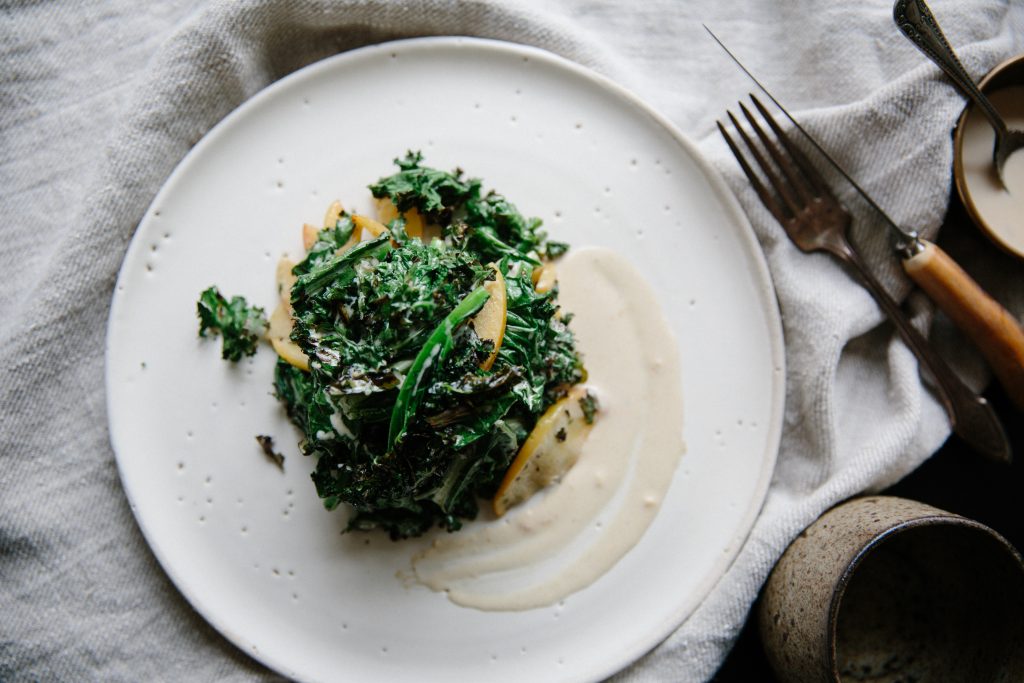 Grilled Kale Salad with sautéed apples and dijon dressing
Serves 2 (trust me, you will inhale this, not enough for more than 2)
Ingredients
1 bunch of kale, washed
1 tablespoon olive oil
2 gala apples, cored and thinly sliced
2 tablespoons butter, salted or unsalted
Dressing
1 heaping tablespoon dijon mustard – I used Kozlik's, (which I love) Dijon with horseradish
1/4 cup mayonnaise (vegan, paleo or whatever)
1 tablespoon full fat yogurt
1 tablespoon apple cider vinegar
1 tablespoon pure maple syrup
sea salt and pepper to taste
Directions:
Preheat a grill until 500 degrees F. Drizzle the kale with olive oil. Place the leaves on the preheated grill and grill without turning for a few minutes or until it starts to char. Turn and char on the other-side without cooking for too long. You want a bright green hue with grill marks for flavour. Remove from the grill and set aside.
In a saute pan, heat the butter over low heat. Add the apple slices and saute for 4 – 5 minutes a side without browning. Cook until tender. Set aside.
In a small bowl, combine all the dressing ingredients. Whisking until combined. Taste for seasoning, adding more acidity or sweetness as you like.
Chop the kale into bite-sized pieces. Add to a bowl with the apple slices. Drizzle in some of the dressing, adding as little or as much as you like. You want it to be well-dressed.
Serve and enjoy.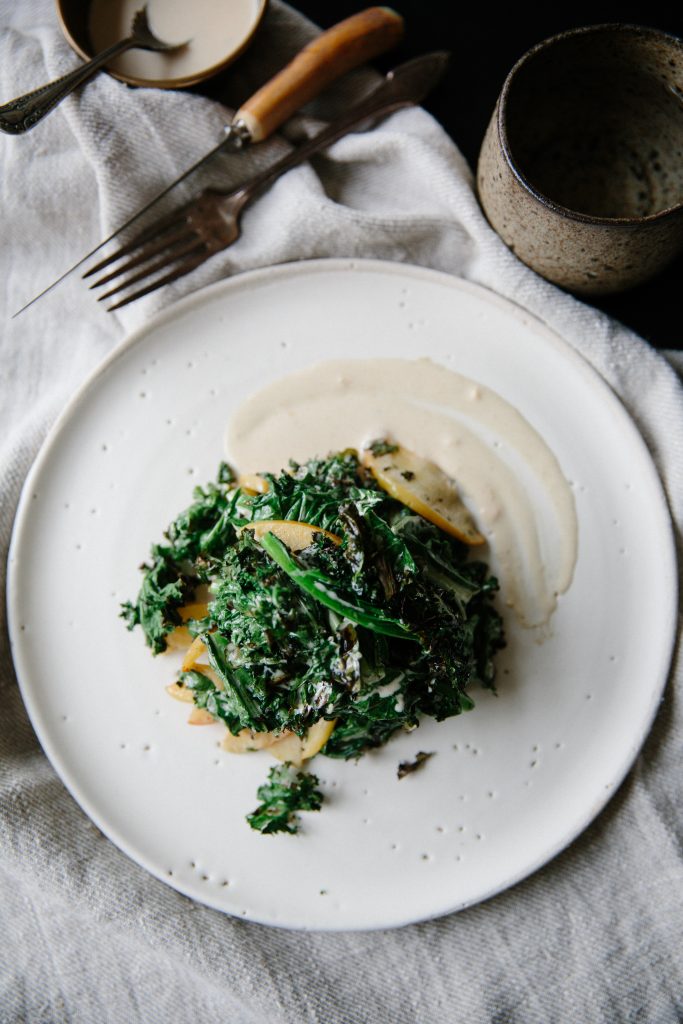 AND….how beautiful are these dishes? I have been eyeing some new pieces from Atelier St. George for some time and had the chance to swing by the studio to pick up some Janaki Larsen ceramics.  I'm so happy I did.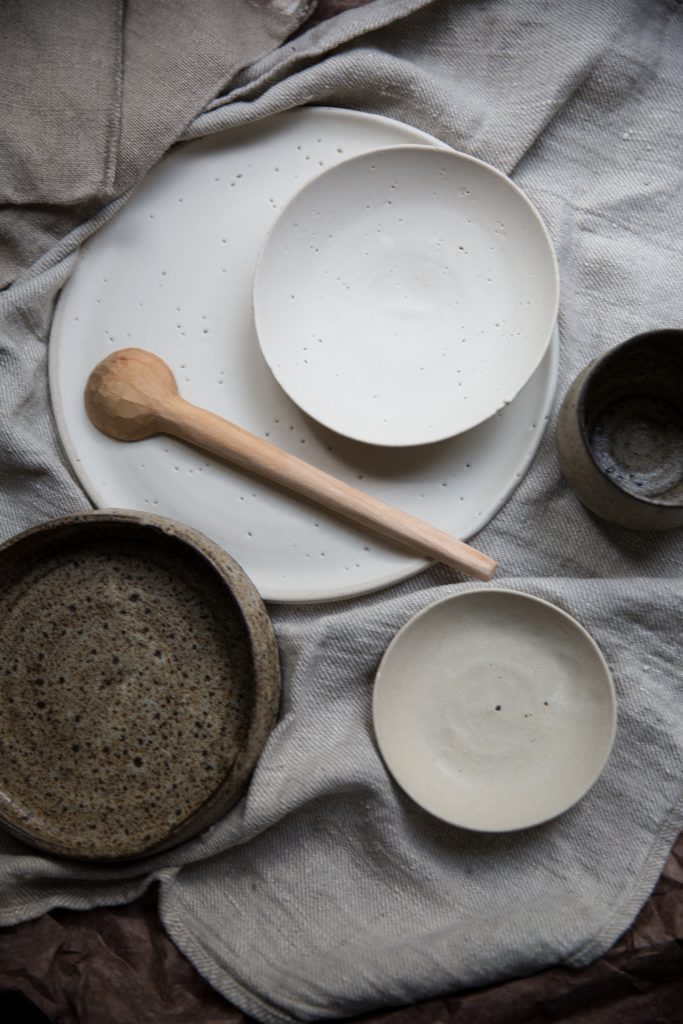 Also, the cutting board above is from Old Faithful Shop – loved this place.