I know fall is right around the corner when my 6 a.m. runs are dark and a jacket is required. The air is crisp and the wind has a chill which can only mean one thing, soup season. Hooray! This recipe was on my old blog but this version is slightly tweaked and it really has gotten a lot better.
I love this soup just the way it is however, if you are not a curry fan, simply leave it out. This may sound crazy but add a little diced banana just before serving and it's insanely good. I drizzled this soup with spicy macadamia oil I picked up in Hawaii on my last visit. This soup is dairy free, gluten free and grain free making it paleo, low allergen and healing if you are fighting a cold.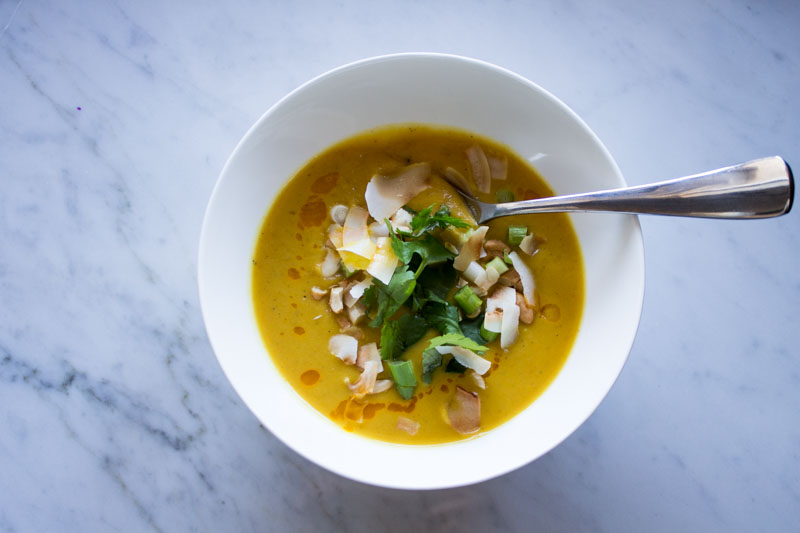 Curried Butternut Squash Soup
Serves 4 – 6 
Ingredients:
2 small butternut squash or 1 large
2 yellow onions, diced
2 apples, cored and diced (I like gala)
avocado oil
4 garlic cloves, minced
1 Tbsp. freshly grated ginger
1 Tbsp. coconut oil
2 tsp. curry powder (more if you like curry)
1 tsp. ground coriander
1 tsp. turmeric
1 litre organic, low sodium chicken broth
1 can full fat coconut milk
juice of 1 lime
sea salt and pepper, to taste
toasted coconut flakes, for serving
cilantro, chopped, for serving
lightly toasted cashews, for serving
banana, diced, for serving (optional)
Directions:
Preheat the oven to 400 degrees F. Line a baking sheet with parchment paper. Peel and dice the butternut squash. Place it on the lined baking sheet. Add the diced onion and apples, drizzle with avocado oil and season generously with sea salt and pepper. Bake for 20 – 30 minutes or until the squash is tender.
While the squash is baking, heat the coconut oil in a large pot. Add in the spices and heat for 2 – 3 minutes over low heat. Add in the garlic and ginger and cook for an additional minute. When the squash is tender remove it from the oven and add it to the pot along with the spices and coconut oil. Stir well and cook for 2 minutes over low heat.
Pour in the chicken broth and bring to a simmer. Now you have 2 options, either pour this mixture into a high-speed blender and puree or use a handheld emersion blender and puree. (I start with handheld and transfer everything to the Vita-Mix). When you have a smooth base, add the soup puree back into the pot. Pour in the coconut milk and stir in lime juice. Taste for seasoning.
Serve garnished with cilantro, cashews, toasted coconut and banana if you wish.