I've been travelling several times a month lately and although I love it I'm often not wanting to stock my fridge a few days before I leave. I tend to use up all the leftovers I have in the fridge and keep groceries to a minimum. This dish came together with a few ingredients I had in my pantry and I always have greens in my fridge so it came together in no time at all.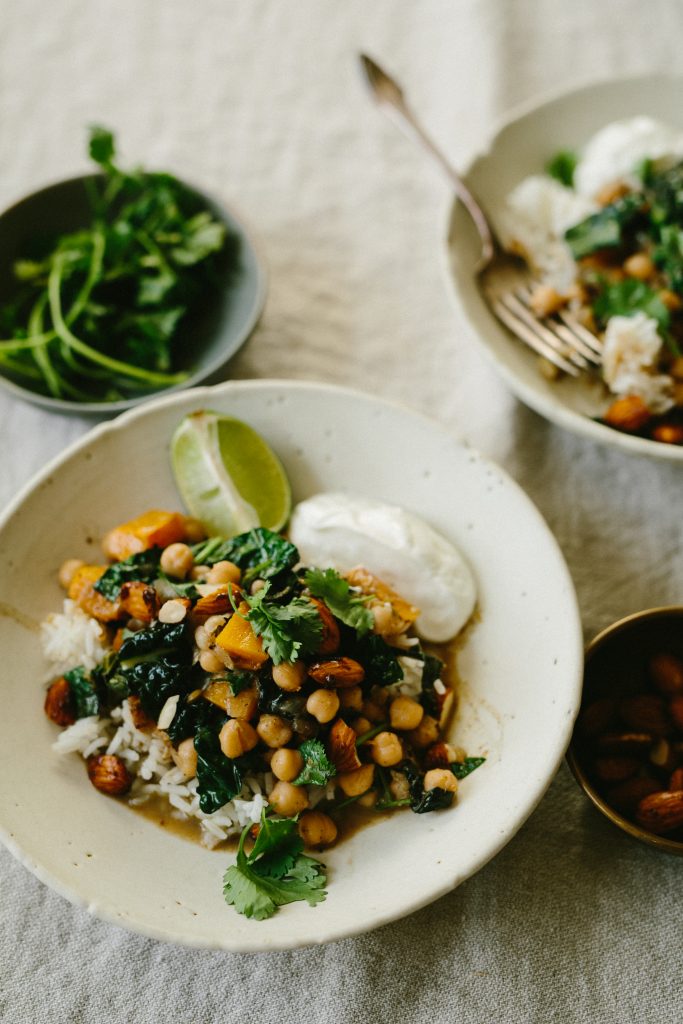 I love curry, absolutely love it and my girlfriends do as well. I pulled together a super impromptu weeknight dinner with this beautifully flavoured korma. I served it with a thick, natural yogurt and some spiced almonds I toasted with cinnamon, sea salt, cayenne and a little honey. It's the perfect dish for every occasion. A squeeze of fresh lime juice and a little sprinkle of cilantro and you have a delicious warm bowl for a weeknight dinner.
Butternut Squash & Kale Korma
Heavily adapted from Cook Republic
Serves 6
1 onion, finely diced
3 garlic cloves, minced
1 inch piece of ginger, grated
2 tsps. garam masala
1 tsp. ground cardamon
1 tsp. fennel seeds
1 tsp. cinnamon
1 tsp. ground cumin
1/2 tsp. cayenne pepper
3 tbsp. cilantro roots, chopped
1 medium butternut squash, peeled, seeded and diced
olive oil or coconut oil
1 head lacinato kale, chopped
1 400 ml can coconut milk
1 1/2 cups vegetable broth ( If not keeping this vegetarian I recommend chicken broth)
1 tbsp. honey
2 cans chickpeas, rinsed and drained
Directions:
Preheat the oven to 400 degrees F. Line a baking sheet with parchment paper. Place the diced butternut squash on the paper and drizzle with olive oil. Season with sea salt and pepper. Toss to combine. Roast for approximately 15 minutes. Remove and set aside.
Heat coconut oil or olive oil in a large pot. Add in the onion, garlic, ginger, cilantro root and fennel seeds. Sauté for a few minutes to soften the onion over low heat. Add in the spices, sea salt and honey. Cook for another few minutes. Add in the broth, chickpeas and coconut milk. Simmer the mixture for about 20 minutes.
Add in the butternut squash and kale. At this point I turn the heat off. You want the kale to still be vibrant and green. Serve with rice, yogurt, almonds, lime and cilantro.