Have you been wondering where I have been? Yes, it has been a while and thankfully the site is back up and running. The good news is, I will be posting recipes again! I was not relaxing in my down time off social media but instead I decided I would take on another job at Planet Organic giving out my advice on supplements and body care. I absolutely love connecting with people that need help but also chatting with like-minded nutritionists in this amazing industry of health. I'm busy but in a really good way. The more knowledge I can soak up the better and knowledge is power when it comes to health.
I posted a similar recipe for this salad on my old blog that I scrapped a few years ago influenced from the famous Hale to Kale salad from Planet Organic. I've been inspired to make this recipe again but I have changed a few ingredients in the salad dressing. This salad keeps incredibly well and is ideal for packed lunches. It frankly saves my life during the week when packing lunches for work. I sometimes add sprouted quinoa, chicken, an egg or some salmon depending on what I have cooked the night before. This is such a great way to get your greens in and also increase your liver detoxifying cruciferous vegetables widely touted for their cancer fighting capabilities. I will never tire of this salad nor its health powers.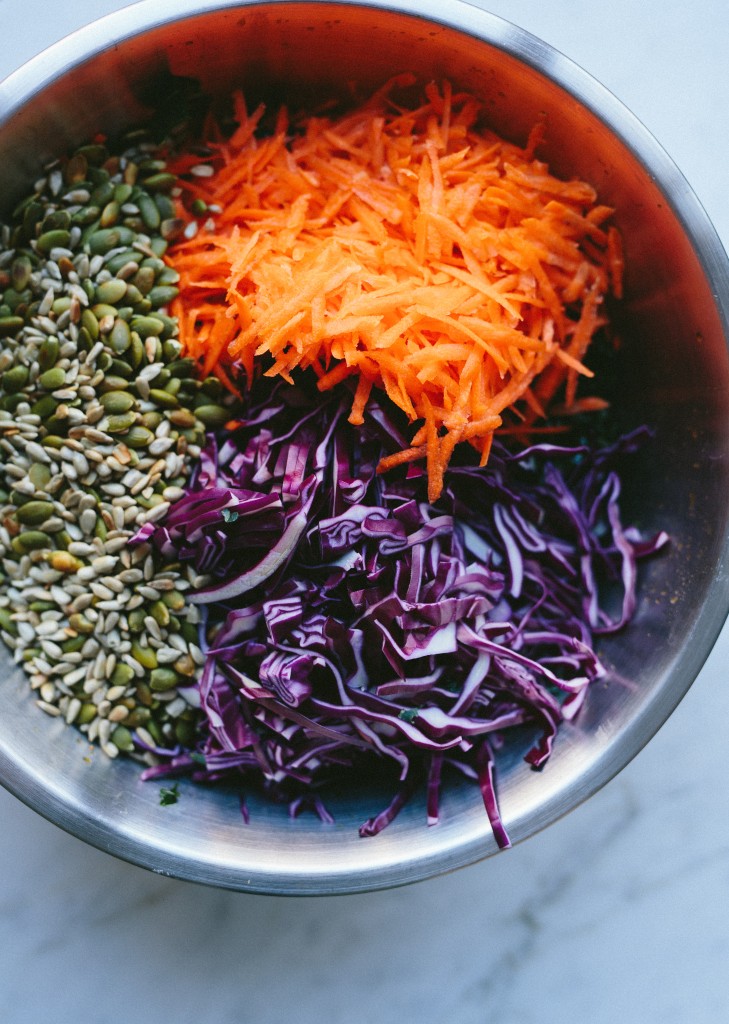 The Best Kale Salad
Makes a big bowl!
Ingredients:
1 big bunch of kale, lacinato or curly
3 carrots, grated
1/2 head of red cabbage, finely shredded
1/2 cup pumpkin seeds
1/2 cup sunflower seeds
3 Tbsp. coconut aminos
2 Tbsp. Neapolitan Herb Balsamic Vinegar (Find this at Blue Door Oil and Vinegar)
1/2 cup good quality olive oil
2 tsp. Eden Selected Hot Pepper Sesame Oil (optional but so good)
Directions:
Wash and remove the stems from the kale. Chop into small pieces and place in a large bowl. Add in the shredded carrots and cabbage.
In a small skillet, toast the seeds over low heat until fragrant and light brown. Remove from the pan and allow to cool. Add to the kale, carrots and cabbage.
Combine the coconut aminos, balsamic, olive oil and sesame oil in a small bowl. Pour over the salad and combine. I like to massage the kale with my hands to break it down a little making it easier to eat but totally up to you.