My body just craves simple green salads at times and I just embrace it like you should as well. It's your body's way of saying give me some life! Variety is so important when it comes to food because you need a range of vitamins and minerals from all sorts of plants, animals and fats.
I have given you a little run down on how I build a salad and often I let the market dictate what will be in my salad bowl on that day. Go with seasonal and local as much as you possibly can and you cannot go wrong.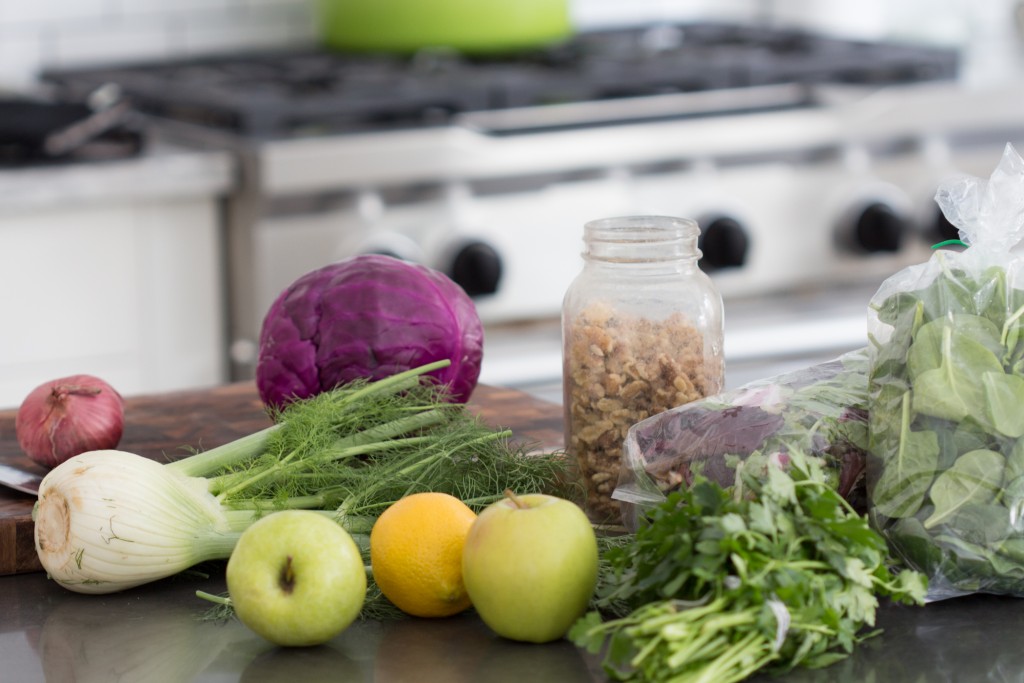 Cutting & Chopping
Make it easy on yourself and purchase a mandoline. It doesn't have to be expensive but this is a well-used piece of equipment in my kitchen. This will save you so much time weather it's preparing a salad or slicing zucchini for "noodles".
I cannot stress enough the importance of a good quality knife. Visit these guys in Inglewood and hold a few in your hand to see what is comfortable. Do not get anything too long. I love my Shun knife. A good knife is life changing.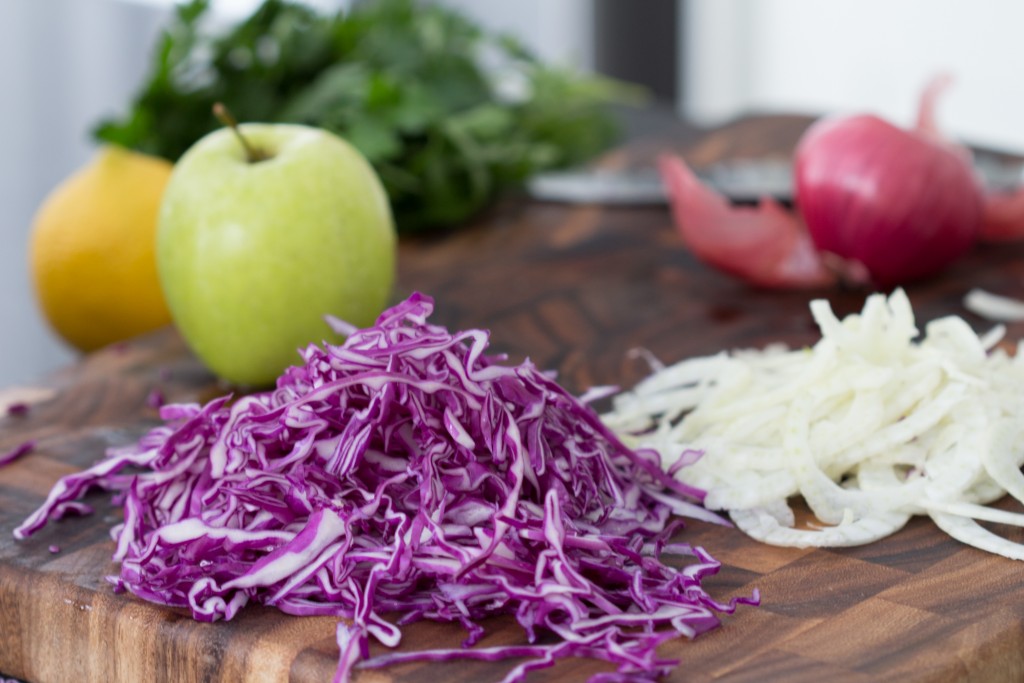 Oils and Fats
I highly recommend you find a good oil supplier in your area and taste a few olive oils. I have oils from Soffritto and Blue Door but there are many great suppliers. I generally have five to six oils in my pantry at a time ranging from lemon and grapefruit to mild or herbed. Purchase oils in the smallest dark bottle you can and seal them tightly before storing in a cool place.
I often like to add an extra crunch factor to my salads and this is where things can get a little fun. Walnuts, pine nuts, sunflower seeds, pumpkin seeds, pecans, almonds or pistachios add so much to a simple green salad. Play around with combinations of flavors but mix it up!
Another great option is avocado or olives. I love the creamy texture of a perfectly ripe avocado in some salads and for appeal I will often thinly slice and garnish with avocado. Raw cheese or goat cheese if you are dairy tolerant can take your simple salad to the next level weather it's a soft chevre or a blue sheep cheese with sharp and pungent notes. Olives add another dimension of interest and I play around with sundried olives and brined.
Nutrition: Always add fat to your salads as the fat soluble vitamins found in your greens needs fats for absorption in your body so add a small amount of salad dressing, nuts, seeds or avocado.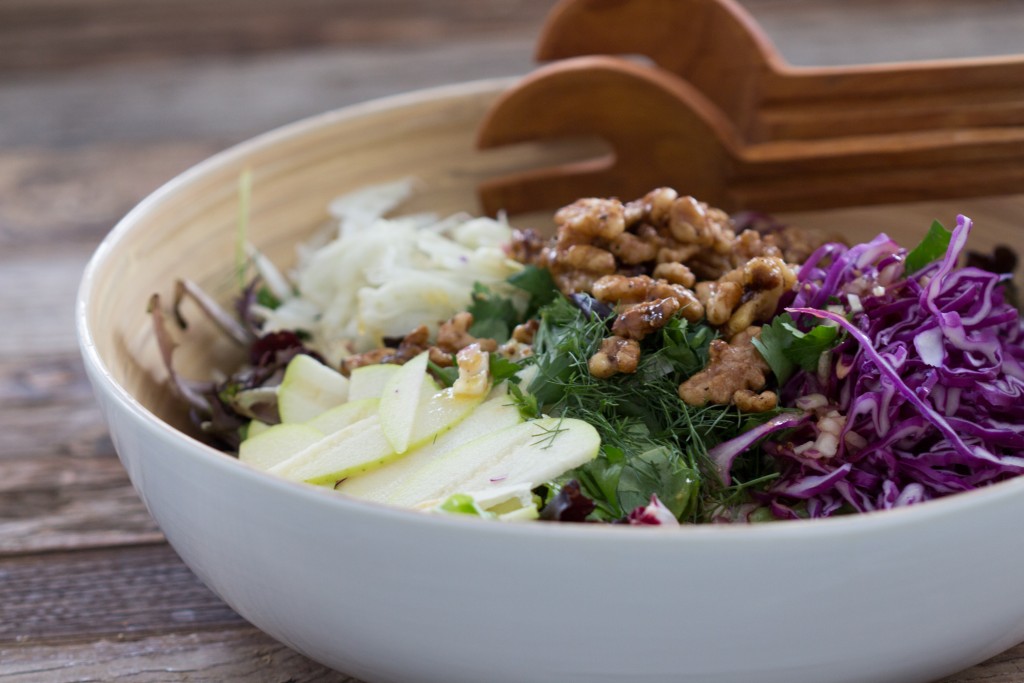 Produce
Nothing can be more important than quality when building a salad. I mean you actually can mess up a salad really bad by purchasing lettuce from a bag so don't even consider this. Find your place for the freshest greens you can get your hands on. I love Sunnyside market, Amaranth, Blush Lane and Planet Organic along with farmers markets because they often carry Hotchkiss and I am in love with the quality of produce they produce from Mizuna microgreens to chard it's always amazing.
Rotate through greens, if you purchase spinach this week, find another green such as arugula, kale, spring lettuce and so on. Add in a layer of another vegetable like fennel, cabbage, radish, shredded beets or carrots. Fruit can also make your taste buds dance and I like to add thinly sliced apples, pears and grapefruit or even grapes.
Do not forget about herbs when planning a salad. They have so many nutritional benefits. Parsley, cilantro, basil and mint are all high in vitamins but also lend a hand in detoxifying the body. Don't forget about your fennel fronds, they are amazing chopped and add in with the rest of your greens.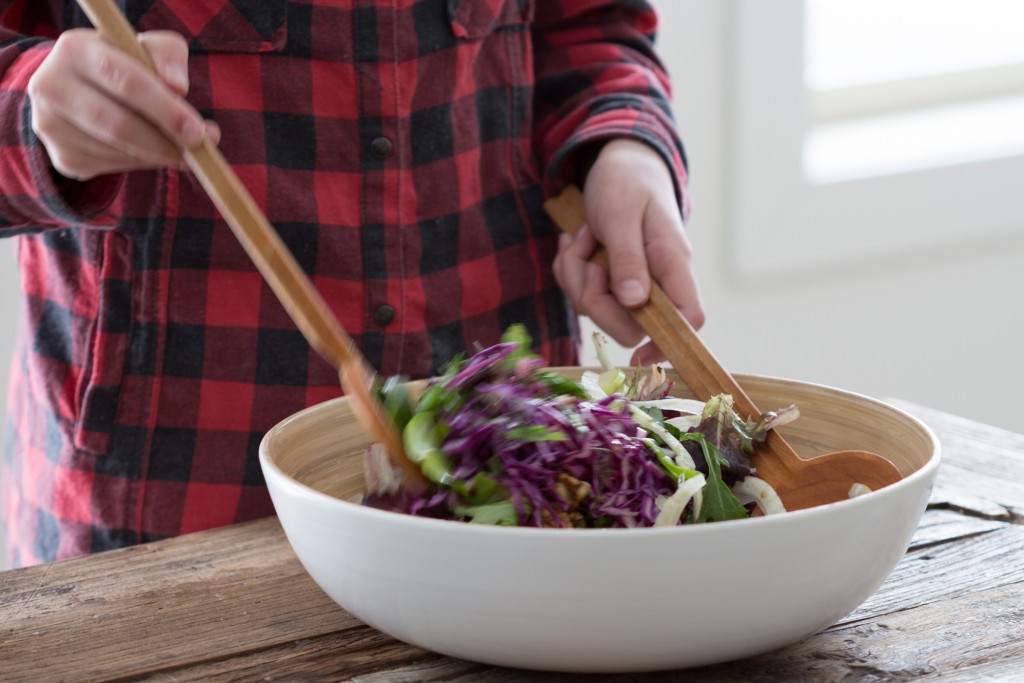 Acidity
Have some fun and let your taste buds guide you. There are so many options but some of my favorites are lemon and lime juice, white balsamic, pinot grigio artisan vinegar, apple cider balsamic vinegar and the list just never ends for me. Look for artisan vinegars while shopping for olive oils.
Simple Green Salad
Serves 3-4
Ingredients:
4 handfuls mixed greens
Green apple shaved (I like Orin)
½ bulk fennel, shaved
2 handfuls red cabbage, shaved
¼ cup chopped parsley
2 – 4 Tbsp. fennel fronds, chopped
¼ cup walnuts, toasted or spiced
Lemon Dressing
1 Tbsp. finely diced shallot
Juice of ½ lemon
1 Tbsp. apple cider vinegar or another vinegar you love
1 tsp. Dijon mustard
1 – 2 tsp. pure maple syrup
3 Tbsp. really good extra virgin olive oil (find a good producer from the farmers market)
pinch of good quality sea salt and pepper
Directions:
Lay a bed of greens and top with apple, fennel, cabbage, parsley and walnuts. Make little sections of each for presentation. If it looks good you will be more inclined to eat it.
Make the dressing by combining the shallot, lemon, vinegar, Dijon, maple syrup in a bowl. Whisk to combine and drizzle in the olive oil until the dressing is emulsified.
Drizzle the desired amount of dressing over your salad and toss right before serving.