It's been a while since I have posted but this salad is blog worthy. My blog is under an overhaul so I haven't wanted to post as much. I'm super excited about the new look. November was a crazy month and I'm really looking forward to taking a few days off.
I find winter in Calgary a bit of a challenge to come up with new and exciting recipes with the produce we have available. I was in Banff with a friend and she was telling me about a cauliflower salad she makes with dill and horseradish. I thought that's a strange combination but she assured me it was delicious and she is completely hooked on it. That's reason enough for me to try it. It's been a few weeks since that conversation then I came across a recipe from here. Not I love raw vegetables but I'm struggling with raw vegetables this winter. I'm forever cold. Roasting cauliflower brings out its sweetness so to be it just makes sense.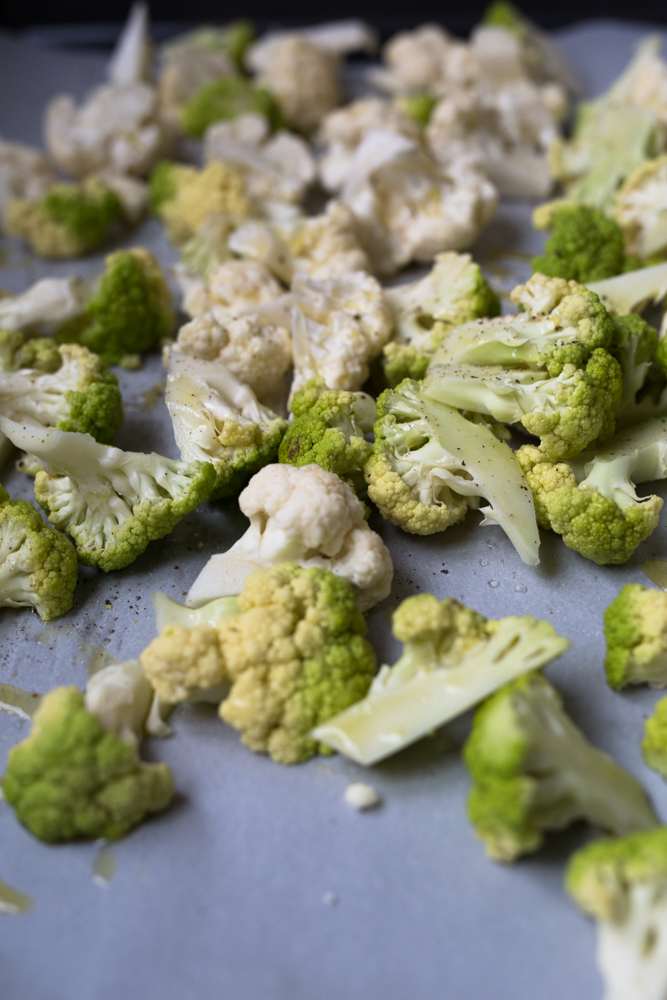 Roasted Cauliflower Salad with dill, horseradish yogurt dressing
Serves 4
Ingredients:
2 heads of cauliflower, one green or purple and one white
1 gala apple, cored and thinly sliced
1/4 red onion, thinly sliced
a bunch of dill, chopped
olive oil
sea salt and pepper
walnuts, lightly toasted

Dill, Horseradish Yogurt Dressing
1/2 cup plain unsweetened Greek yogurt
1/4 cup olive oil (I used a teaspoon of lemon olive oil as well)
1 teaspoon honey
1 heaping teaspoon prepared horseradish
juice of 1/2 lemon and a little lemon zest
sea salt and pepper to taste
Directions:
Preheat the oven to 400 degrees F. Line a baking sheet with parchment paper. Cut the leaves from the cauliflower and section the florets into small bite size pieces. Place all the cauliflower on a baking sheet and drizzle with olive oil. Sprinkle with sea salt and freshly cracked pepper. Bake for 15 minutes or until it starts to just lightly brown. Remove once done and allow to cool for a few minutes before tossing with the dressing.
Prepare the dressing while the cauliflower bakes. Add all the ingredients to a bowl and whisk until combined. Add the apple and red onion. Transfer the cauliflower to the bowl and toss with the dressing, apple and onion until combined. Add the toasted walnuts and addition dill before serving.