The inspiration for these brownies came from a group I cater for. I had made gluten free brownies for them a while ago and they loved them so much they asked for the recipe. I wanted to make the brownies again but healthier, not just gluten free but grain free and without added sugars. Here we have the most amazing raw brownie ever.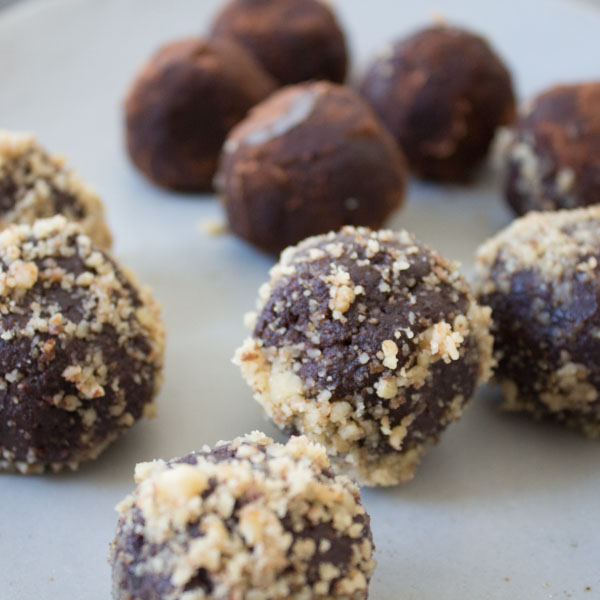 Raw cacao is higher in iron and magnesium unlike cocoa powder you find on the grocery store shelf. It is high in antioxidants that supports cardiovascular health, immunity, skin health and the nervous system. Look for raw cacao powder at a health food store. Medjool dates are mineral rich and especially high in iron, chromium, potassium and magnesium.
These brownies only take a few minutes to make, you don't have to turn on the oven and they are good for you! Gluten free, dairy free and vegan you won't miss the butter found in a traditional brownie I promise.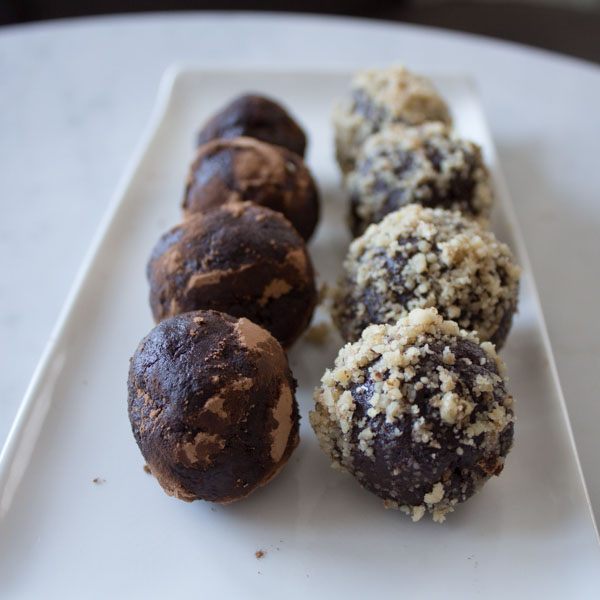 If you want a sweeter brownie, add 1 tablespoon of pure maple syrup and reduce the coffee. I have also made these with hemp hearts. Reduce the walnut ratio for hemp – it boosts the protein content.
Raw Brownies
Makes 20 – 22 bites depending on size
Ingredients: 
1 cup walnuts
1/2 cup pecans
1/2 cup raw cacao powder
1 cup soft medjool dates, pitted
2 tablespoon strong coffee or espresso (optimal but intensifies the chocolate), you can also use nut milk
1 teaspoon vanilla powder
1/8 tsp Himalayan sea salt
Extra finely chopped walnuts and or cacao powder for rolling
Directions:
Place the nuts in a food processor and blend until nuts are finely chopped, add the cacao powder, sea salt, vanilla and blend just until combined. While the blender is running add the dates one at a time along with the coffee and continue to blend until it starts to form a dough. Roll the dough into small bite sized balls and roll again in cacao powder or chopped nuts.
Refrigerate for 2 hours or freeze for an hour. Store in an airtight container for up to a month but I guarantee they won't last that long.