This frittata makes the best weekday leftovers for morning when you have to run out the door. It has everything you need and if you're looking for a grain free, high protein breakfast, this frittata has you covered. I love making this frittata for Sunday brunch, served with a big salad like the one I posted yesterday.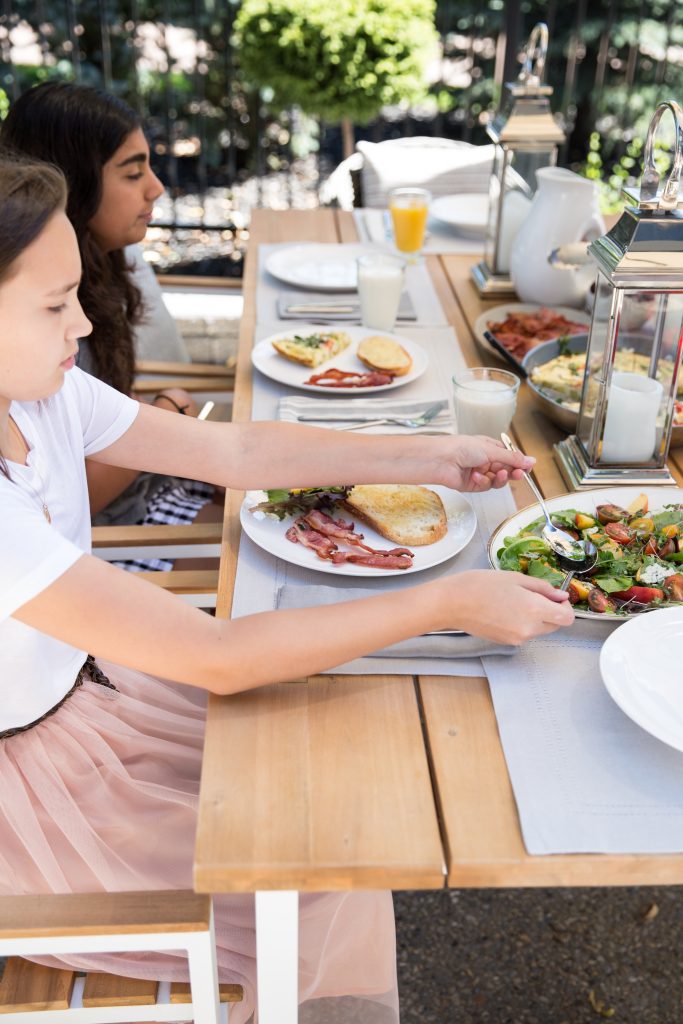 Now that we live so close to Sunterra Market, I've been picking up Rosemary Sourdough for the kids and M. Sourdough is better for you than regular bread because it's fermented and the grains are partially broken down so your body doesn't have to work so hard. Interested in learning more? Read this.
Feeding seven of us on weekends is actually really easy with simple and easy dishes like this frittata, and if we are lucky enough to have leftovers for the next day, Monday morning breakfast is that much easier.
I fire roasted the tomatoes the day before on the grill and kept them in the fridge overnight. I wasn't even sure at the time what I was going to do with them – I was thinking soup, but the tomatoes were excellent with the eggs. The baby potatoes added just enough texture to the eggs to keep things interesting.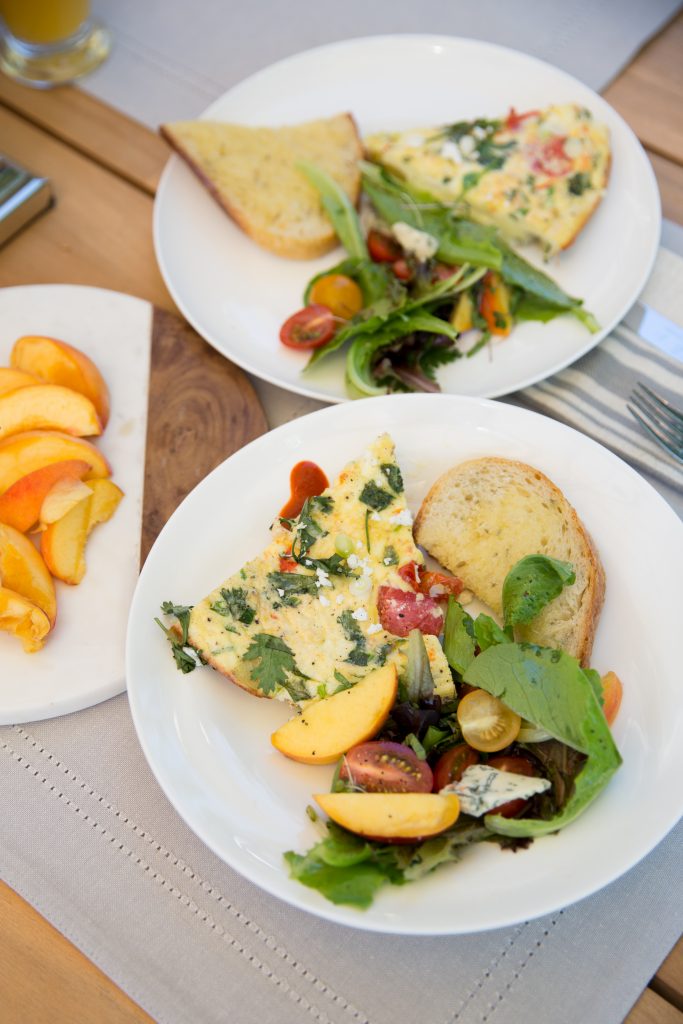 Potato & Roasted Tomato Frittata
5 small new potatoes (enough to cover the bottom of the pan), small diced
2 Tbsp. butter or olive oil
3 green onions, thinly sliced
8 roasted cherry tomatoes
1/2 cup milk or cream (coconut milk will work as well)
12 eggs
1/3 cup goat feta or feta, crumbled
1/2 cup cilantro or parsley (or more), chopped
sea salt and freshly cracked pepper
Directions:
Preheat the oven to 450 degrees F. Combine the eggs, milk or cream, a few pinches of sea salt and pepper. Whisk until completely combined.
Heat a 10 inch, non-stick skillet over medium heat. Add butter or olive oil along with the diced potatoes. Cook the potatoes until fork tender and lightly brown, approximately 10 minutes, stirring occasionally. Add in the green onions and cook for an additional minute. Add in a big handful of cilantro.
Pour the egg mixture over to potatoes and gently shake the pan. Add in the tomatoes and most of the cheese, saving some for garnish. Place the pan into the oven and bake until the frittata starts to puff and turn golden brown. I check mine around 12 – 14 minutes. I don't like to over bake eggs.
Remove from the oven when the centre is baked through. Garnish with cilantro and extra feta. Allow to rest for a few minutes before slicing.