Because stone fruit. Plums in particular. I strongly feel that Italian plums are to be baked into gorgeous cakes and tarts. This one is just divine. Sunday farmers markets this time of year make me giddy happy because they are full of berries and stone fruits. The cooler weather was just the perfect reason to bake a cake and roast a chicken for Sunday supper. The smell in the kitchen.
Lavender is one of my favourite ingredients to bake with and I still dream of going back to Cafe Medina in Vancouver for the first lavender latte I ever tasted. It adds a delicate flavour without being overwhelming.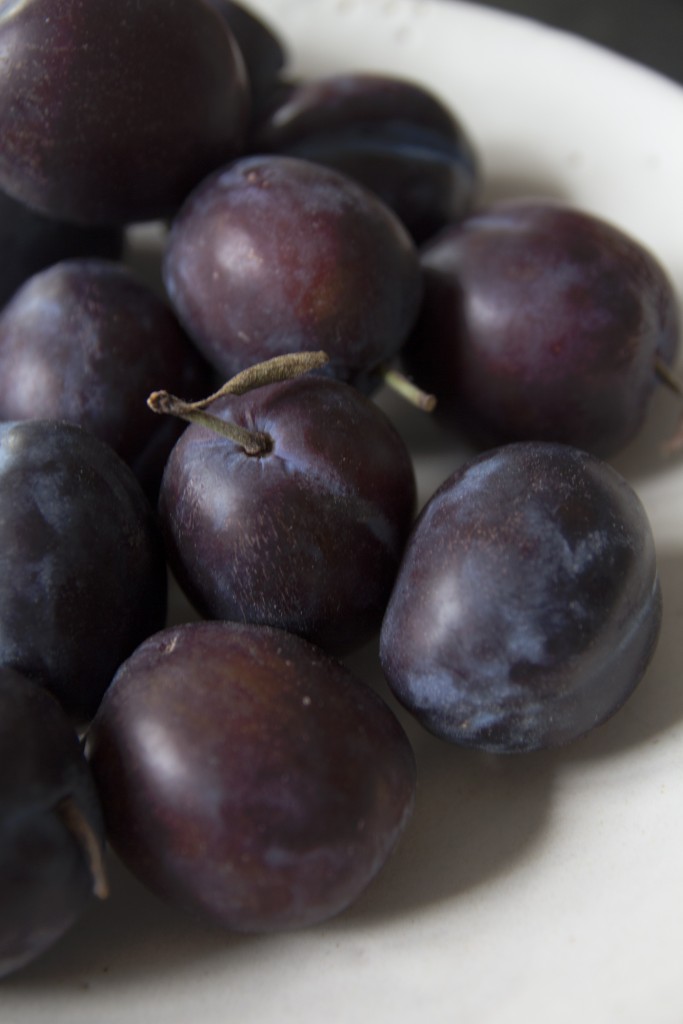 I served this cake with whipped coconut cream, more ground walnuts and the honey drizzle. It was the perfect ending. I think this cake is best the day it is made however it does make an excellent breakfast the morning after.



Plum, Lavender and Walnut Cake
Adapted from Apt 2B Baking Co. & Plenty More by Yotam Ottolenghi
Makes one 9-inch cake
Ingredients:
185g unsalted butter, diced and at room temperature
2 tablespoons olive oil or walnut oil
200g sugar (I used fine raw cane sugar)
120g ground almonds
4 large eggs, beaten
120g ground walnuts (plus 2 Tbsp. for the top)
90g all purpose flour (substitute gluten free flour or sprouted spelt)
½ teaspoon vanilla extract
1½ teaspoon lavender flowers, fresh or dry
1/2 teaspoon salt
600g (about 15) Italian plums, halved and pitted
For the icing
¼ cup honey
1 tablespoon lemon juice
Directions:
Heat the oven to 375ºF. Line the base and sides of a 9-inch cake pan with parchment paper and lightly butter the paper.
Put the butter, oil, sugar and almonds in the bowl of a mixer and beat on a medium-high speed until light and fluffy. Add the eggs bit by bit, making sure each addition is well incorporated before beginning the next, then fold in the walnuts, flour, vanilla, a teaspoon of lavender flowers and salt.
Pour the cake batter into the prepared pan and use an offset spatula to smooth the top. Arrange the plums halves skin side down (I did skin side up) and slightly overlapping all over the top of the cake, taking them right to the edge. Dust the cake with extra ground walnuts.
Bake for 65 – 70 minutes – cover with foil if the top starts to brown too much; also, note that when you insert a skewer to test for doneness, it will come out a little sticky because of all the moisture in the plums.
While the cake is baking, warm the honey and lemon juice. Let the cake cool for 15 minutes then drizzle the honey over the top. Sprinkle over the remaining lavender flowers and set aside to cool completely before slicing.