What?? Detox recipes are over before they began? Maybe not so New Years resolution friendly but I had to share this recipe before it was forgotten. I made these over the holidays and they were a hit with my houseguests. Gluten free and loaded with grated pears and walnuts you will never know they don't contain wheat.
I used 2 pears for this recipe and allowed the juice to slightly drain off before gently folding the grated pear in. I would suggest using perfectly ripe pears for maximum flavor. The batter should be stiff and if you feel like it may be too wet add a few more tablespoons of flour. I could have used a few extra tablespoons myself but I really like how they crisped around the edges of the muffin.  It made them even better I think.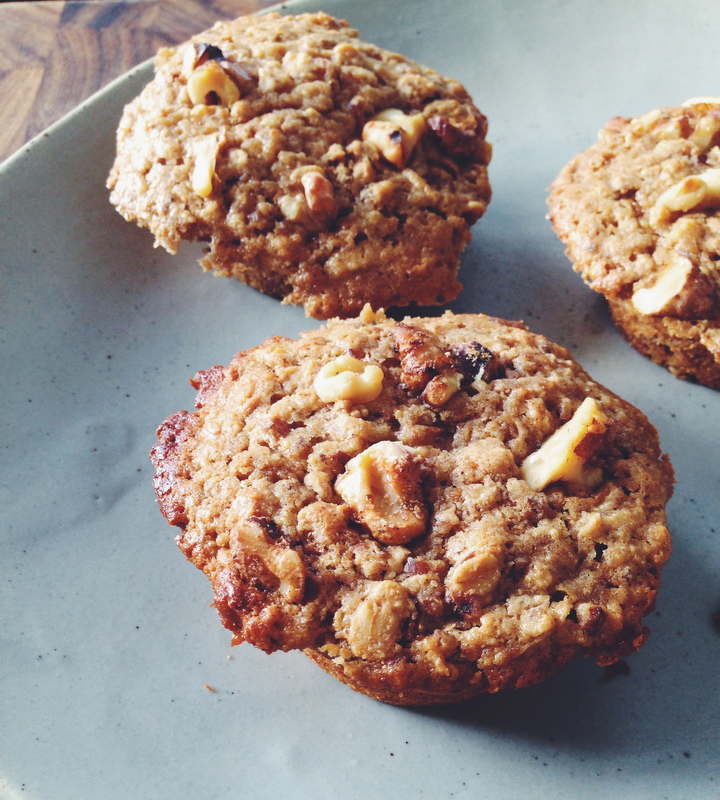 When choosing gluten free flours I stick with only a few because I am not a huge fan of starchy flours like potato or tapioca. I think they alter the taste of the finished product too greatly. I want my baking to taste like a product containing wheat, not dry, starchy and flavorless like some gluten free flours leave you with. I prefer almond, oat, quinoa, and brown rice flours for the majority of the baking I do.
I adapted this recipe from Sprouted Kitchen's version with wheat flour and hazelnuts.
Pear & Walnut Muffins
Makes 12 muffins
3/4 cup whole oats
1/2 cup almond flour
3/4 cup oat flour
1/4 cup brown rice flour
2 tablespoons ground flaxseed
2 teaspoons baking powder
1/4 teaspoon baking soda
1/2 teaspoon sea salt
1 teaspoon ground cinnamon
1/2 teaspoon ground ginger
1/2 cup yogurt
1/2 cup almond milk
6 tablespoons butter or coconut oil (at room temperature)
2/3 cup coconut sugar
2 eggs
1 teaspoon vanilla
2 ripe pears, grated
1 cup raw walnuts, chopped
 Preheat the oven to 425 degrees F. Grease a muffin pan with butter or coconut oil.
In a large bowl beat together the butter and the coconut sugar until smooth. Add in one egg at a time and scrape down the sides of the bowl. Mix in the vanilla, yogurt and almond milk.
In another bowl combine the oats, almond flour, oat flour, brown rice flour, flaxseed, baking powder, soda, cinnamon, ginger and sea salt. Stir the dry ingredients into the wet ingredients and stir until just combined. Fold in the grated pear and ½ cup of chopped almonds.
Divide the batter equally into the prepared muffin pan. Top the muffins with the remaining chopped walnuts. Place the pan into the oven and reduce the heat to 375 degrees F. Bake for 22 – 25 minutes. Cool in the pan for 5 minutes before removing to cool completely.