I remember the first time I ate lamb, I was on a flight to Australia when I was 20 years old and had never experienced lamb or a flight overseas before.I can't really say that I enjoyed it. I was very jet lagged, exhausted and was sick to my stomach from lack of sleep. My milk run entailed various layovers, New Zealand being the final stop and as we reached a stable altitude the flight attendant placed the lamb in front of me. I took one bite and immediately I knew I had better find the white bag placed in the seat pocket in front of me. My first experience having lamb left me from trying lamb again for quite some time.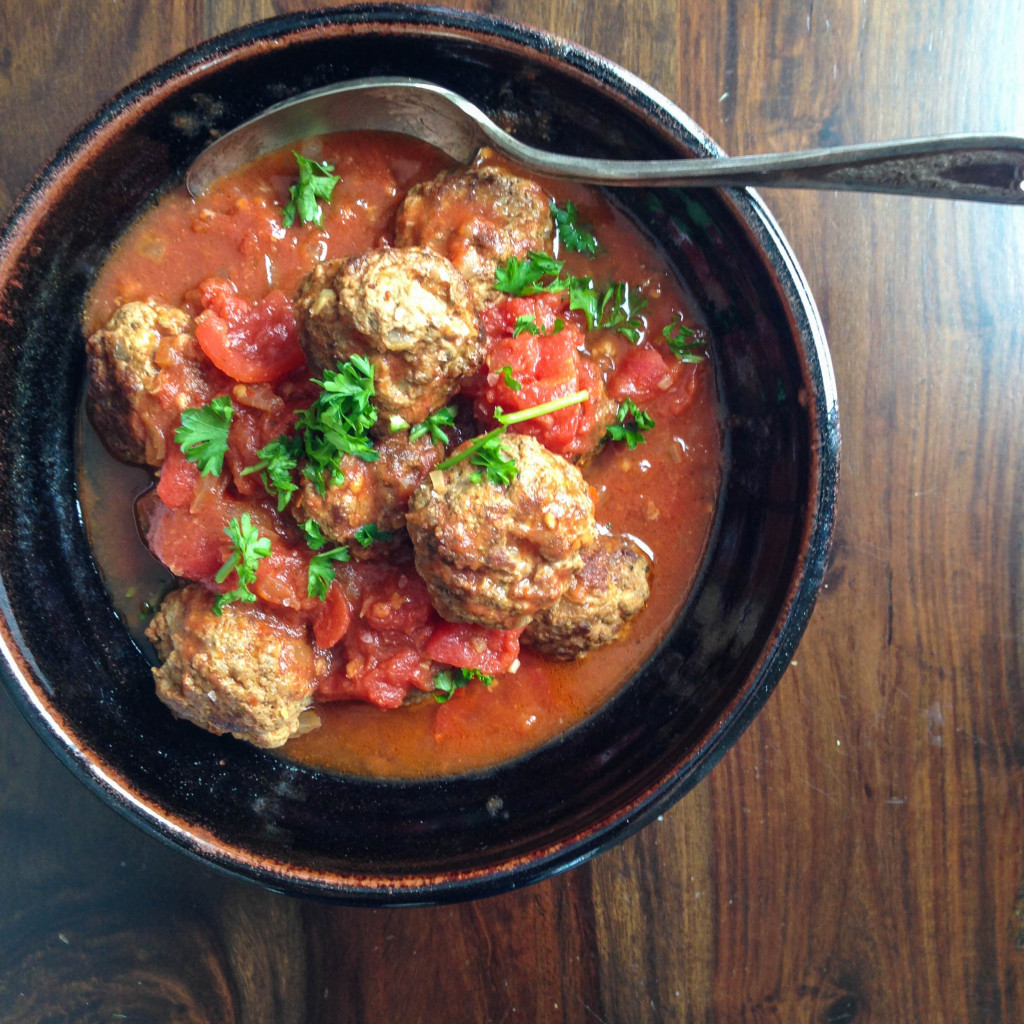 This Moroccan lamb dish is perfect to serve with herbed quinoa. Lamb pairs so well with herbs I find.  Saffron rice would make a great side or cauliflower rice if you are avoiding grains.
Moroccan Lamb Meatballs
Makes 12 meatballs
Meatballs:
Ingredients
500 grams ground lamb (I get it ground at Bon Ton Meat Market)
1/2 cup onion, grated
1 garlic clove, minced
a pinch of dried chilli flakes
1 tbsp Za'atar spice (Silk Road Spice Merchant)
1 tsp ground cumin
1 tsp turmeric
1/2 tsp ground ginger
1/2 tsp sea salt
ground pepper, to taste
2 tbsp cilantro, chopped
coconut oil for frying
Sauce:
1 onion, finely chopped
2 garlic cloves, minced
2 (400 ml) cans of diced tomatoes
3/4 cup chicken stock
1 tsp cumin
1/2 tsp cinnamon
1/2 tsp chilli flakes (less if you don't like spicy food)
salt and pepper to taste
fresh cilantro or parsley for garnish
toasted sliced almonds for garnish
Freshly cooked quinoa to serve
Directions:
Combine the lamb, onion, garlic, chilli, za'atar, cumin, turmeric, cilantro, sea salt and pepper together in a bowl. Roll into small meatballs.
Heat a little coconut oil in a non-stick pan and fry the meatballs until brown. Remove the meatballs to a plate.
In the same pan, add the onions and cook for 3 – 4 minutes. Add in the garlic and spices and continue to cook for another minute. Pour in the chicken stock to deglaze the pan, scraping any brown bits off the bottom. Add in the tomatoes and continue to cook over medium heat for 10 minutes or until the sauce thickens slightly.  Add the meatballs back to the pan with the sauce and cook until the meatballs are no longer pink in the center.
Garnish the meatballs with chopped cilantro or parsley and toasted almonds. Serve with quinoa.