This is my go-to easy recipe when one of our kids are feeling sick. It's so easy, fast and nutritious. Whenever we have sick ones I make soup of some kind but this one requires very little work and can even be made when you feel sick yourself (as I did).
Having bone broth in my freezer is a life saver for a quick soup or risotto. I save all chicken bones and when I have enough I use an electric pressure cooker and make a batch of bone broth. Store bought bone broth is just not the same as homemade. However, if need be, bone broth can be found frozen at health food stores. Bone broth itself is medicinal but combined with fermented miso you have a gut healing powerful combination. Keep in mind the better tasting your broth, the better your finished ramen will be.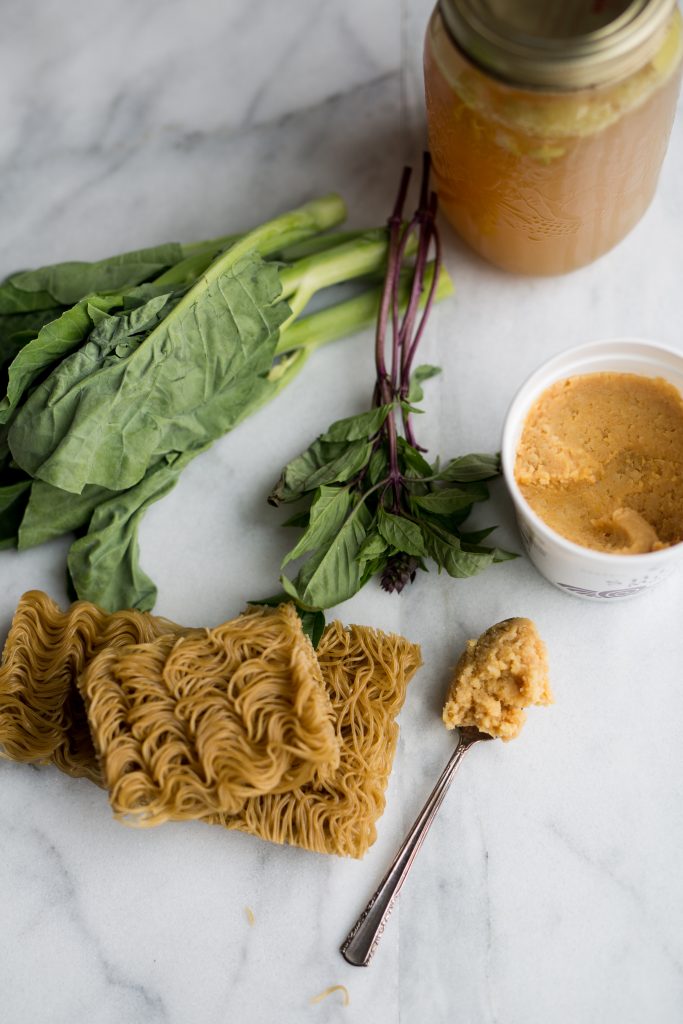 I'm a huge fan of the gluten-free rice ramen noodles from Lotus Foods . I found a big bag of them at Costco and my local health food store carries smaller packages. They have a few different varieties, including forbidden rice, but I used rice and millet in this recipe.
I have a serious obsession with fresh herbs and always have fresh herbs in my fridge. I used Thai basil in this ramen however, cilantro is great as well. For the greens in this ramen I used Chinese broccoli but I've also made it with broccolini.
Miso Ramen with bone broth
Serves 2
4 cups bone broth (chicken or beef)
2 'cakes' of Lotus Foods, ramen noodles
1 heaping tablespoon miso paste
a few dashes of fish sauce
2 teaspoons grated ginger
1 tablespoon tamari, gluten-free
1/2 teaspoon toasted sesame oil
Chinese broccoli, about 6 pieces
2 soft boiled eggs
1 chili pepper, thinly sliced
Thai basil, 6 leaves, thinly sliced
Green onions/scallions, thinly sliced
Directions:
For boiling your eggs, I like a 6 minute soft boiled egg for this soup. If you are taking your eggs right from the fridge remember they will need a little longer to cook. Peel the eggs and carefully cut in half.
Heat the broth in a saucepan over low heat until hot, not boiling. Add the ginger, fish sauce, tamari, sesame oil and lastly miso paste. Stir to combine. Allow to simmer while preparing other ingredients.
Place the dry ramen noodles in a bowl and pour boiling water over the noodles. I let them sit for 5 minutes while preparing the soup. Drain when ready to place in the hot broth.
Add your greens and simmer for a few minutes to cook the greens. Ladle the broth into two large soup bowls. Add the ramen noodles, top with the egg, green onions, chili and basil.