Since I gave up grains while CrossFitting a few years back I don't eat pasta. I sometimes get a craving for pasta but I think the craving is more for comfort food, a warm bowl of pasta just sounds like comfort. For me it's the rich tomato and beef combination with onions, garlic and basil that I love. I didn't want this dish to be heavy, I was looking for something lighter because it is after all summer. I strongly recommend using seasonal produce for optimal health and nutrition and most of all flavour. This week the zucchini and tomatoes were looking pretty fine.
My work week with two kids is always a little busy but this week with school coming to an end, it has been extra busy. Good busy. I don't know what I would do if I wasn't busy. That means, fast meals, that practically cook themselves, and that brings me to this dish.
I used a mandoline to make thin strips of zucchini "noodles" and added lots of garlic and onion, lemon juice and lemon zest to lighten the zucchini and it worked perfectly with Hoven Farms grassfed beef and a really quick tomato sauce. Toss with fresh parsley and a few cherry tomatoes, a drizzle of olive oil and a pinch of sea salt and call it a day.
Zucchini Fettuccine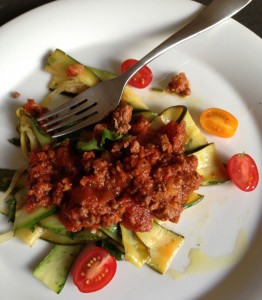 Serves 3
1 tablespoon extra virgin olive oil
3 zucchini squash
1/2 white or yellow onion, thinly sliced
2 garlic cloves, minced
Zest and juice of one lemon
1/4 cup chopped parsley
Using a mandoline or a vegetable peeler, make long thin strips of zucchini, like a fettuccine noodle.
Heat the olive oil in a large skillet, add in the onion and saute until the onion starts cook down 3 – 4 minutes. Add in the garlic and the zucchini and continue to cook over medium heat until tender. Remove from the heat and toss with fresh parsley. Plate and top with your favorite sauce.