Like any mom with children, and especially those moms who are driving children all over the city for hockey and dance, we need fast, make ahead meals. Having said that, I require "cost effective" to be thrown in there. This recipe is for us because it combines all noted requirements and more, it's nutritious, can be packed in a thermos for lunch and leftovers can be frozen.
I am forever looking for ways to use ground beef. Spaghetti is out in our household most of the time, my kids will eat it on occasion but its never a winner. But there is a bright side to every situation, they love salad and both of them love Indian. I stumbled across a recipe from Five and Spice, a blog I love, and decided I would give it a test run with Aidan and Ava. They loved it.
Basically it's ground beef, spices and some vegetables thrown in, similar to a chili but with Indian spices and so delicious. It you like curry, you are going to love this. I served it with spinach naan bread from Indian Life and brown rice. Of course if you are following a Paleo diet, you won't be eating the nann or rice but it makes a complete meal on its own. A delicious, hearty bowl that is great as leftovers the next day.
Keema Beef Curry
Adapted from Five and Spice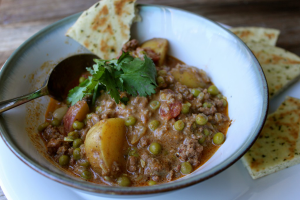 Serves 6
1 1/2 pounds grass-fed beef
1 onion, chopped
4 garlic cloves, minced
1 inch piece of ginger, minced
2 tablespoons medium curry powder (I use this one)
1/2 teaspoon ground coriander
1 teaspoon sea salt
1/2 teaspoon freshly cracked pepper
5 baby yellow potatoes, diced
2 cups chicken stock
1, 14 oz. can diced tomatoes
1, 14 oz. can coconut milk
1 1/2 cups baby peas (frozen)
Chopped Cilantro for serving
Brown rice and naan for serving (optional)
Brown the beef in a large pot over medium heat, breaking the meat into small pieces until no longer pink. Add in the onion, ginger, garlic, curry powder, coriander, sea salt and pepper and continue to cook until the onion is translucent.
Add in the potatoes and toss to coat. Stir in the chicken stock, tomatoes and coconut milk. Cover and allow to cook for 20 minutes or until the potatoes are tender.
Stir in the peas and allow to cook for a few minutes. Using a wooden spoon, break most of the potatoes down (I skipped this part but I would recommend doing it).
Serve with brown rice or naan if you choose. Garnish with chopped cilantro (or if you are me, drown it in cilantro).