These are dangerous, good but dangerous. Kale chips are highly addictive so it's a good thing they are nutritious. Kale chips are so easy to make and involve very little preparation with minimal bake time. Don't get me wrong I don't always have time to make kale chips. I have bought them before,  but is it just me or are they pricey? Crazy expensive right?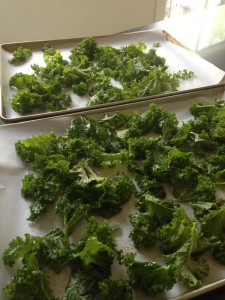 I am addicted to truffle salt and truffle oil after having truffle popcorn at a girlfriends place last year. Have you ever had truffled mac and cheese? So good. Truffle oil can be a little expensive but watch for it at places like Costco and sometimes London Drugs. Truffle oil is really good drizzled over grilled asparagus and makes a great addition to a mushroom omelet. However you chose to cook with truffle oil, I am sure you will love it as much as I do.
Nutrition: Kale is a super nutrient dense leafy green that is packed full of anti-inflammatory and anti-oxidants. Kale contains vitamin K, vitamin C, vitamin A, vitamin E, manganese, coppe, B6, potassium and iron. It is high in fiber as well which makes it a great detoxifier. Eating kale is a great way to get anti-cancer nutrients like most other cruciferous vegetables.
Truffled Kale Chips
1- 2 bundles of kale, washed and dried (I like curly leaf or lacinato)
1 tablespoon truffle oil
1 tablespoon extra virgin olive oil
generous amounts of sea salt or truffle salt
Preheat the oven to 400 degrees F. Line two baking sheets with parchment paper. Toss the kale with both oil and seasoning of choice. Spread the kale evenly over the baking sheet, giving the kale as much room as possible. Bake for 12 – 15 minutes, tossing in between to prevent burning.
There are so many flavour combinations for kale chips but here are my favourites.
Nutritional Yeast – gives them a great cheesy flavour without dairy
Curry powder
Lemon or lime juice and zest
Hot pepper flakes or cayenne pepper