This is one of my childhood favorites and something my children now love. My family calls this corn bread Johnny Cake. We serve ours with butter and pure maple syrup or honey on weekend mornings. This cornbread is also good with soup, stew of chili.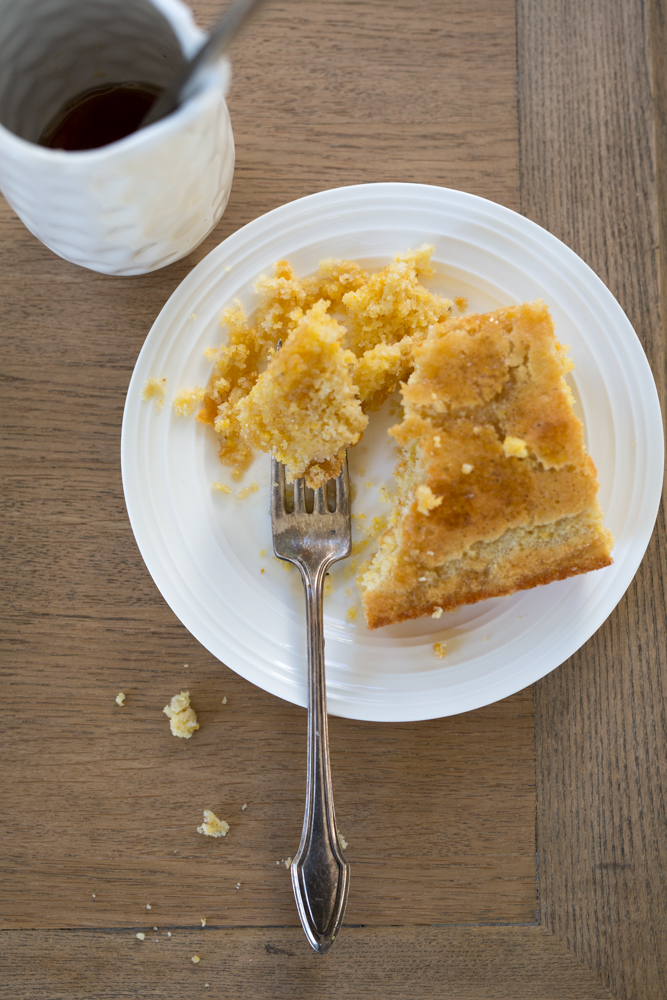 Gluten Free Corn Bread (Johnny Cake)
Makes a 9 x 9 pan
Ingredients:
1/2 cup milk (of choice, I used goat milk and almond milk)
1 cup cornmeal
1/2 cup butter
1/2 cup sugar or 1/3 cup honey
1/2 cup oat flour
1/2 cup fine brown rice flour
1/4 cup arrowroot powder
2 1/2 tsp. baking powder
1/2 tsp. sea salt
1 cup milk (of choice)
1 egg
Directions:
Preheat the oven to 350 degrees F. Grease a 9 x 9 pan with butter.
Combine the 1/2 cup milk and cornmeal together in a small bowl. Stir to combine and allow to sit while preparing the remainder of the recipe.
In the bowl of an electric mixer, combine the butter and sugar or honey until well combined. Beat for 3 – 4 minutes. Add in the cornmeal that's been soaking in the milk.
Combine the egg and remainder of the milk in a small bowl. In another bowl, stir together the oat flour, brown rice flour, arrowroot powder, baking powder and sea salt.
Add half the flour mixture to the bowl with the butter, sugar and cornmeal. Stir and slowly pour in the milk and egg. Add the remainder of the flour and stir until combined.
Transfer to the prepared pan and bake for 40 – 45 minutes or until done in the centre when tested with a cake tester. Serve warm.