Ramen seems like dirty soup to me, usually packed with mystery oils, MSG and gluten. Ramen usually does not mean healthy food, but it can. Aidan went through a really tough week with a bronchial infection and he really didn't feel like eating so I made him "healthy" ramen soup for days. I would say that ramen is mysterious in that, you really have no idea what's packed into that little silver envelope that tastes so darn good.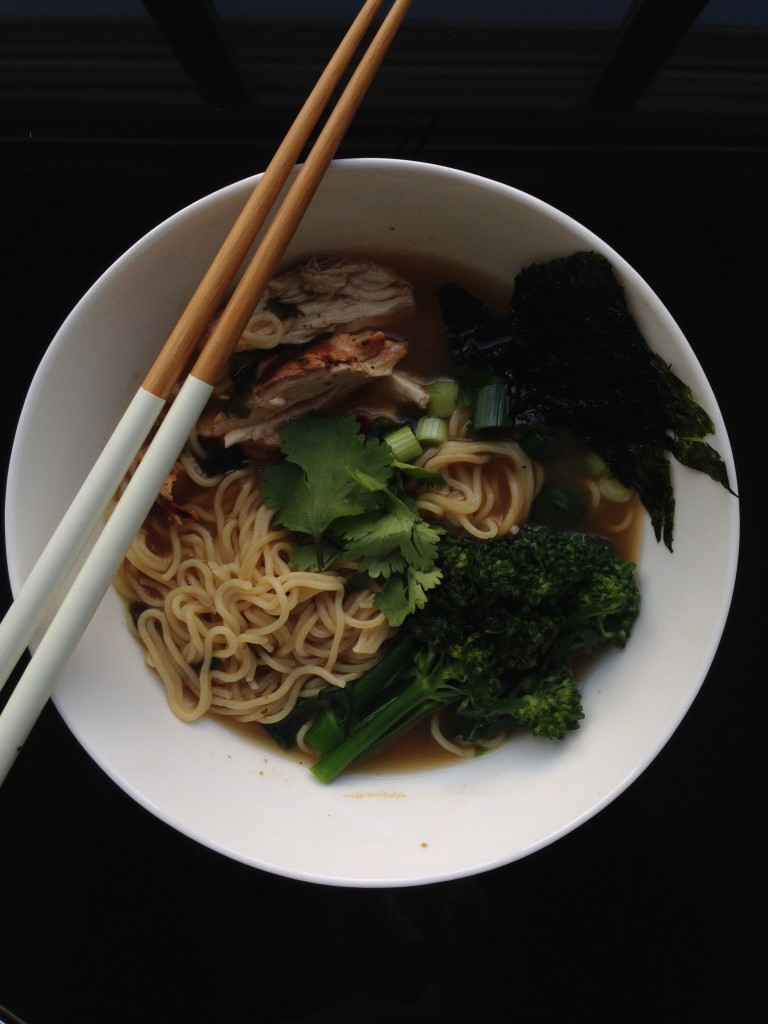 However, there is good news, I found some tasty gluten free ramen noodles at Amaranth Foods in Calgary that really made my day and Aidan's I'm sure. I added raw miso for an extra probiotic and good "friendly bacteria" kick to help fight the bugs and a few shards of green things, including broccoli and nori strips. I couldn't resist adding some sriracha chicken I had made the previous day. He ate it without hesitation and asked for more the next day, and for breakfast at that. Obviously I obliged. Getting a sick child to eat anything that resembles "green" is hard work. He did drink an impressive amount of green smoothies as well.
I found a few different varieties and decided to give a few different flavours a try. Aidan (who is 11) ate all of them, including the green noodles. You can skip the packaged seasoning and add your own miso paste to the bowl, not cooking the miso to retain the health benefits or feel free to do both. A poached or soft boiled egg would be heavenly as well. All of the noodles were non GMO and made with organic brown rice or millet  – gluten free.
Healthy Ramen
Serves 1 – 2
Ingredients:
2 cups chicken broth
1 package ramen noodles
1 tablespoon miso paste (find in the fridge at a health food store)
3 oz. cooked, boneless, skinless chicken breasts, sliced
1 cup cooked greens, broccoli, chard, spinach or kale
a few strips of toasted nori
cilantro or basil for garnish
1 green onion, sliced
sesame seeds for garnish
Directions:
Bring the chicken stock to a boil in a pot. Add the noodles and allow to cook  for 4 minutes.
In a large soup bowl add the miso paste (and ginger if you are using) and add a tiny bit of water to make a paste.
Place a handful of spinach or lightly steamed vegetables of your choice into the bowl. Add cooked chicken or a poached or fried egg.
Pour in the broth and noodles. Garnish with cilantro, green onion, nori and sesame seeds.