I have a restless soul, never content, always dreaming, mostly one foot out the door. Everything interests me, I want to travel, see new places and smell the ocean air. Travel.
I'm not really sure why but this salad reminds me of Europe. Possibly because it's simple, delicious and casual yet elegant. It's everything good. I won't be going back to Europe for a while so this will do for now but I have my next trip approaching quickly. New York this time.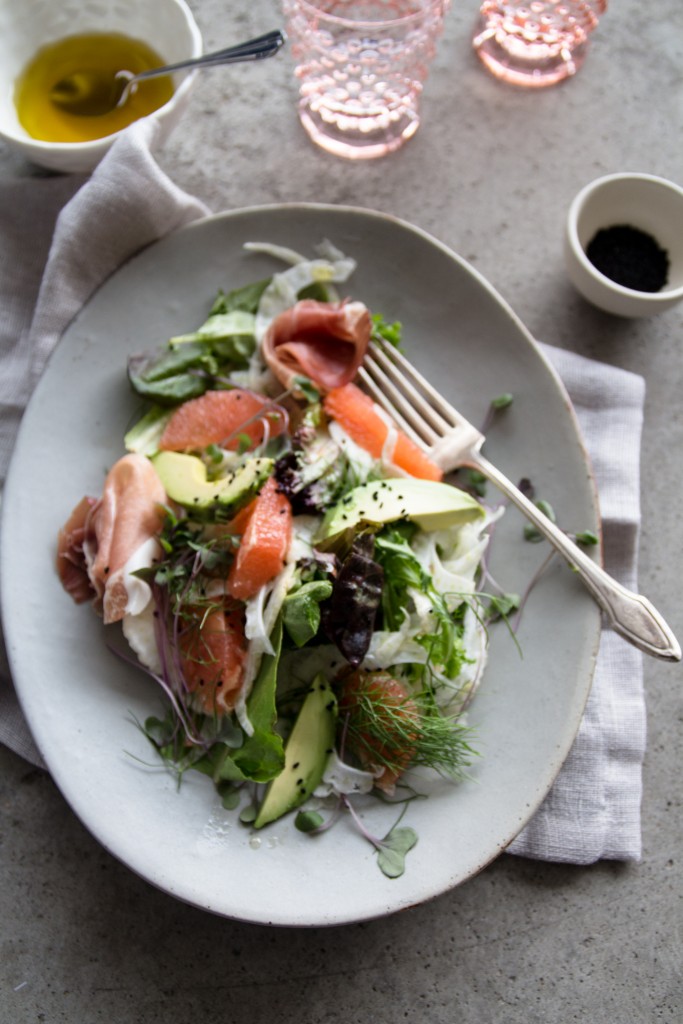 Things you will most always find in my fridge, prosciutto and eggs. Both can be added to a salad very easily and don't require a lot of effort. Exactly what I am looking for at lunch when I have 20 minutes to eat.
Shave the fennel as thinly as possible. To cut the grapefruit, cut both ends off with a sharp knife then slice down the sides getting all the white as you are doing so. Cut in-between the membrane as I find it a little bitter. It's extremely helpful to have a really good knife. I swear by my Shun knives and keep them super sharp. Nigella seeds are tiny black onion seeds and can be found at The Silk Road Spice Merchant.
Grapefruit, Fennel and Avocado Salad with Prosciutto
Serves 2
2 – 3 handfuls of baby greens
1/4 fennel, very thinly sliced with a mandoline of possible
1 grapefruit, peeled and cut into segments
1/2 avocado, thinly sliced
4 slices good quality prosciutto (or more if you like)
sprinkle of nigella seeds
fennel fronds
a few microgreens if you have them
Dressing:
2 tsps. lemon olive oil (I use Soffritto)
1 Tbsp. grapefruit white balsamic vinegar (again Soffritto)
2 Tbsp. good quality olive oil
pinch of sea salt
pinch of freshly cracked pepper
Directions:
Plate the greens, top with fennel, grapefruit and avocado.
Whisk the dressing together in a small bowl. Drizzle the greens with a little dressing. Sprinkle the salad with nigella seeds and garnish with prosciutto. Enjoy.