Not sure where my obsession with rose is coming from lately but it's rose everywhere over here. Rose water, rose petals and Jo Malone Red Roses Cologne…unreal. Last week I had made Lavender Coconut Granola that a certain boy ate bowls and bowls of until he couldn't eat anymore. This week we are moving on to a new twist for our gluten free granola and it turns out that rose is therapeutic on so many levels.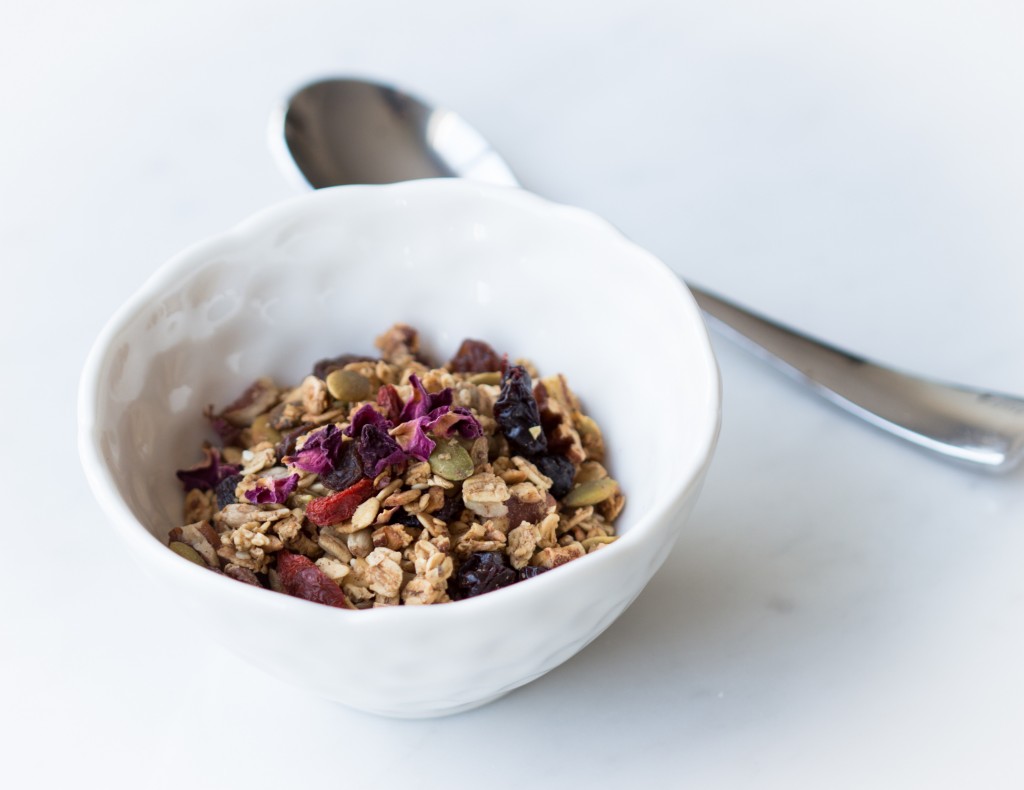 There is nothing worse to me than overcooked, too oil and too sweet granola. I love this granola because it's higher in fibre than some granola with the addition of oat bran. I add water to my granola, which may seem a little strange, but it soaks into the oats and bakes up really crispy.
Rose petals contain vitamin C and rose water has been used for centuries to help with anxiety as well as heart and kidney disease. Along with vitamin C and vitamin K they contain calcium and potassium beneficial for heart health. Who ever thought that rose petals can help with the thyroid? Yes, rose contains iodine that is good for the thyroid gland. Have you ever wondered why rose is included in so many beauty products such as the ones I love at Neal's Yard Remedies? Rose is an antioxidant along with being antibacterial. Good new, it also tastes incredible.
The Silk Road Spice Merchant carries rose petals and all kinds of amaizng herbs and spices. I highly recommned paying them a visit.
Granola with Rose Petals
Ingredients:
3 cups whole oats (look for gluten free if you are Celiac)
1/2 cup oat bran
1/2 raw pumpkin seeds
1/2 cup raw pecans
1/2 cup raw sunflower seeds
1/4 cup raw sesame seeds
1 tsp. cinnamon
1/4 tsp. sea salt
1/4 cup melted coconut oil
3 Tbsp. pure maple syrup
2 tsp. vanilla or rose water
1/2 cup water or freshly apple juice
1 cup mixed dried berries (I like blueberry, cranberry, cherries, raisins and goji) or leave out and add fresh berries when serving
2 Tbsp. rose petals
Directions:
Combine the oats, oat bran, pumpkin seeds, pecans, sunflower seeds, sesame seeds, cinnamon and sea salt in a large bowl.
In a measuring cup stir together the coconut oil, maple syrup, vanilla or rose water and water or juice.
Combine the oat mixture with the wet ingredients and stir well.
Allow to sit for 15 – 20 minutes. Preheat the oven to 300 degrees F. Line a large baking sheet with parchment paper. Distribute the granola evenly over the baking sheet and place in the oven.
Bake the granola for 45 minutes, stirring it every 15 minutes to ensure even browning. Remove from the oven and allow to cool completely. Add in the rose petals and dried fruit. Store in a large glass air-tight container.