These waffles received a 10/10 rating so I am happy to share the recipe with you. Grain free or not these are the best waffles I may have ever had other than Café Medina in Vancouver where they have incredibly insane waffles with toppings like milk chocolate lavender and salted caramel. Just ridiculous good and I cannot wait to visit again.
I have to admit I look for reasons to feed people because I just really love to create and watch the reaction of faces when they take their first bite and they love it. That look of pure satisfaction from a single bite of food makes me happy. These waffles made for some happy children and a happy mom. Enjoy!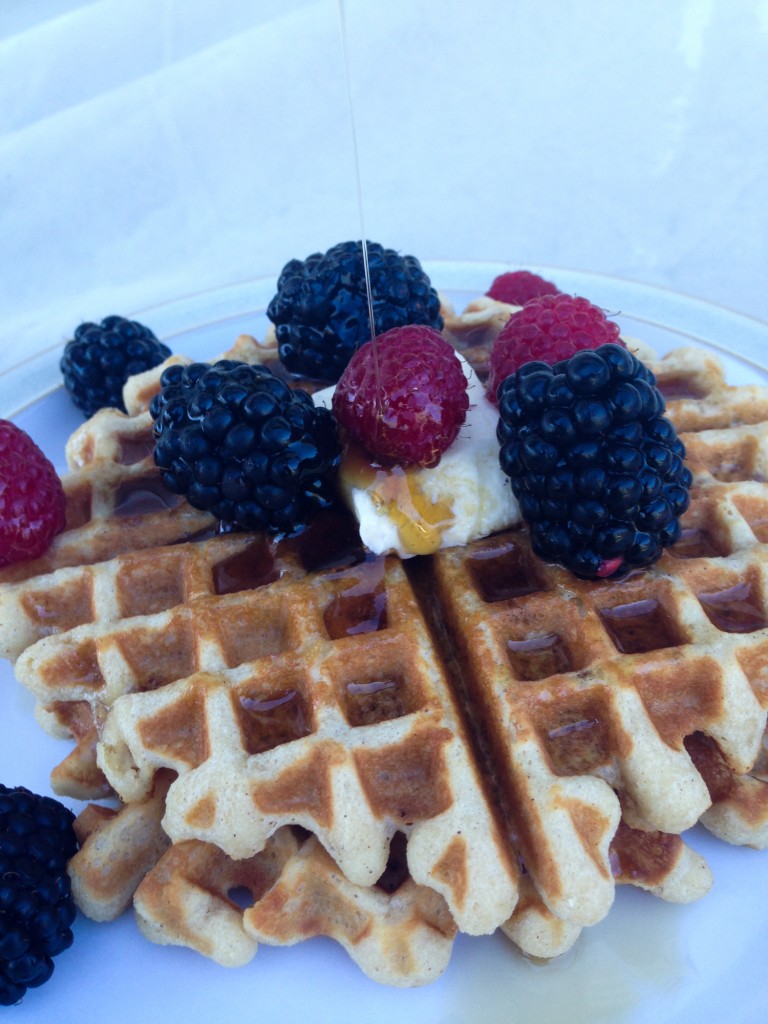 Grain Free Waffles
Makes 6 – 8 waffles (depending on what size you make them)
Adapted from Our Paleo Life
1 1/2 cups almond flour
1/4 cup tapioca flour
2 Tbsp. coconut sugar
1 Tbsp. coconut flour
1 Tbsp. baking powder
1/4 tsp. sea salt
1/2 tsp. cinnamon
2 eggs, separated
3/4 cup unsweetened almond milk or milk of choice
2 Tbsp. coconut oil, warmed
2 tsp. pure vanilla extract
Directions:
Combine all the dry ingredients in a high-speed blender. Pulse a few times to blend.
Combine the egg yolks, milk, coconut oil and vanilla in another small bowl or measuring cup. Add to the dry ingredients and blend until smooth.
In another bowl beat your egg whites until soft peaks form. Add the mixture from the blender and gently fold the whites into the batter.
Grease your hot waffle iron with a little coconut oil and place about 1/3 cup of the batter onto the hot iron. Cook according to manufacturer instructions. I have a Cuisinart and I set the dial at 5. Gently remove the waffles and serve or place in a 250 degree F. oven until all the waffles are ready to serve.