There is a never-ending supply of zucchini from my mom's garden that my kids could not wait to pick. My mom makes the best zucchini cake ever but I have revised her recipe to make a grain, refined sugar and vegetable oil free cake.
I hope you are enjoying your summer as much as we are! We have been trying to hit the mountains as much as possible. I dream about the mountains lately. Can't get enough.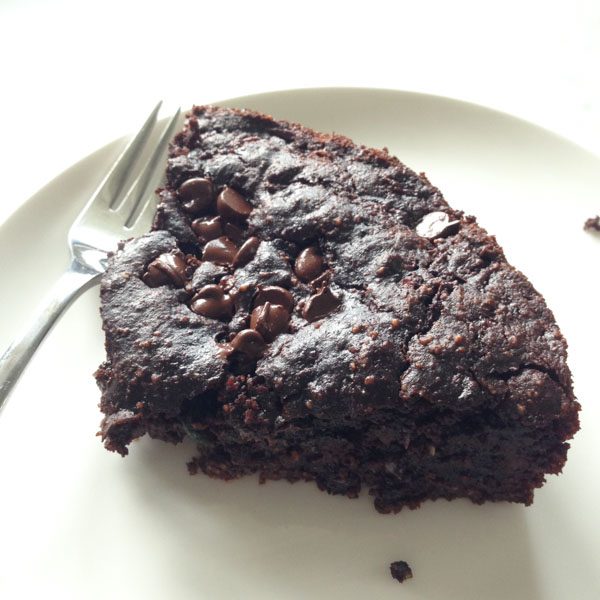 Chocolate Zucchini Cake
Makes 2, 8 inch pans
Ingredients:
3 cups almond flour
3 tsp. baking soda
2/3 cup cocoa powder
2 cups zucchini, grated
2 large eggs
1/2 cup plain unsweetened yogurt
1/2 cup coconut oil, melted
2 tsp. pure vanilla extract
1/2 tsp. sea salt
4 tsp. cinnamon
1/4 tsp. ground cloves
1/4 cup pure maple syrup
2 tsp. apple cider vinegar or lemon juice
1 cup walnuts, chopped (optional)
1 cup dark chocolate chips
 Directions:
Preheat the oven to 350 degrees F. Grease 2, 8 inch cake pans with coconut oil.
In a large bowl combine the almond flour, cocoa powder, baking soda, cinnamon, cloves and sea salt.
In another bowl stir together the oil, eggs, yogurt, maple syrup, vanilla and apple cider vinegar.
Stir wet ingredients into the dry and then fold in the zucchini, nuts and ¾ cup chocolate chips. Reserve some chocolate chips for the top. Divide the batter among the 2 prepared pans. Top with chocolate chips. Place in the oven to bake for 30 minutes.
Cool before slicing.