This recipe is for all my friends who have asked me for THE brownie recipe and for Ava, the girl that cannot live without chocolate. Let's be honest, I can't live without chocolate either and regardless what is life without a little chocolate? Chocolate is in fact a great antioxidant.
I measure my ingredients with a kitchen scale when baking because you will find you get better results. I started doing this with baking because once you have a recipe that works, you want it to work every time. This recipe was adapted from Alice Medrich's Cocoa Brownies.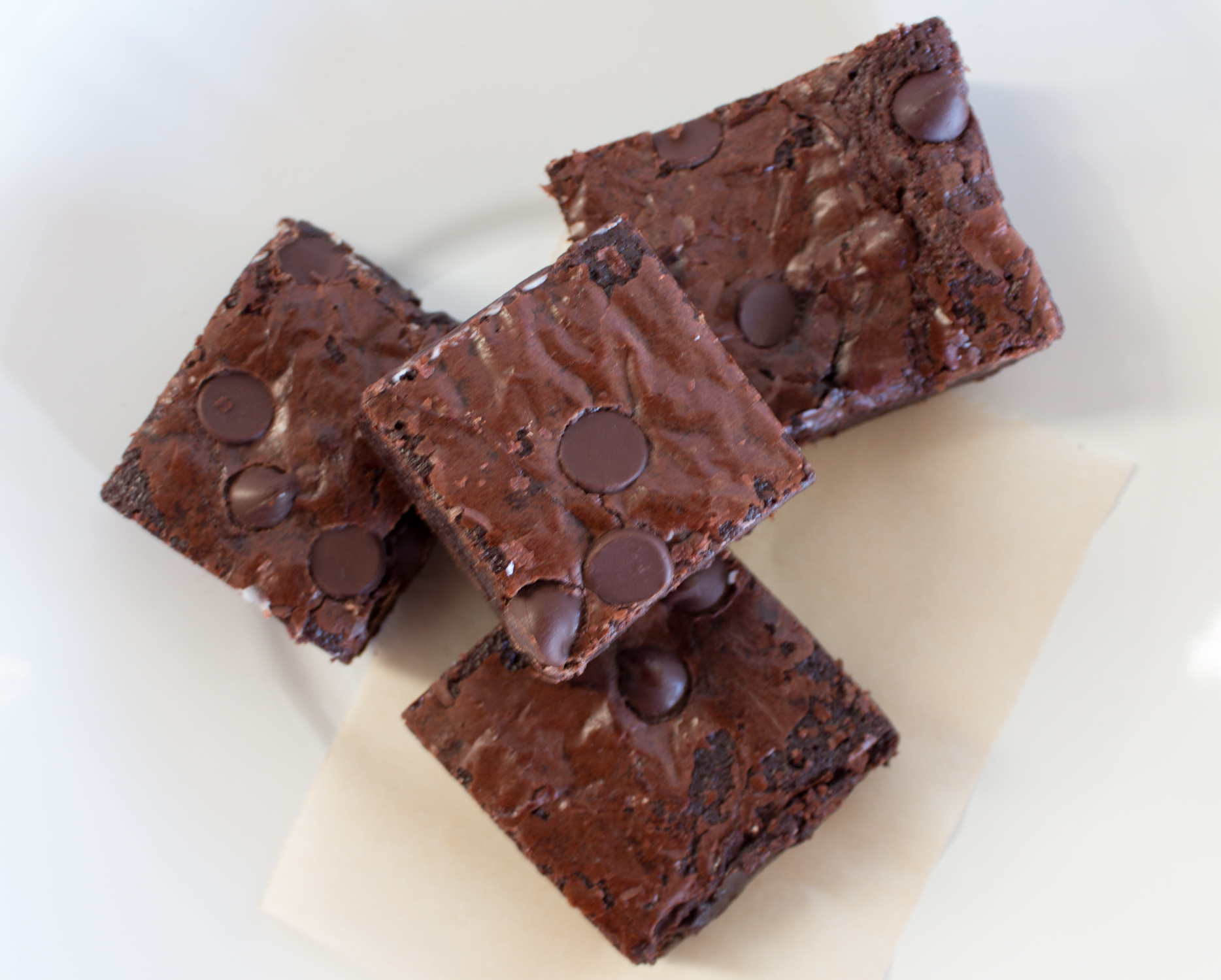 If you cannot tolerate almonds you can use any gluten free flour in this recipe. I have used oat flour and brown rice flour with great results. There brownies are sweet, super chocolaty and dense. They are best out of the fridge in my opinion. Enjoy!

Grain Free Brownies
Makes 1, 8×8 inch pan
Ingredients:
10 Tbsp. (145 g) unsalted butter (grass-fed if possible)
1 ¼ cups (250 g) coconut sugar
¾ cup + 2 Tbsp. (65 g) unsweetened cocoa powder
¼ tsp. sea salt
1 tsp. pure vanilla extract
 2 large eggs
½ cup (70 g) almond flour
½ cup chocolate chips or chopped nuts
optional: when I make these for adults I sprinkle a little flacked or coarse sea salt before baking
Directions:
Preheat the oven to 325 degrees F. Line a 8 x 8 inch baking pan with parchment paper.
In a saucepan, heat the butter until melted and starting to brown. Add in the coconut sugar and stir to combine. Stir over low heat for one minute.
Remove from the heat and add in the cocoa powder. Your mixture should not be really hot, it is cool for a few minutes before adding the eggs. Stir well. Add in the eggs one at a time, stirring vigorously after each egg. The batter should be thick and shiny.
Stir in the vanilla, sea salt and almond flour. Using a wooden spoon mix well – about 50 strokes. Stir in the chocolate chips or nuts and pour into the prepared baking dish. Distribute evenly.
Bake for 25 – 30 minutes. Do not over bake! Remove from the oven and allow to cool. Place in the freezer for 15 to 20 minutes prior to cutting.
Store in the fridge for a super dense fudgy brownie.