I was thinking about this crisp today and wanted to post the recipe before I forget about it yet again. I think the next time I make this it will be apple. Fall is in the air and there is nothing better than the smell of apples and cinnamon baking in the oven.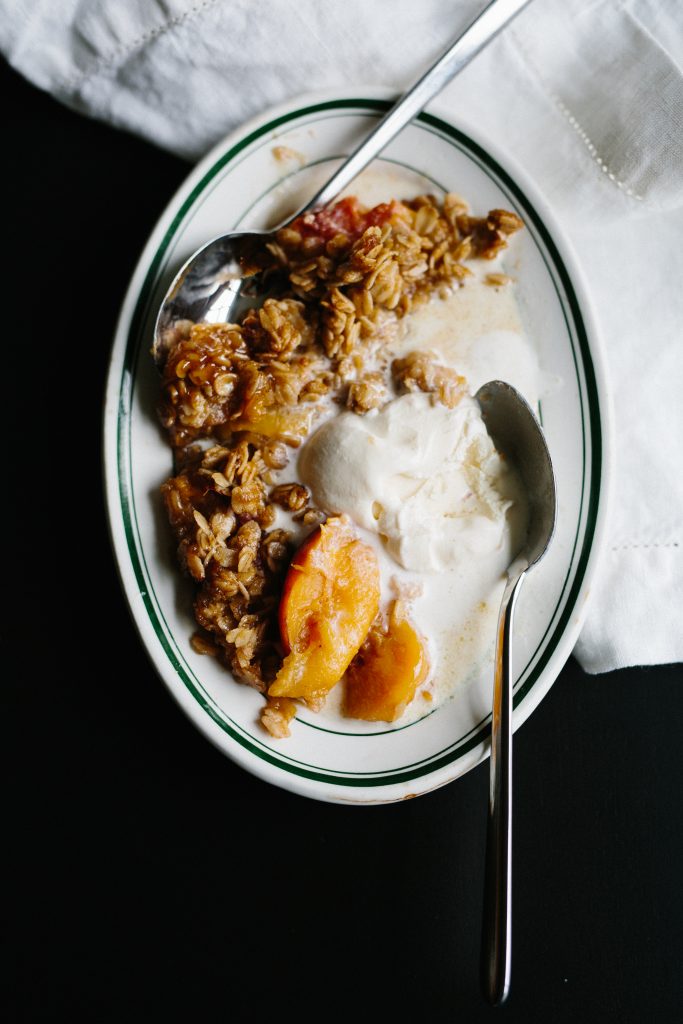 I have made this crisp with rice flour and oat flour and like them both as well as unbleached organic flour for the not so gluten free bodies. We have two children with nut allergies so we can no longer use almond flour but it will be fine if you are grain free.
This is best right out of the oven with coconut milk ice cream. I adapted this recipe from Half Baked Harvest. 
Gluten Free Peach Crisp
5 – 6 peaches, peeled and sliced
1/2 cup coconut sugar or brown sugar
4 Tbsp. butter
2 tsp. pure vanilla extract
Oatmeal Topping
1 1/2 cups whole oats (certified gluten free)
3 Tbsp. fine brown rice flour or oat flour (regular flour if not gluten free)
1/3 cup coconut sugar or brown sugar
1/2 tsp. cinnamon
1/4 tsp. sea salt
6 Tbsp. butter, at room temperature
Directions:
Preheat the oven to 350 degree F.
Combine the peaches, sugar, butter and vanilla in a bowl.
In another bowl, combine the oats, flour, sugar, cinnamon, sea salt and butter. Blend the butter into the oats and flour until everything clumps together.
Transfer the peaches to a 9 x 9 inch baking dish and top with oat crumble. Bake for 35 – 40 minutes.
Serve with ice cream.