When I found Rose Mountain apples at Our Daily Brett a while back it took me right back to my childhood when I sunk my teeth into the apples from my grandparent's apple trees. They tasted like my past and rightfully so, these apples are a heirloom variety and deserved to be baked into a simple, rustic apple cake. Blemished and oddly perfect on the outside and when cut open; a spectrum of pink.
My favorite desserts are the simplest, made with few ingredients and served warm from the oven. Comforting and reminiscent of my mother's baking I guess. I served this apple cake with thick natural yogurt drizzled with pure maple syrup with vanilla bean but whipped cream would be great as would vanilla bean ice cream.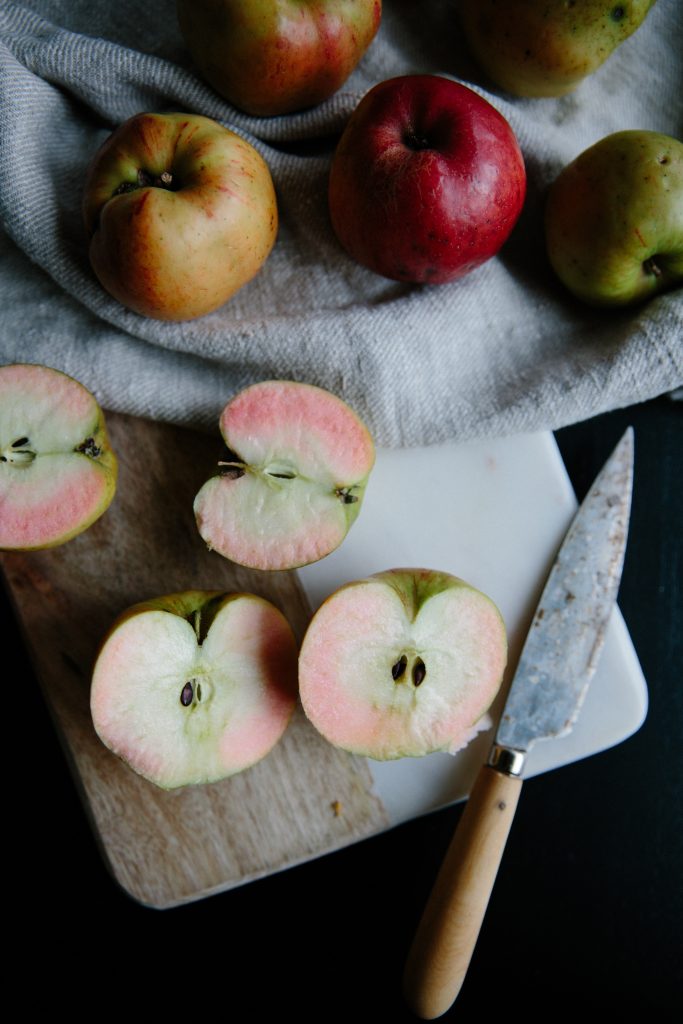 If you cannot find Mountain Rose apples any apple will work for this recipe such as Granny Smith, Gala or Pink Lady.
Gluten Free Apple Cake
Ingredients:
1 cup oat flour
3/4 cup almond flour
1/4 cup arrowroot powder
2 teaspoons baking powder
1 teaspoon cinnamon
1/2 teaspoon sea salt
1 cup brown sugar
2 eggs
1/2 cup olive oil
3/4 cup coconut milk
2 teaspoon vanilla extract
3 apples, cored and thinly sliced (you can peel the apples but I did not in this photo)
2 tablespoons walnuts, diced
Directions:
Preheat the oven to 350 degrees F.
Grease a 9 inch springform pan with butter and dust with oat flour.
In a bowl combine the oat flour, almond flour, arrowroot powder, baking powder, cinnamon and sea salt.
In another bowl combine the brown sugar, olive oil, coconut milk, and vanilla. Beat in the eggs one at a time. Pour in the dry ingredients and stir to combine. Pour the batter into the prepared pan. Lay the apple slices gently in a circular design, or however you choose, overlapping slightly. Sprinkle the walnuts around the edges of the cake.
Bake until a cake tester comes out clean, approximately 50 minutes.