Holidays are right around the corner and I am getting into the spirit of things with Gingerbread Waffles.
It seems to me there are two groups of people when it comes to gingerbread, ones that love it and ones that do not. I fall into the latter. I love anything with spice and these gingerbread waffles are perfect for holiday entertaining. I strongly encourage topping them with salted caramel apples however a little good quality butter and pure maple syrup would be delicious or try apple butter.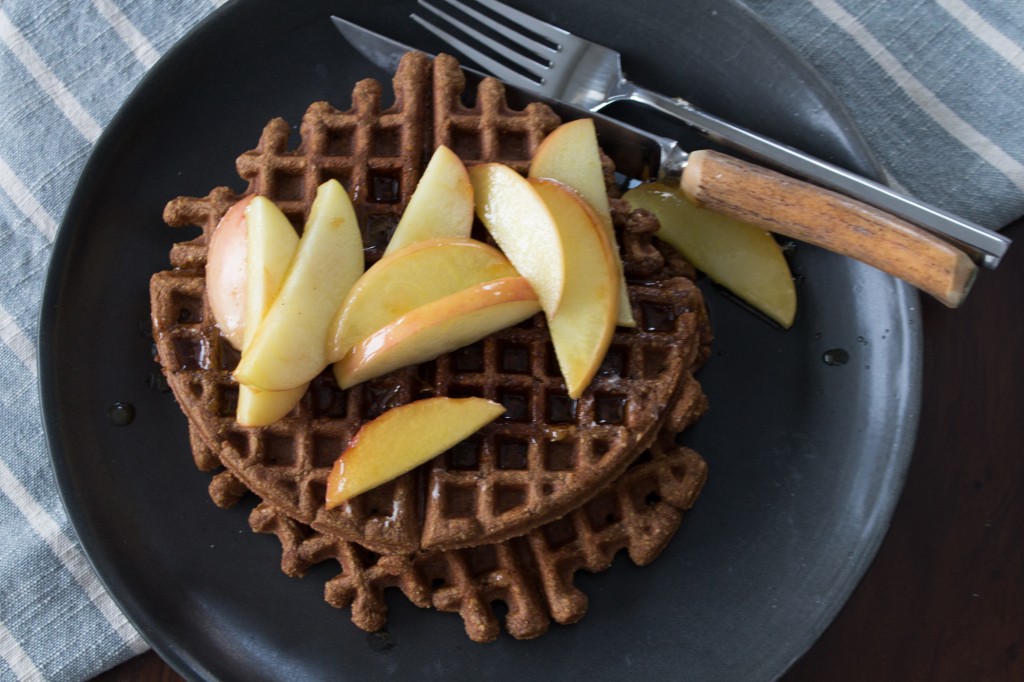 Now for gingerbread cake and ginger cookies….
 Grain Free Gingerbread Waffles with Salted Caramel Apples
Yields 4 large waffles
Ingredients
½ cup sweet potato or pumpkin puree
2 large eggs
2 Tbsp. molasses
2 Tbsp. pure maple syrup
¼ cup unsweetened almond milk
2 tsp. pure vanilla extract
1 cup almond flour
2 Tbsp. arrowroot powder
1 Tbsp. coconut flour
1 tsp. baking powder
½ tsp. baking soda
1 1/2 tsp. cinnamon
1 tsp. ground ginger
¼ tsp. ground cloves
¼ tsp. sea salt
Salted Caramel Apples
1 Tbsp. butter
1 organic apple, thinly sliced
4 Tbsp. pure maple syrup
good quality flaked sea salt
Directions:
Heat the waffle iron and grease with coconut oil.
Combine sweet potato, eggs, molasses, maple syrup, almond milk and vanilla in a bowl. Whisk to combine.
Add in almond flour, arrowroot, coconut flour, baking powder, baking soda, cinnamon, ginger and cloves. Stir to combine.
 Drop waffle batter onto your hot waffle iron and cook according to manufacturers directions. I remove mine sooner than I would using sprouted grain flour as almond flour tends to cook faster.
For the apples:
In a non stick skillet add the butter and apples. Cook for 3 – 4 minutes then pour in the pure maple syrup. Do not stir, allow the maple syrup to come to a boil and boil for a minute. Sprinkle with sea salt and pour over the hot waffles.