It's safe to say I'm really over winter and I'm ready for some spring running without having to bundle up to head out the door. When the snow forces me to stay indoors that generally means I will be in the kitchen creating something. My daughter Ava was diagnosed with Celiac this week and I wanted to convince her that gluten free isn't a curse (her words).
I have a love for coconut cake and on one of my first meals at Ten Foot Henry I shared a slice of their coconut cake with Ava. It was delicious but I wanted to create my own version of a coconut cake that was healthier, refined sugar free and gluten free. This gluten free, refined sugar free coconut cake is just that.
'Gluten free' can have a stigma as being dry and flavourless but this cake is in no way lacking in flavour, moisture or texture. In fact, I prefer this cake over any cake with flour and sugar. It is seriously delicious.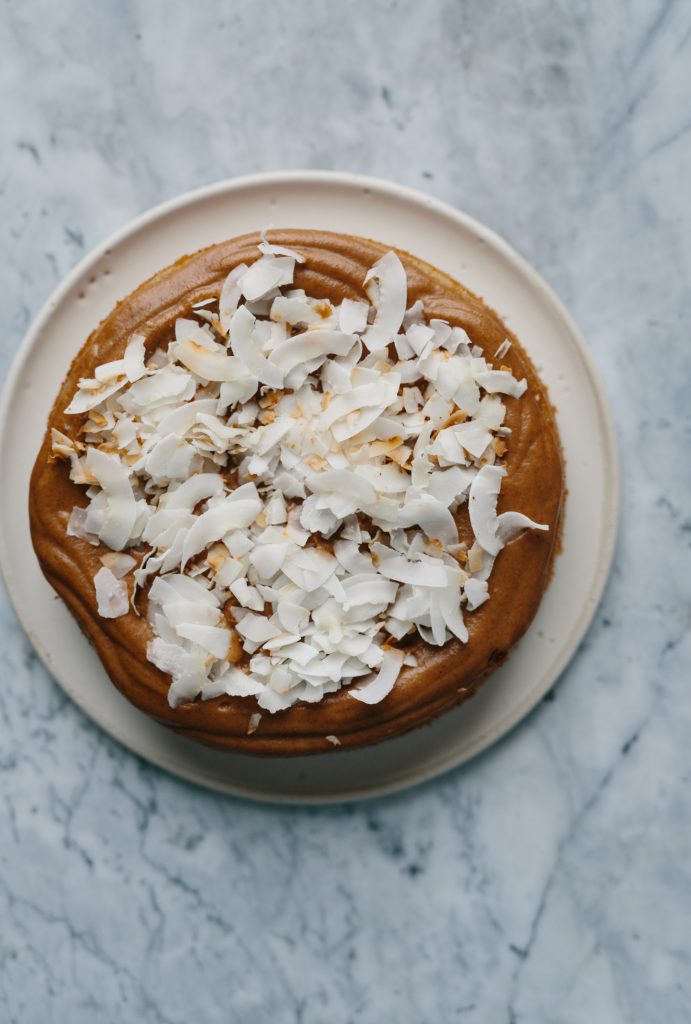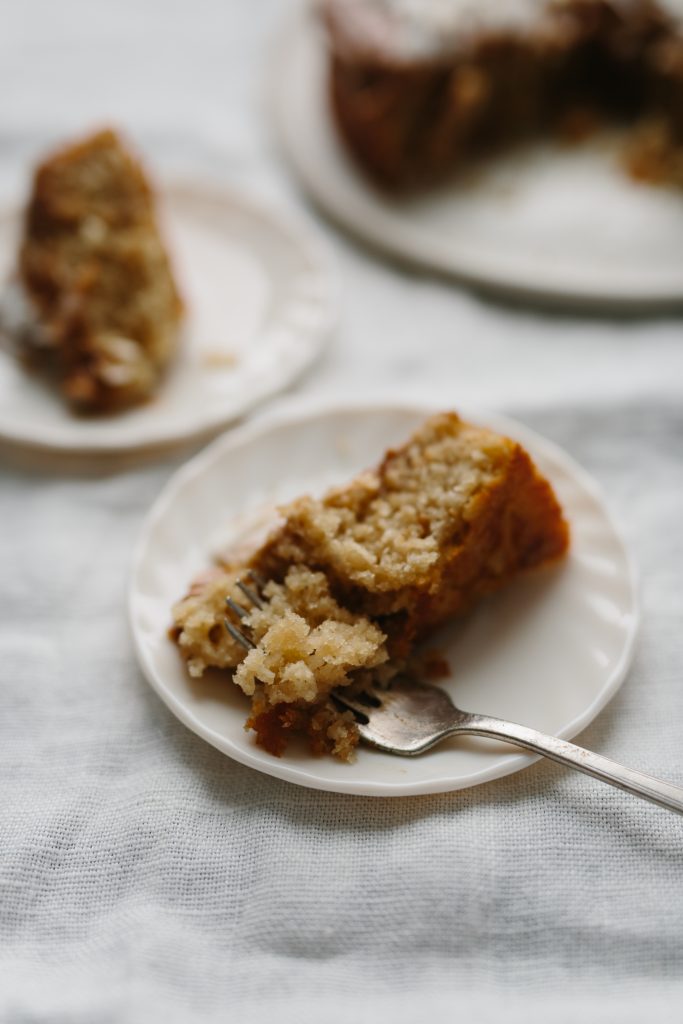 Flourless Coconut Cake with Salted 'Caramel' Frosting 
Makes a 9″ single layer cake
Ingredients:
3/4 cup butter, at room temperature
3/4 cup pure maple syrup
2/3 cup/60 g unsweetened shredded coconut
2 teaspoons pure vanilla extract
1/2 teaspoon baking soda
1/2 teaspoon sea salt
4 large eggs
1 tablespoon lemon juice
150 grams almond flour
30 grams arrowroot powder
Directions:
Preheat the oven to 350 degrees F. Line a 9″ baking pan with parchment and grease with butter.
Place the butter and maple syrup in the bowl of an electric mixer fitted with a paddle attachment. Mix until combined. It will look a little curdled and this is fine. Add in the coconut and vanilla and mix for about 3 minutes. Add in the eggs one at a time, mixing well after each addition. Add in the lemon juice. Turn the speed to low and add the almond flour, sea salt and arrowroot powder.
Transfer the mixture to the prepared cake pan and smooth out the top. Bake for 30 – 35 minutes or until the cake is browned and a skewer inserted in the centre comes out clean. Watch the cake closely in the last few minutes. You don't want to over bake.
Remove from the oven and set aside to cool.
Salted 'Caramel' Frosting 
Ingredients:
1 1/2 cups medjool dates, pitted
2 tablespoons almond or cashew butter
2 teaspoons vanilla extract
1/2 cup hot water
1/4 teaspoon sea salt
a few splashes of coconut milk to reach desired consistency if needed
Directions:
Place all the ingredients in a high speed blender/Vitamix and blend until smooth.
Once the cake is cool, spread the frosting over the cake. I added toasted coconut flakes to the top of the cake before serving.