This taco salad is everything healthy food means to me and really what all food should be. You can make the most beautiful and tasty meals when working with fresh food. There is nothing from a box or can in this recipe but it will take just 15 minutes to prepare. Everything you would find in a fish taco, except maybe the mayonnaise and the taco itself is here bursting with flavour.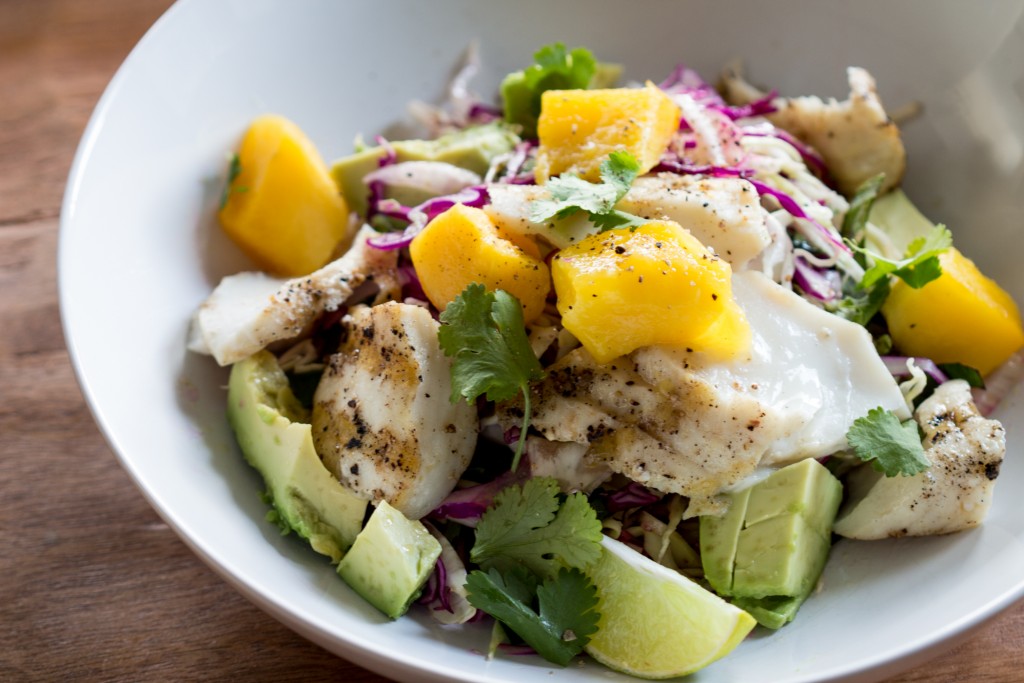 You can get away without using fresh mango if it's not in season by simply thawing frozen mango. I like to warm the mango prior to adding it to this salad in the winter when something warm in a salad is satisfying. Toss a few mango pieces in a non-stick sauté pan and warm them over low heat.
I may have forgotten about the cold just for a moment with the first mouthful of grilled halibut and warm mango.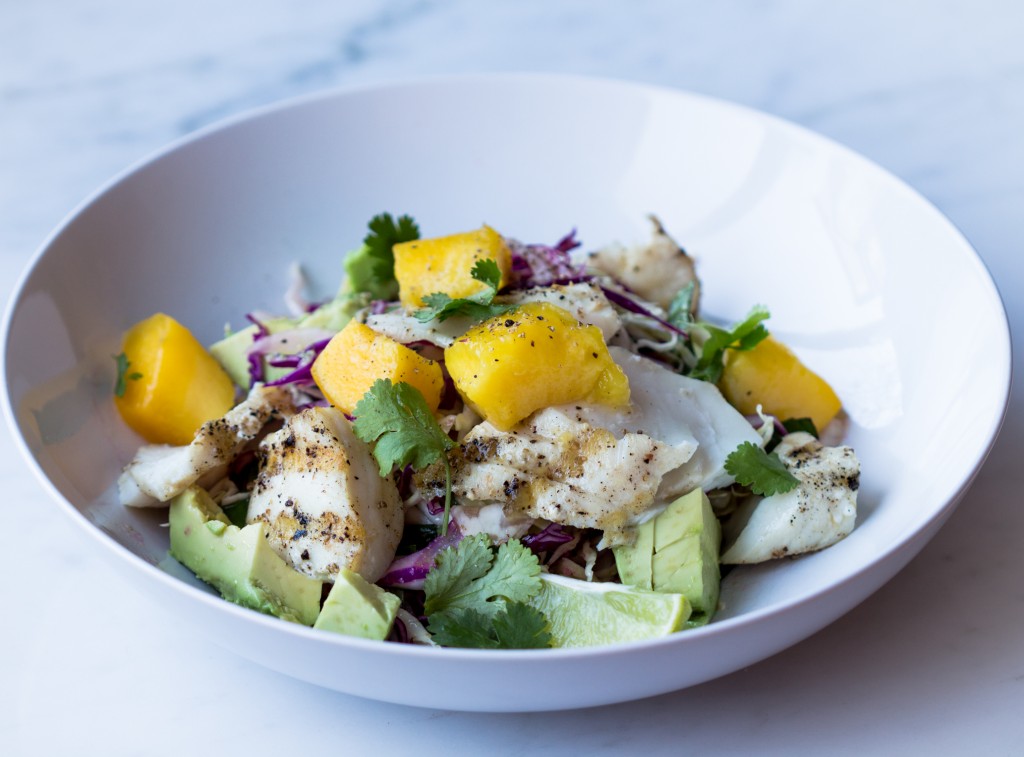 Fish Taco Salad
Serves 1
Ingredients:
1, 4 – 6 oz. filet wild halibut
olive or coconut oil
1 handful cabbage, thinly sliced
1 handful red cabbage, thinly sliced
¼ fennel bulb, thinly sliced
2 Tbsp. red onion, thinly sliced
2 Tbsp. cilantro, chopped
2 Tbsp. mint or basil, chopped
½ avocado, diced
¼ cup mango, diced
½ lime, juiced
1 Tbsp. extra virgin olive oil
sea salt and pepper, to taste
Directions:
Preheat grill to 500 degrees F. Drizzle the halibut with olive or coconut oil and season well with sea salt and pepper. Place the halibut on the hot grill. Grill for 4 minutes undisturbed allowing the fish to brown. Flip and grill for another 3 – 4 minutes, depending on the thickness of the fish. Transfer the fish to a plate, cover and rest while preparing the salad.
Add cabbages, fennel, onion and herbs to a bowl. Toss with lemon, oil and a pinch of sea salt and pepper. Plate the cabbage and add the avocado. Break the halibut into chunks and add to the cabbage. Top with mango, extra herbs and sea salt and pepper.
Serve with lime wedges.