I educate my clients on how to listen to body signals and signs of what it needs. Within reason of course because sometimes I need Lindt dark chocolate with sea salt but really, that's not what my body needs, at all, sad. Most of the time it needs a green juice or green smoothie and that stops my cravings for me. I said most right?
Ava came home Monday desperately needing protein. Roast chicken, chicken fingers, chicken, that's all I heard after that.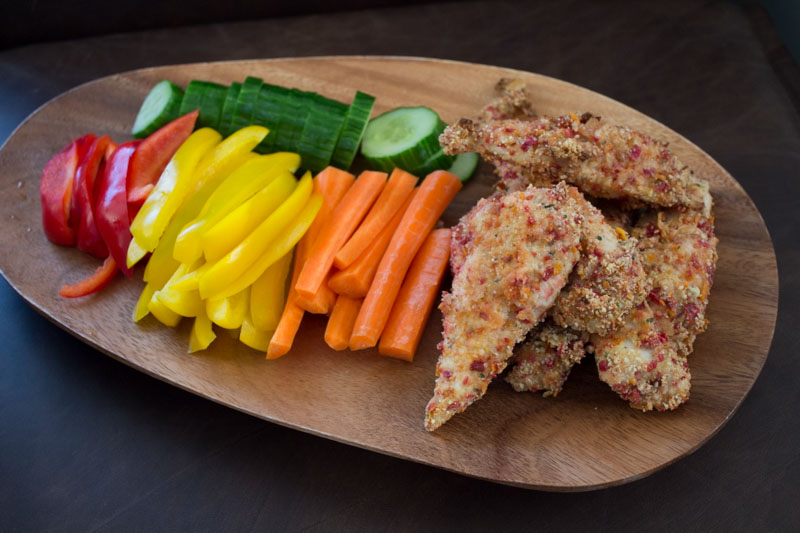 It's been a while since I made chicken tenders for them so I made a big plate of these tasty little things. They were crazy good. I had one bite and Ava nearly tore it out of my hand. She doesn't share very well at the best of times but to be honest; I wouldn't share these either if I were 8 and needing a chicken tender fix.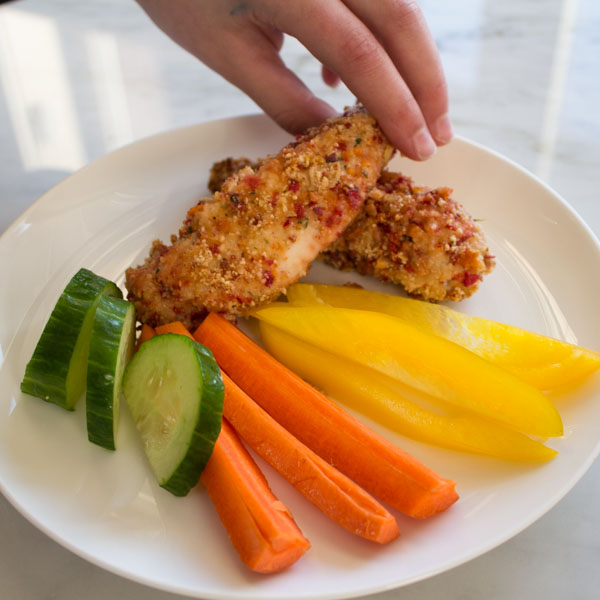 I needed breading for the tenders and had a bag of sweet potato and beet chips in the pantry so the colourful chips became part of the breading. It turned the tenders  a funky colour and being the suspicious girl she is, she asked what was on them. I said chips and that extinguised any doubt in her mind. I put the platter down in front of them and they were gone, fast.
Straight out of the oven they were juicy and tender. I can't speak for how well they store after that. They were devoured. Craving cured.
Gluten Free Chicken Tenders
Serves 2 – 4
Ingredients:
1 cup Terra chips
1/2 cup almond flour
2 teaspoons fresh thyme leaves
2 tablespoons Parmesan cheese (if you avoid dairy, use 1 tablespoon of nutritional yeast)
1/2 teaspoon garlic and herb seasoning (I use McCormick Gourmet No Added Salt)
Pinch of sea salt (the chips are salted so you can always add salt after)
Freshly ground pepper, to taste
2 eggs, beaten
3 – 4 boneless, skinless chicken breasts, cut into strips
Directions:
Preheat the oven to 400 degrees F.
Place the chips, almond flour, thyme, garlic seasoning, Parmesan, sea salt and pepper in the bowl of a food processor fitted with an S blade. Pulse until the chips are broken down and still have some texture. Pour into a shallow dish.
Beat the eggs in another shallow dish. Add the chicken strips to the egg mixture and coat each piece. Remove one by one and roll each chicken strip in the dry ingredients and coat evenly.
Place each strip on a stone baking sheet. Stone is ideal but if you don't have one a baking sheet lined with parchment paper is fine.
Bake the chicken strips for 10 minutes, turn and bake another 10 minutes. Thicker pieces may need longer.