I have been procrastinating way too much. Not keeping up with blog posts and documenting recipes. I create new recipes almost every day but making the time to post them is not really my strong suit. I could spend hours cooking in the kitchen but sitting down and writing my recipes is another story. I have committed to myself that I will be better at this, not only because it's a way for me to keep track of my recipes but also I am still creating a book (slowly).
Our summer has been filled with lazy mornings, pancakes, crepes, barbequing and late nights. There has been lots of family time, laughing, long walks and chasing Sadie and it's hard to stay focused but I am living in the moment like we all should. I am soaking it all up and watching the kids grow in what seems like inches every day.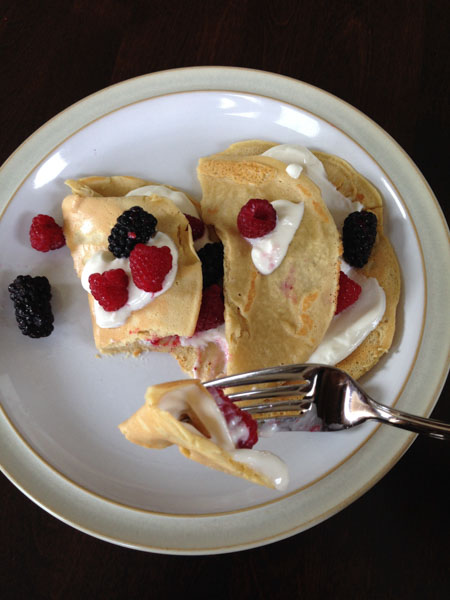 Who doesn't love berries picked fresh from the berry patch still warm from the sun, smothered in Greek yogurt with vanilla bean and surrounded by the best grain free crepe? If you said not you, then you've never had these crepes.
This recipe makes a really small batch, 2 crepes each for 2 growing, hungry children. Did I mention Aidan turned 12 in June? Yes, how time seeps through our hands but he is turning into a decent little man with a huge heart and sensitive soul who takes such good care of his mom. I hope it stays that way.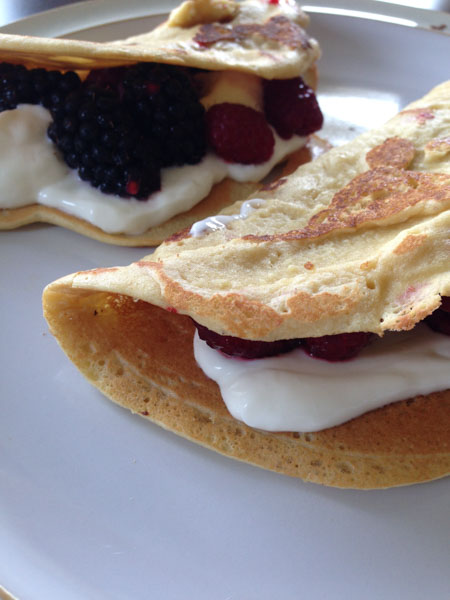 Crepes
Serves 2
3/4 cup almond flour
2 Tbsp. tapioca flour
1 tsp. pure vanilla extract
1 Tbsp. pure maple syrup
1 Tbsp. coconut oil
1 free range egg
a pinch of sea salt
1/3 cup unsweetened almond milk
Suggestions for serving:
whipped coconut cream
Greek yogurt
Berries (blackberries, strawberries, raspberries, blueberries)
Directions:
Place all the ingredients into a Vitamix or high-speed blender. Blend until smooth.
Heat a little coconut oil in an 8" non-stick sauté pan. Pour a little batter into the hot pan and spread with a flat spatula or the back of a spoon. Cook until lightly browned and then turn, continue to cook until browned.
Turn out each crepe onto a plate and fill with berries and yogurt. Serve.