Just couldn't help myself, I love macaroons. Gluten free, almond free, dairy free, refined sugar free and so delicious. These are best the day you bake them. Crispy on the outside and chewy on the inside. They won't last long.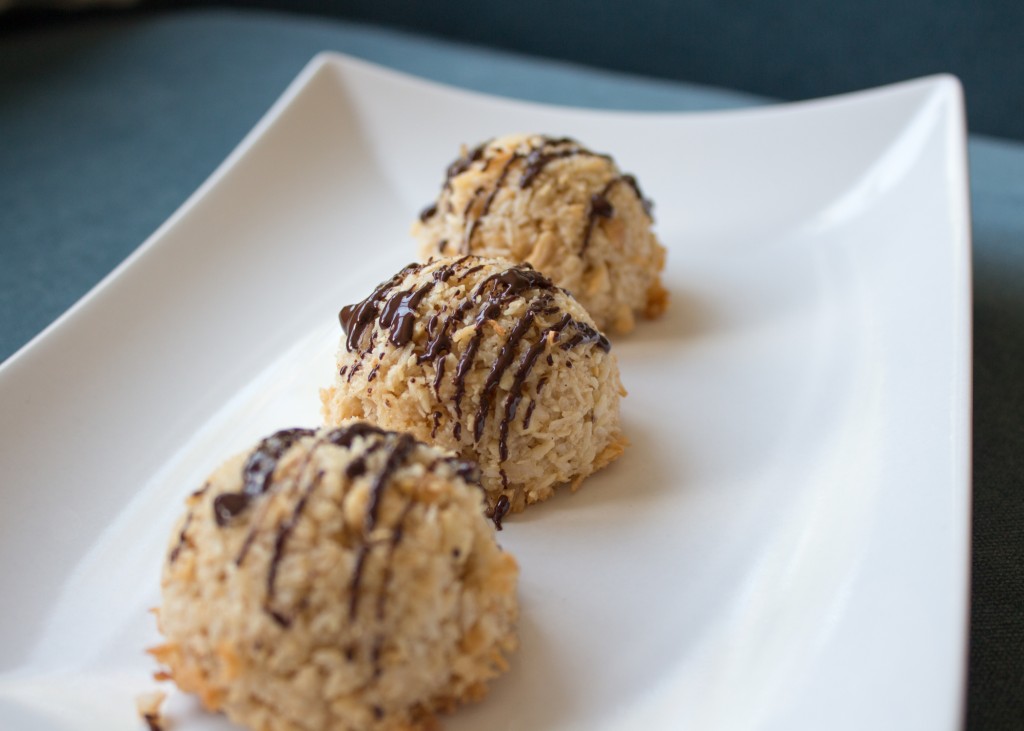 Coconut Cashew Macaroons
Makes approximately 30
Ingredients:
5 cups unsweetened shredded coconut
2 cups cashew flour (I made my own, see below)
1/2 tsp. sea salt
1 tsp. ground cinnamon
1 Tbsp. pure vanilla extract
1 egg
1/2 cup pure maple syrup
2/3 cup coconut oil, warmed
2 small bars of Lindt dark chocolate (optional)
Directions:
Preheat the oven to 350 degrees F. Line a baking sheet with parchment paper. Place the raw cashews in the oven and toast just until they start to brown. Approximately 10 minutes. Remove from the oven and allow to cool.
Place the cashews in the bowl of a food processor fitted with an S blade. Pulse until you reach a flour like texture with some pea sized pieces still remaining.
Place the cashews in a large bowl and add the coconut, sea salt and cinnamon.
In another bowl combine the vanilla, egg, maple syrup and coconut oil. Blend the wet ingredients in with the dry ingredients, combining well.
Using a spring loaded cookie scoop, divide the mixture onto the baking sheet. You can place the mounds close together as they won't spread. Bake for 12 – 14 minutes or until they start to turn golden brown. Remove from the oven and allow to cool completely.
If you wish to drizzle or dip them in chocolate, chop the chocolate into small pieces and place in a glass bowl over a simmering pot of water. Allow the steam to melt the chocolate, stirring constantly until you have a few chunks of chocolate remaining. Remove from the heat and stir until completely melted. Drizzle the chocolate over the macaroon. Allow to set before storing or serving.