Sometimes I get a random text message asking to create something someone has eaten and because I'm always up for a challenge, I oblige. These macaroons are a knock off of some pretty packaged little things you can buy at Community Natural Foods and various other places only way less expensive. Grain free, nut free, dairy free and completely addictive.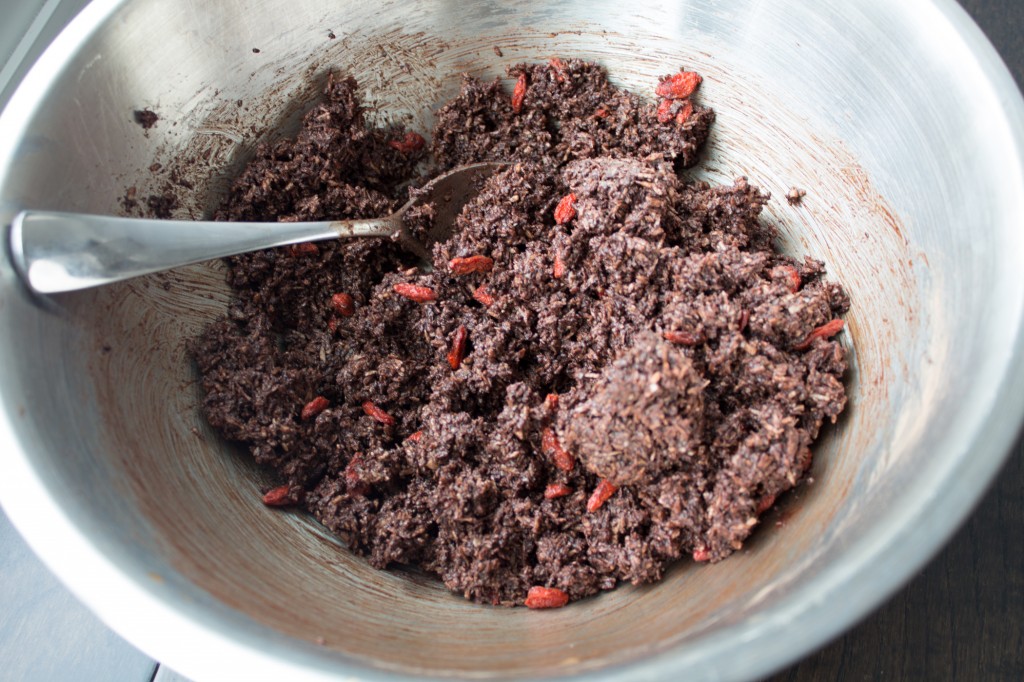 I added loads of chia to this batch for a nice little omega-3 and protein boost but you can reduce the ratio of chia and add more coconut if you like. These treats are great to pack in school lunches, take to work or tuck into a backpack for a hike or long road bike.
Chocolate Goji Chia Macaroon
Makes approx. 20
Ingredients:
1 3/4 cup unsweetened shredded coconut
1/2 cup raw cacao powder
1/4 cup chia seeds
1/2 tsp. ground cinnamon
1/4 tsp. sea salt
1/4 cup goji berries, rehydrated in warm water and drained
1/4 cup coconut oil, melted
1/2 cup pure maple syrup
1 tsp. pure vanilla extract
Directions:
Preheat the oven to 250 degrees F. Line a baking sheet with parchment paper.
Soak the goji berries in warm water while preparing the other ingredients.
In a large mixing bowl combine  the coconut, cocoa powder, chia seeds, cinnamon and sea salt. In a small mixing bowl combine the coconut oil, maple syrup and vanilla. Drain the goji berries and add to the dry ingredients. Pour the wet ingredients into the bowl with the dry ingredients and stir to combine. Mix well.
Using a small spring loaded cookie scoop, divide the mixture onto the prepared baking sheet. Place in the oven and bake for 15 to 20 minutes. Remove from the oven and allow to cool completely before serving. Store in the fridge in a sealed container for up to 1 week.