I've been taking the heat from my two little house mates lately on our "clean eating".  Aidan's birthday is coming up and he has requested an unhealthy cake. He's prepping me to unsure I don't proudly present a sugar free, gluten free, grain free cake with avocado frosting to his buddies. Would I do actually do that? You know it, it's what I do! I might give in slightly and make a less refined cake so we can both be happy. We live by the 80/20 rule.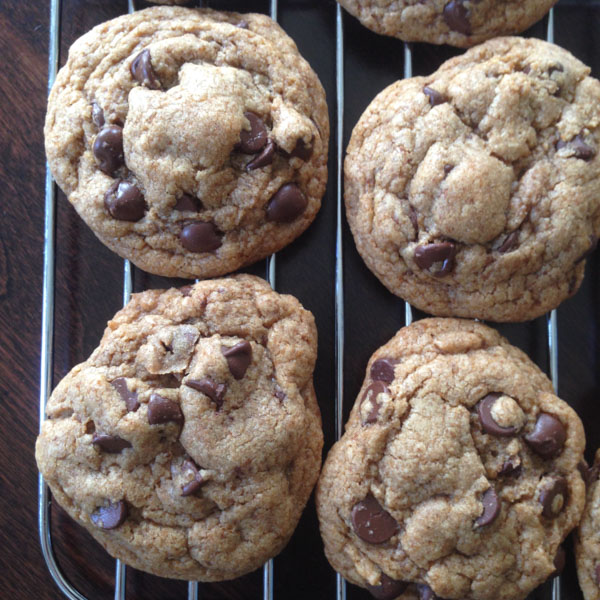 Speaking of less refined, I baked the most delicious cookie yesterday for kids and their friend. I needed to create a nut free cookie recipe for a client that can tolerate coconut and since all my recipes for cookies are made with almond flour on my site, I thought I would share this one. They turned out really amazing. This cookie is crispy on the bottom and edges, chewy in the centre with a caramel undertone from the coconut sugar. Yum.
Chocolate Chip Cookies with Coconut Oil
Makes approximately 20 cookies
Ingredients:
1/2 cup coconut oil (do not melt, should be solid or cold)
1 cup coconut sugar
2 tsp. pure vanilla extract
1 egg
1 1/4 cups sprouted spelt flour (find this at Costco)
1/2 cup brown rice flour
1/2 tsp. baking powder
1/4 tsp. baking soda
1/2 tsp. sea salt
3/4 cup to 1 cup chocolate chips (I used 1 cup in the cookies in this photo)
Directions:
Preheat the oven to 350 degrees F. Line a baking sheet with parchment paper.
In the bowl of a stand mixer combine the coconut oil and coconut sugar, blending with a paddle attachment for 3 to 4 minutes. Add in the vanilla and blend for another few minutes. You want the sugar and the oil to be very well incorporated. Add in the egg and blend for another minute.
In a separate bowl combine the flours, baking powder, baking soda and sea salt. Add to the coconut oil and sugar and blend just until combined. Fold in the chocolate chips.
Divide evenly onto the prepared baking sheet and bake for 10 – 12 minutes or until lightly browned. Remove from the oven and allow to cool for a few minutes on the pan before transferring to a cooling rack. When cool, store in an airtight container.
Note: After mixing, I placed the cookie dough in the fridge. You want the dough chilled slightly before baking so the cookies don't flatten out.