This dairy free, grain free cake is so delicious and moist you would never know it is made without dairy or refined sugar. This is a great way to use ripe bananas or just an excuse to let your bananas ripen. The diary free salted caramel is insanely delicious, not only on drizzled on this cake but for a topping over ice cream or fresh fruit. In the summer I make this caramel to drizzle over grilled peaches and coconut ice cream. This cake; it was just a vehicle for the caramel.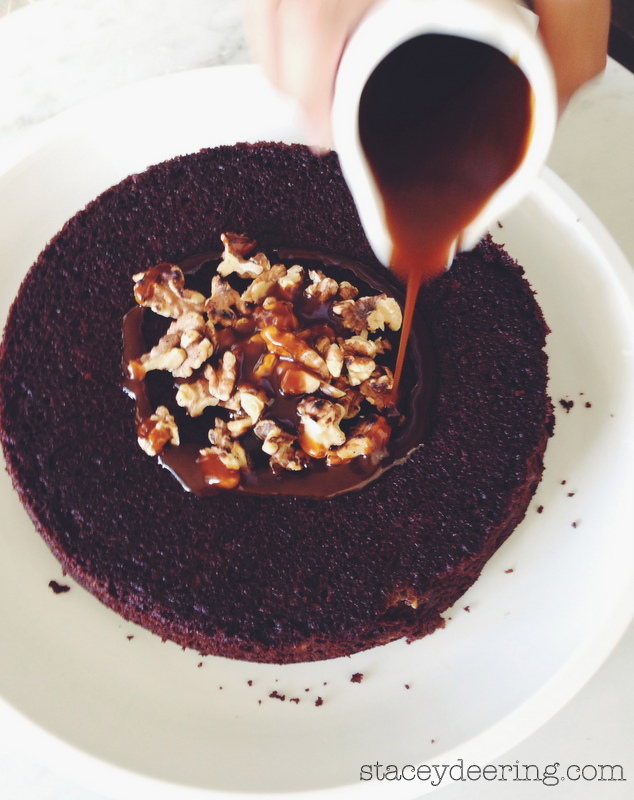 Chocolate Banana Cake with Salted Caramel
Serves 8
3 ripe bananas
3 eggs
1/2 cup honey
1/4 cup coconut sugar
1 Tablespoon lemon juice
3 Tablespoons coconut oil, warmed
1 teaspoon vanilla extract
2 cups almond flour
1/2 cup cocoa powder
1 teaspoon baking soda
1/2 teaspoon baking powder
3/4 teaspoon sea salt
For the topping:
salted caramel
toasted walnuts
Preheat the oven to 325 degrees F. Grease a 9-inch round cake pan with coconut oil and line the bottom with parchment paper.
In a bowl of an electric mixer fitted with a paddle attachment, add the bananas and mix on low speed until smooth. Add the eggs, honey, coconut sugar, lemon juice and vanilla extract. Combine the almond flour, cocoa powder, baking soda, baking powder and sea salt. Add the dry ingredients to the wet ingredients and mix until combined. Pour the batter into the cake pan. Bake for 20 to 25 minutes or until a toothpick inserted into the center comes out clean. Set aside to cool completely. Invert the cake onto a wire cooling rack to cool completely.
Salted Coconut Caramel
1/4 cup coconut oil
2 Tablespoons coconut butter
1/3 cup coconut sugar
3/4 cup coconut milk
1/2 teaspoon coarse sea salt
1 teaspoon vanilla extract
In a small saucepan, heat oil and coconut butter, add the coconut sugar and cook over low heat for a few minutes. Stir in the coconut milk and cook over low heat until it starts to boil. Boil for 3 – 4 minutes. Remove from the heat and stir in vanilla and sea salt. Allow to cool slightly and pour desired amount of caramel over the cake. Pour extra caramel into a glass jar, seal and store in the fridge for up to a week.
To make the cake vegan try using flax "egg" replacement.