I am writing this post on a Waikiki beach after tasting a seafood chowder at lunch. I remembered making a dairy free and gluten free chowder before I left for a little getaway for an autoimmune client I have. Unable to have protein other than chicken and completely dairy free I wanted to make her a few nourishing soups to keep in the freezer before I left for vacation. I really loved this soup so thought I would share it.
I make bone broth at least 3 times a week for my family and my clients and I urge you to try it out for yourself. It really makes all the difference for the flavour of the soup but also it is extremely nourishing, full of collagen from the bones and healing for the digestive system.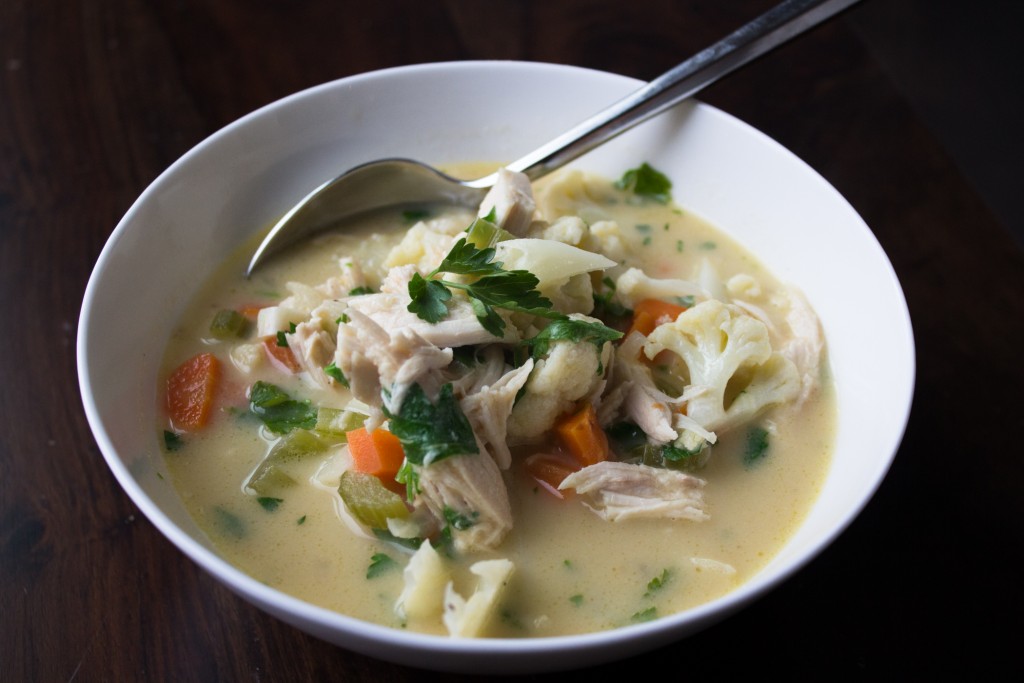 To make the chowder creamy I pureed part of the cauliflower with a little arrowroot powder to thicken and it turned out really well. There was no need to add cream or coconut milk which can alter the flavour of the soup.
Nitrate free bacon crumbled over the soup would be incredible if you are tolerant to it.
Chicken & Cauliflower Chowder
Dairy Free, Gluten Free, Grain Free
Serves 6
Ingredients:
1 Tbsp. extra virgin olive oil or cooking fat (bacon or duck fat work well)
1 large onion, finely diced
4 garlic cloves, minced
3 carrots, peeled and diced
3 celery ribs, diced
1 large head of cauliflower, cut into small pieces
2 bay leaves
1 Tbsp. fresh thyme leaves, chopped
2 litres chicken broth (bone broth or homemade broth is best)
1 Tbsp. arrowroot powder
2 cups cooked, shredded chicken
Fresh parsley, chopped
sea salt and pepper, to taste
Directions:
Heat the olive oil or cooking fat in a large pot. Add in the onions and cook over low heat, allowing the onions to cook gently for 5 minutes. Add in the garlic, carrots, celery and thyme and cook for another 4 – 5 minutes. Season with sea salt and pepper.
Add all the cauliflower, bay leaves and cauliflower. Bring the soup to a boil, reduce the heat and allow to simmer for 15 minutes. Once the cauliflower is tender scoop out a few cups of cauliflower into a VitaMix or other high speed blender. With stock and cauliflower I generally remove 3 – 4 cups. Place the arrowroot powder in with the hot stock and cauliflower and blend on high speed until pureed and smooth.
Pour the mixture back into the pot and continue to cook for another 5 minutes allowing the arrowroot to cook and thicken the soup. Add in the shredded chicken and allow to simmer over low heat for a few minutes.
Remove from the heat and add lots of fresh parley. Remove the bay leaves prior to serving. Taste for seasoning, adding more sea salt and pepper as needed. This will depend on the broth you are using.
Serve hot and garnish with fresh parsley leaves.