Put these on your dinner menu for tonight. This incredibly easy lettuce wrap will become a household favourite. Kids and adults love this dish and I like it because it can be made in less than 30 minutes.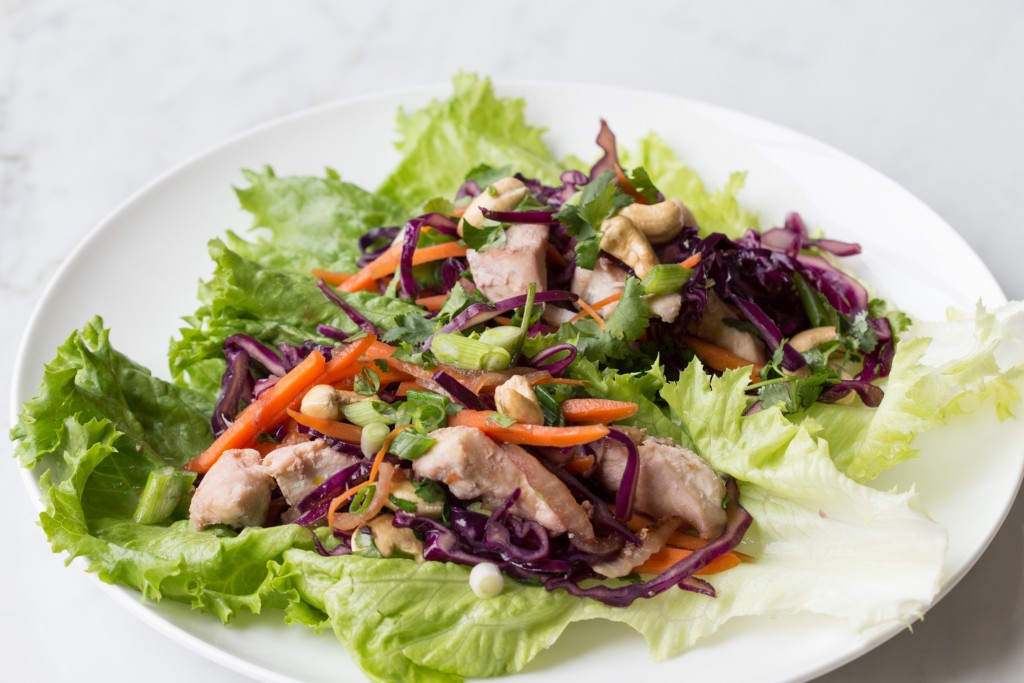 You can often find lettuce wraps served at restaurants but I'm certain they are not gluten free and often contain a funky noodle. Try these and you won't miss ordering lettuce wraps ever again.
Cashew Chicken Lettuce Wraps (in a hurry)
Serves 3 – 4
Ingredients:
1 Tbsp. coconut oil
4 boneless, skinless chicken breasts, diced
1 small white onion, halved and thinly sliced
2 garlic cloves, minced
1 Tbsp. fresh grated ginger
2 large handfuls of red cabbage
2 carrots, julienned or shredded
2 green onions, thinly sliced
cilantro, for garnish
3 Tbsp. gluten free tamari or coconut aminos
2 Tbsp. brown rice vinegar or apple cider vinegar
1 Tbsp. toasted sesame oil
¼ cup raw cashews
large lettuce leafs
Directions:
Heat coconut oil in a large non-stick skillet or wok over medium heat.
Add in the diced chicken and begin to brown. When almost done add in the onion, garlic and ginger. Sauté for 4 – 5 minutes.
Add in the cabbage and carrots. Cook for another 2 minutes.
Pour in the tamari, vinegar, toasted sesame oil and cook for another minute. Add in the cashews. Remove from the heat and add in the green onion and a handful of chopped cilantro. Toss to combine.
Place a lettuce leaf on a plate and add the chicken mixture to the center. Wrap and serve.