I have not been posting the last few months as much as I should or would have liked to. I have been working on  a new contract creating a whole foods menu as a modality for healing. I just finished the first season and trained the chefs on my menu and with soft launch over, it was a huge success. The menu was created using a whole foods nutritional approach to recovery from drug and alcohol addiction. The best part – in a 30 day stay, there will be no repeat meals. A challenge for me to create for sure but great for the clients.
The science portion of the nutrition was designed by Orsha Magyar of NeuroTrition and is based on a very specific approach to gut and brain health. My role is to design a menu with specific ingredients to heal the gut and nourish the body and brain. This also includes, leaving out specific ingredients that may inhibit healing at specific points in recovery.
This incredibly beautiful facility is located past Sundre on 153 acres of woodlands. If you know of anyone who would be interested in visiting there will be an open house this week, please drop by, meet the staff and have a bite to eat.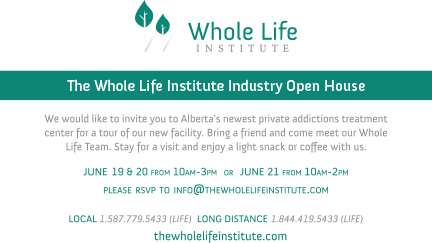 Here is one of the recipes from the menu to share with you and it happens to be one of my favorites.
Brown Rice Sushi Bowl with Sriracha Salmon
Serves 4
Ingredients:
4 servings of steamed brown rice (roughly 1/2 cup each)
1 – 2 sheets of nori, cut into strips
½ cup cilantro leaves, chopped
2 avocados, diced
½ English cucumber, shaved into thin ribbons
1 – 2 carrots, shaved into thin ribbons
2 cups sriracha salmon, broken into pieces
Sesame seeds, for garnish
2 green onions, finely chopped
Citrus Dressing:
Juice of 1 lemon or lime
Juice of 1 orange
3 Tbsp. rice vinegar
2 Tbsp. coconut aminos or gluten free low sodium tamari sauce
1 Tbsp. sesame oil
2 tsp. freshly grated ginger
1 Tbsp. raw honey
Directions:
Boil the rice according the package instructions.
Combine the citrus dressing together in a small bowl. Add the cucumber and carrot strips and stir to combine. Allow to marinate while making the salmon.
Cook the sriracha salmon according to the directions. Break into bite sized pieces.
Divide the rice into 4 bowls. Top the rice with nori strips, avocado, marinated cucumber and carrot, salmon, cilantro, sesame seeds and green onion. Drizzle each bowl with citrus dressing. Serve.
Sriracha Salmon
Adapted from Gwyneth Paltrow and Julia Turshen
Serves 4
Ingredients:
Juice and zest of ½ lime
Juice and zest of ½ lime
1 Tbsp. pure maple syrup or raw honey
1 tsp. freshly grated ginger
1 Tbsp. coconut aminos
1 ½ tsp. sriracha
½ tsp. sea salt
1 ¼ pounds salmon fillet, skin removed
Directions:
Preheat the oven to 425 degrees F.  In a bowl whisk together the lime juice, zest, syrup, ginger, coconut aminos, sriracha and sea salt. Place the salmon into a baking dish; pour the marinade over the salmon. Bake for 15 minutes or until cooked and flakes when tested with a fork.