I'm going to be completely honest here…I'm not sure I've ever bought broccoli rabe before. It is now going to be in my fridge until it's no longer in season. I was really surprised at how mild the taste was for it's dark green hue.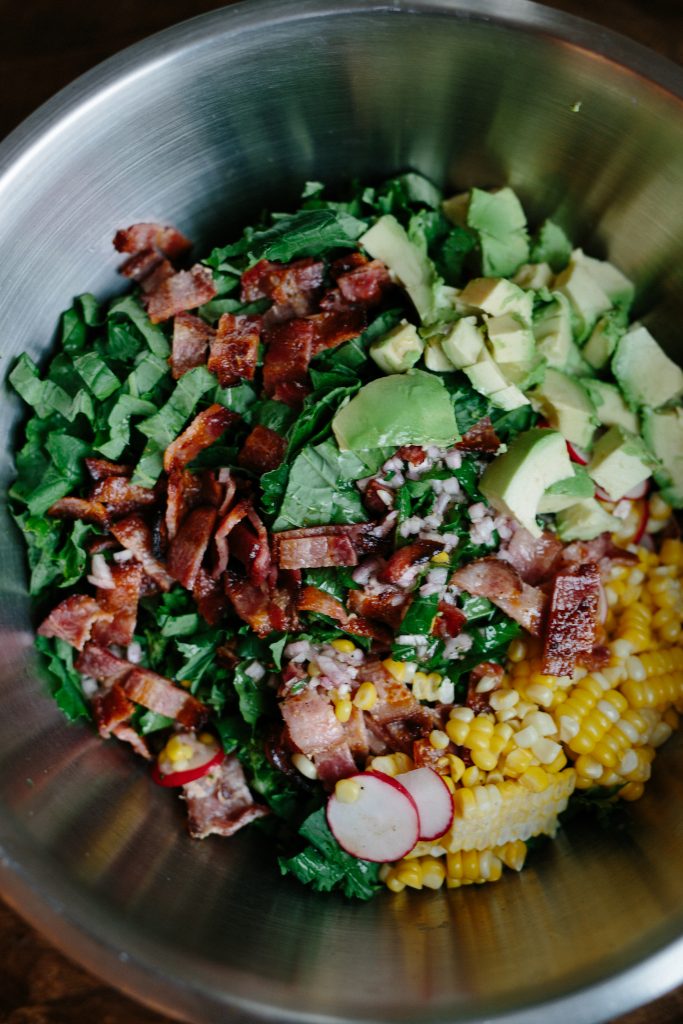 Sunnyside Market is, by far, one of my favourite places to grab produce and I often grab a quick salad or sandwich from Sidewalk Citizen for myself and the office staff . The have the best salads; some vegan and some with a bit of protein. This salad is very much inspired by a salad I had for lunch a few days ago but their salad had chickpeas which I left out due to allergies in our home. You can still get your hands on local corn on the cob and bright red radishes which made a great addition to the bacon and broccoli rabe.
Broccoli Rabe is so full of amazing nutrients and if you want to shake up your salads this is the perfect recipe for you. Feel free to add chickpeas or leave out the bacon, it will be delicious either way.
Broccoli Rabe Salad with Lime Cumin Dressing
1 large bunch broccoli rabe, thinly sliced (remove the stalks)
4 – 5 radishes, very thinly sliced
the kernels from 2 – 3 cobs of corn
1 avocado, diced
5 slices of cooked, nitrate free bacon, diced
Cumin Lime Dressing
1 shallot, peeled and finely diced
1/2 tsp. ground cumin
juice of 2 limes
1 heaping Tbsp. wildflower or organic raw honey
1/3 cup good quality olive oil
big pinch of sea salt and freshly cracked pepper
Directions:
Wash and dry the broccoli rabe. Remove the tough ends of the broccoli rabe and thinly slice the green leaves. Place in a large bowl.
Cook the bacon and steam the corn. Make the dressing now so the shallot has time to mellow.
When the bacon and corn are cool enough to handle, chop the bacon into small pieces. Add to the bowl. Cut the kernels from the cobs of corn and place in the bowl with the broccoli rabe.
Slice the radish and dice the avocado. Add to the bowl.
To make the dressing add the honey, cumin, shallot, lime juice in a bowl. Stir to combine. Whisk in the olive oil and season with sea salt and pepper. Add the dressing to the bowl and toss to combine. Serve.