I'm crazy in love with Asian flavors in food and this bowl hits everything that I love including sweet and salty. This bowl of spicy pork meatballs, sweet potato, pickled carrots, cucumber, mint, basil, mint, green onion, salted cashews and covered in a spicy yogurt & mayo sauce. It's insanely good and I served this to a group of my girlfriends and promised I would share the recipe.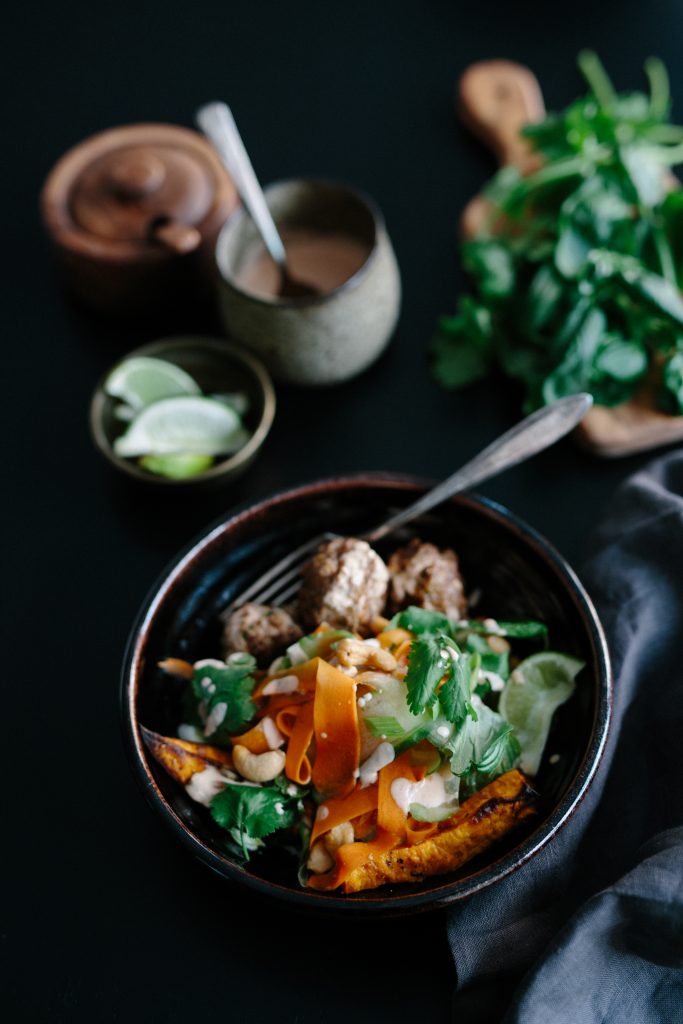 I adapted this recipe based on a few recipes I found and tweaked to my taste buds. Jump over to Pinch of Yum for her version.
Spicy Pork Meatballs
Serves 4
1 lb. ground pork (a good quality lean pork)
1 tablespoon minced ginger
3 garlic cloves, minced
1/2 tablespoon sriracha or garlic chili paste (more if you like it hot)
1 tablespoon fish sauce
2 teaspoons toasted hot pepper sesame oil
1/2 tsp. garlic powder
1 tsp. sea salt
1 green onion, minced
1/4 cup cilantro, finely chopped
2 teaspoons arrowroot powder
ghee for frying
Directions:
Combine pork, ginger, garlic, sriracha, fish sauce, sesame oil, garlic powder, sea salt, green onion, cilantro and arrowroot in a bowl. Form into bite sized meatballs. Cover and place in the fridge to chill while preparing the remainder of the ingredients.
Heat a non stick skillet and add a few teaspoons ghee. Place the meatballs in the skillet and fry on each side until golden brown and no longer pink in the centre.
Pickled Carrots 
1/2 cup brown rice vinegar
1/4 cup coconut sugar
1 tablespoon toasted sesame oil
1 teaspoon salt
5 – 6 carrots, sliced thinly into strips
Directions:
In a medium bowl combine rice vinegar, coconut sugar, sesame oil, and sea salt. Shave the carrots into the bowl. Toss to combine. Cover and place in the fridge for one hour.
Spicy Yogurt & Mayo Sauce
2 tablespoons avocado mayo
2 tablespoons full fat yogurt
2 – 4 teaspoons sriracha
1/2 teaspoon garlic powder
2 tsp. coconut aminos or soya sauce
pinch of sea salt
1 teaspoon honey
Directions:
Combine the mayo, yogurt, sriracha, garlic powder, coconut aminos, sea salt and honey in a bowl. Stir to combine.
For the Bowls:
roasted sweet potato wedges
cucumber, shaved into thin strips
rice, noodles, or quinoa
cilantro, basil and or mint
salted cashews or peanuts, chopped
green onions, sliced
lime wedges
To plate: Place a few roasted sweet potatoes in a bowl. Top with carrots, cucumber, cilantro, mint, basil, cashews, green onions and drizzle with spicy yogurt and mayo sauce.