This recipe has some adaptations for those of you who are gluten free. I had been doing a lot of gluten free recipes prior to my new living quarters however a lot of my gluten free recipes required almond flour. Almond flour, although a great grain free option, is very hard to digest for a lot of people including me and secondly, it is an allergen for more than a few in our home. Even for some of my clients that are not allergic to nuts they can increase inflammation, like too much protein.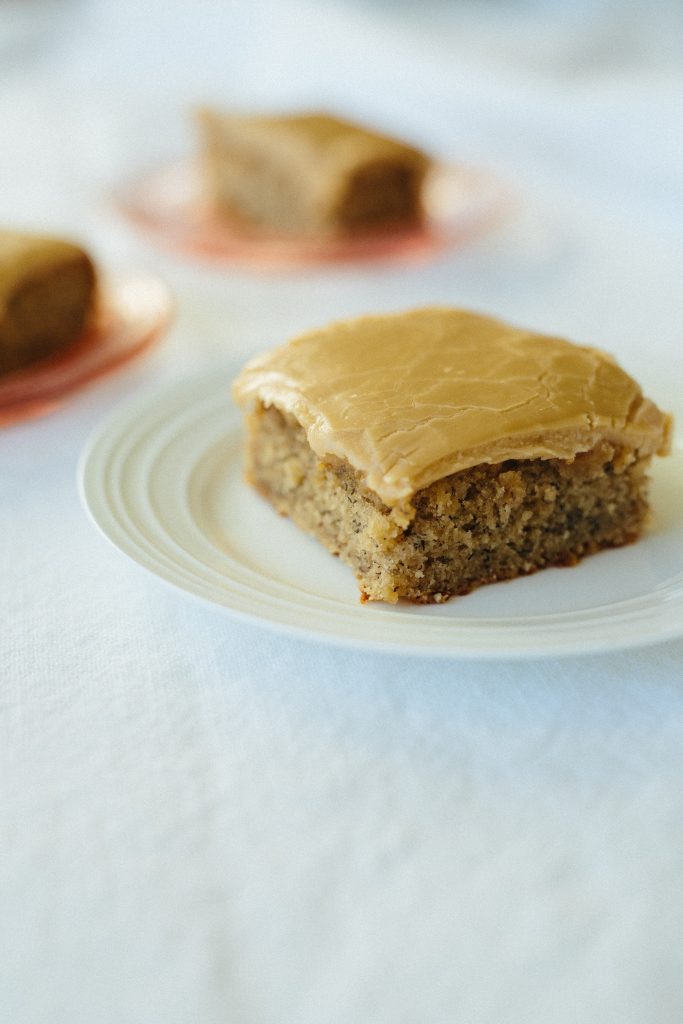 The fact is, whether you are trying to avoid gluten, sugar, grains, dairy and for many of my clients a lot of other things. The choice is yours. I've started to worry less about a few things I choose to put in my body and more about how my body feels and listening to what I need. I eat whole foods and limit the junk but allow myself the simple pleasure in life, like a piece of cake, without stressing over it. Go with your gut. If you feel like going without animal protein for a day or two; do that. Sometimes you want to be as healthy as possible and other times maybe you want to bend the rules a little. Whether you want to bend them a little or a lot, this recipe has you covered either way.
Banana Blondie with Caramel Icing
Makes a 9 x 13 pan
1/2 cup butter, at room temperature
1 cup coconut sugar or brown sugar
1 cup yogurt (I used goat yogurt but coconut or any kind you wish will be fine)
3 – 4 ripe bananas – I used 4 medium sized bananas for this photo
2 eggs
2 tsps. vanilla extract
2 cups flour (this recipe can be made with sprouted spelt, white unbleached flour, 1 cup almond flour and 1 cup oat flour or 1 cup almond flour and 1 cup rice flour)
1 tsp. baking soda
1/2 tsp. sea salt
Directions:
Preheat the oven to 350 degrees F. Line a 9 x 13 inch pan with parchment paper and grease with coconut oil or butter.
Cream together the butter and sugar until light. Add in the eggs, yogurt, mashed banana and vanilla.
In another bowl, combine the flour(s), baking soda and sea salt.
Add the flour to the banana mixture and combine just until mixed thoroughly.
Transfer to the prepared pan and bake for 30 minutes or until browned and cooked in the centre when tested with a toothpick or cake tester.
Caramel Icing
1/2 cup butter
1 cup coconut sugar or brown sugar
1/4 cup cream or coconut milk
2 cups icing sugar
pinch of sea salt
Directions:
In a saucepan, heat butter and sugar. Stir continuously until it comes to a boil. Continue to boil for 2 minutes, stirring a few times. Pour in the cream and whisk until completely smooth. Boil for another 2 minutes. Add the sea salt.
Remove from the heat and allow to cool. It will become a little thick as it cools. I usually do this in an ice bath to quicken the process. Add in the powdered sugar and whisk until smooth. Pour over the blondies and allow to set. (This never happens in our house).
Here is a super delicious recipe for VEGAN caramel sauce from Pinch of Yum. I've made this recipe and then added powdered coconut sugar to make it thicker (much like this the recipe above). To make powdered coconut sugar, simply blend coconut sugar in your VitaMix until it turns into powder.