I had a craving for summer rolls today in the worst, must make immediately, way. Maybe it was that we saw the sun and the snow was melting, maybe it's because my body says it should be spring and I'm transitioning to lighter foods. Either way these rolls are clean, simple, light and perfect for spring. Now, more sun please.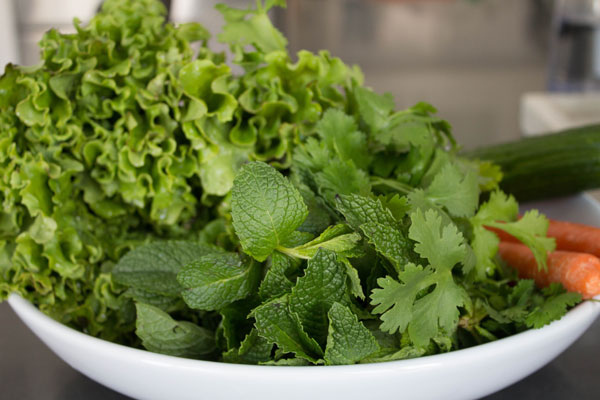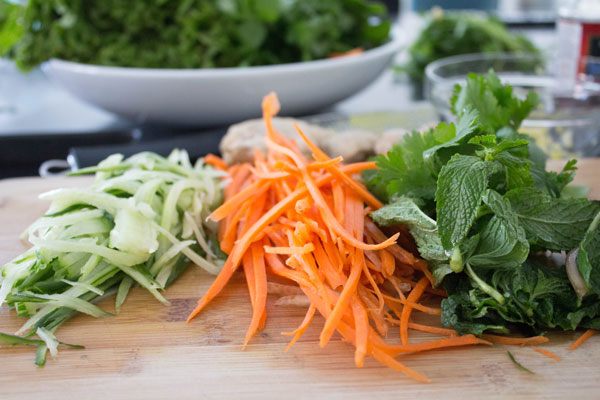 For the dipping sauce, I was looking for light and spicy, similar to the dip that accompanies fried spring rolls, but with tons of ginger. Ginger is a staple in my kitchen and I use it wherever I can, including the poaching liquid for the chicken. It's so good for digestion.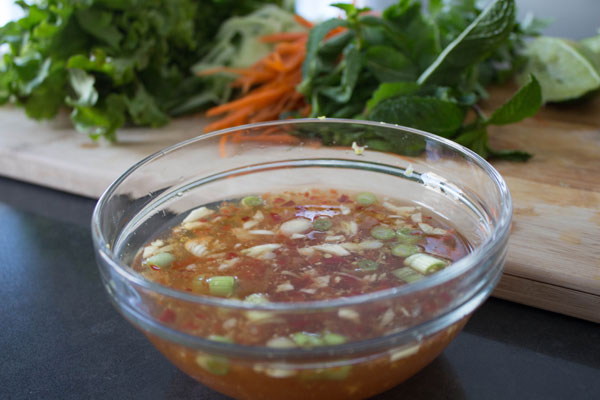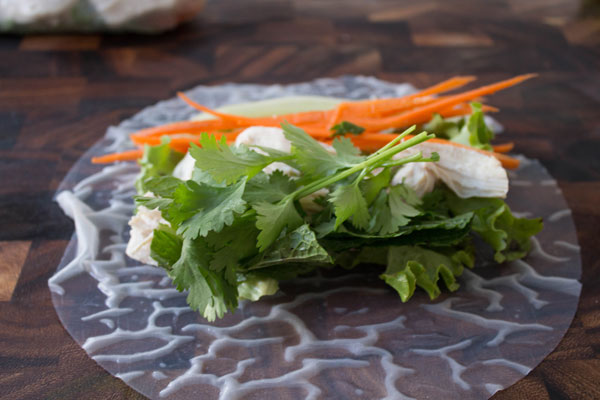 Poached Ginger Chicken
This made roughly 8 rolls.
Ingredients:
3 boneless, skinless chicken breasts
1 inch piece of ginger, peeled and sliced
1 big handful of cilantro, including the stems
4 green onions, halved
1/2 lemon, cut into quarters
Big pinch of sea salt and pepper
Water
Directions:
Bring a medium pot of water to boil. Lower the heat to simmer and add the chicken, ginger, cilantro, onions, lemon, sea salt and pepper. Simmer with the lid on partially for 10 to 15 minutes, depending on the size of the chicken breasts. Remove to a plate and allow to cool. Shred or chop the chicken into strips.
Additional Ingredients:
Rice paper
Carrots, cut into thin strips
Cucumber, cut into thin strips
Mint leaves
Cilantro leaves
Green leaf lettuce
Asian Dipping Sauce
Ingredients:
1/2 cup water
1/4 cup Thai fish sauce
1 green onion, sliced
1 teaspoon sambal oelek (or more if you like it spicy like I do)
2 teaspoons freshly grated ginger
1 tablespoon pure maple syrup or honey (you can use liquid stevia if you are avoiding sugar)
Juice of 1 lime
Combine all the ingredients together in a small bowl.
Directions:
To assemble, lay a sheet of rice paper carefully in a shallow dish of hot water. It takes less than a minute – depending on how hot your water is – to reach the texture you require. Don't allow it to go too long or you won't be able to roll them well. Lay a few pieces of lettuce down, then chicken, carrots, cucumbers, cilantro and mint. Fold and repeat.
Slice each roll in half and serve with a small bowl of Asian Dipping Sauce.